Many people dream of keeping lions and tigers as pets. Bengal cats are among the most desirable pets for wildlife lovers and cat enthusiasts. With their distinctive spotted coats and athletic figures, Bengal cats are as close to wild as you can get.
However, Bengal cats are as loving and cuddly as any cat – and they are generally affectionate and friendly with pets and children. Thankfully, plenty of Bengal cats are in animal rescues across the US. Use this guide to the best Bengal cat rescues in the country to find your new exotic pet!
Other articles you would like: Cane Corso Adoption and Best Horse Rescues In Georgia.
What Are Bengal Cats?
A Bengal cat is a particular breed of exotic feline with leopard-style markings, big paws, long legs, and pronounced whisker pads.
Bengal cats are like traditional domestic shorthair breeds in behavior, care requirements, and personality.
However, Bengal cats are typically more active than most other breeds, and their superior intelligence may require more constant stimulation.
A breeder first revealed Bengal kittens in the 1960s; by the 1980s, they were commercially available. Bengal cats must have four generations of the F4 gene to qualify as purebred.
How Do Bengal Cats End Up in Shelters?
Cats end up in shelters for a variety of reasons.
First, some owners are ill-prepared to care for a cat's needs – much less an exotic cat.
Additionally, breeders sometimes discard animals that do not meet the criteria for sale.
For this reason, Bengal cats are occasionally available in rescues and shelters across the United States.
Other reasons Bengal cats end up in rescues may include the following:
Owner death or move

Owner surrender

Abandonment, abuse, neglect, or confiscation by police

Difficulty acclimating to homes or other pets

Misconceptions about the breed
Ultimately, adopting a Bengal cat from a rescue is the best way to contribute to curbing stray populations and acquiring a Bengal cat for free or at a low cost.
Top Bengal Cat Rescues in the USA
There are many purebred cat rescues in the United States—and some focus purely on the care and adoption of Bengal cats.
We've assembled the following list of Bengal cat rescues based on location (in the United States), popularity, quality of care, and adoption rates.
Consider the best Bengal cat rescues in the USA to find your new, exotic companion.
1. BengalRescue.org
BengalRescue.org is a national collective of exotic cat lovers dedicated to identifying and rehoming Bengal cats across the United States.
Every cat receives the highest quality of care – from veterinary attention to grooming and vaccines. Volunteers facilitate adoptions online and transport cats almost anywhere in the country.
This organization is also committed to educating the public about the needs and traits of Bengal cats, contributing to more responsible exotic pet ownership.
BengalRescue.org Details:
2. Great Lakes Bengal Rescue
The Great Lakes Bengal Rescue network is a 501(c)(3) that operates mainly in the Midwest.
This organization is entirely foster-oriented and volunteer-led, so each Bengal cat lives in a loving home before coming to you.
The network has rehomed over 800 cats in the following states: Illinois, Indiana, Iowa, Michigan, Minnesota, Ohio, Kentucky, Tennessee, and Wisconsin.
To adopt a cat, visit their profiles on the website and submit an adoption form. The foster parent will contact you shortly for an interview!
Great Lakes Bengal Rescue Details:
3. Bengal Rescue Network USA
This informal 501(c)(3) network of exotic cat lovers caters to families across the United States.
The Bengal Rescue Network USA is a loosely organized network that connects families surrendering their Bengal cats to new and willing forever homes.
To adopt a cat, visit their Facebook page and view their Bengal cat profiles. Then, apply to the website or contact the foster parent directly.
Bengal Rescue Network USA Details:
4. Florida Bengal Rescue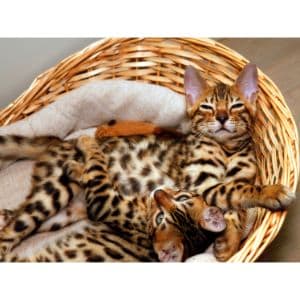 Thanks to this comprehensive Bengal rescue network, thousands of Florida Bengals have found their forever home.
Florida Bengal Rescue is a Florida-based exotic cat rescue network founded by Jeff Gold (of the Rescue Me Network).
Families and foster parents post Bengal cat profiles directly on the website, so you choose from thousands of Bengal cats to find your perfect pet.
This forum is not an organized network of foster parents, so exercise caution in selecting your cat, and remember that the organization has no direct influence on fosters.
Florida Bengal Rescue Details:
5. Massachusetts Bengal Rescue
The Massachusetts Bengal Rescue website is another national Rescue Me network offshoot.
Massachusetts, Maryland, and Florida boast the highest concentration of Bengals for adoption, so even if you live in another state in the Northeast, it's worth looking into.
Contact each pet owner directly on the website's forum and arrange for an interview. Prices and terms vary by owner.
Massachusetts Bengal Rescue Details:
6. Texas Bengal and Exotic Cat Rescue and Behavioral Assistance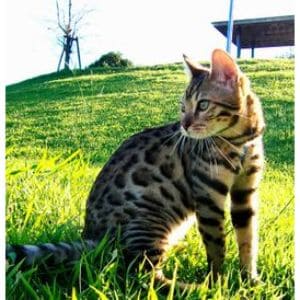 This incredible organization is dedicated to identifying, rehabilitating, and rehoming Bengal cats in Texas.
This small 501(c)(3) is a no-kill, foster-based, publicly funded rescue organization focusing primarily on sick, abused, and neglected cats.
They offer behavioral training and veterinary services for families with sick or maladapted Bengal cats.
As a result, cats may experience specific behavioral and emotional issues. However, remember that this organization expends tremendous effort and money to rehabilitate cats before rehoming them – so your new fur baby will likely be ready to go!
Texas Bengal and Exotic Cat Rescue and Behavioral Assistance Details:
7. Adoptapet.com
Although Adoptapet.org is not an organization in and of itself, the website is dedicated to identifying animals in shelters and rehoming them.
On Adoptapet.com, you can filter by breed, and the website keeps track of Bengal cats in shelters, rescues, and private homes across the country—so you have a good chance of finding a few Bengal cats to choose from.
Adoptapet.com endeavors to screen and verify all owners, but you can't always be too careful. Before adopting a Bengal cat, contact the owner or shelter directly and request a meeting.
Adoptapet.com Details:
8. Exotic Bengals of San Diego
Exotic Bengals of San Diego is a Bengal cat breeding service that also maintains a Bengal rescue program.
You can either opt for one of their purebred kittens or inquire about the rescue program directly at the number below.
The Bengal rescue program operates mainly out of San Diego, though this organization does accept cats from other states and rehomes Bengals across the country.
Exotic Bengals of San Diego Details:
9. The International Bengal Cat Society
The International Bengal Cat Society is a large organization that advocates for Bengal cats worldwide.
This organization connects willing homes to breeders and rescues across the country.
Although you cannot adopt a cat directly from the International Bengal Cat Society, you can contact them or check out their "Rescue" page to find your furry friend.
Additionally, consider perusing the educational resources on their website before adopting a Bengal cat of your own – you'll be glad you did.
The International Bengal Cat Society Details:
10. Southern California Bengal Cat Rescue
As its name implies, this small organization operates primarily out of Southern California and works tirelessly to ensure the best for Bengal cats in the area.
The owner of this organization, Dee Reynolds, works directly with shelters in Southern California to rehome Bengal cats and other exotic breeds.
The website is quite simple and consists only of an adoption application. Once you have applied for your Bengal Cat, you will receive an invitation for an interview.
Then, it's only a matter of time before you have a Bengal cat of your own!
Southern California Bengal Rescue Details:
Location:

Southern California
11. Pet Adoptions Network – Bengal Cats
The Pet Adoptions Network is a vast network of like-minded individuals across the United States and Canada whose mission is to identify neglected, abused, and surrendered Bengal cats and help them find their new forever home.
The Pet Adoptions Network allows you to filter by breed when searching through their website, and a quick look at their cat profiles reveals tons of Bengal cats for adoption.
Each Bengal cat has been pre-owned and is typically well-acclimated to people and other pets.
Please look through their profiles to find the Bengal cat for your family.
Remember, these lap leopards go fast, so inquire directly with the owner as soon as possible.
Pet Adoptions Network Details:
12. Backdoor Friends Purebred Cat Rescue
This informal network of purebred cat lovers operates out of Michigan and Ohio.
The organization identifies homeless or surrendered purebred cats and sends them to live in loving foster homes, where they are re-acclimated to live with families.
The organization does not have a shelter, as animals are located across the Midwest.
You can filter by breed on their website and find the perfect Bengal cat!
Backdoor Friends Purebred Cat Rescue Details:
13. Purr Harmony Cat Rescue
Purr Harmony Cat Rescue is a decentralized network of purebred cat fosters across the United States.
This organization is dedicated to rehoming purebred cats of all kinds, so finding a Bengal cat may take some work – but it will be worth it!
Bengal cats live with their foster owners across the USA, so you can likely find a Bengal near you.
The organization educates the public and advocates for purebred cats, so you can feel good about supporting their efforts.
Purr Harmony Cat Rescue Details:
14. Purebreds Plus Cat Rescue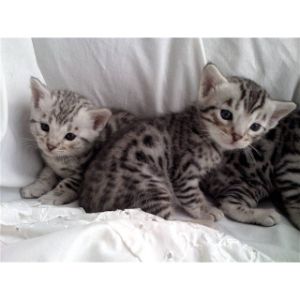 This small organization is entirely volunteer-led and operates out of California.
Although they rescue purebred cars of all kinds, they often receive Bengal cats. You can view their Bengal cat profiles on the website or contact them directly to inquire about new arrivals.
This organization carefully screens applicants, so be prepared to provide extensive information. Purebred cats deserve the best care, so the process is worth it.
Purebreds Plus Cat Rescue Details:
15. Specialty Purebred Cat Rescue
Specialty Purebred Cat Rescue is a 20-year-old organization that has rescued thousands of cats from abusive and neglectful environments across the United States.
This organization pairs purebred cats with loving foster families until they are ready to join their new homes.
They represent the largest purebred rescue network in the Midwest and often have many cats to choose from, so your likelihood of finding a Bengal cat is relatively high!
Specialty Purebred Cat Rescue Details:
Conclusion For "Best Bengal Cat Rescues in The USA"
Hopefully, you have found the perfect Bengal cat to join your family. If not, there are other ways to find a Bengal cat.
Consider searching nearby shelters or calling national databases (like the ASPCA) to inquire about Bengals.
You can also purchase a Bengal kitten from a vetted, responsible breeder.
Before welcoming your new lap leopard, remember to do sufficient research so that you are ready to give your new exotic cat the best possible care.
You will also like:
For more information about the Bengal Cat Breed, check out the video down below: