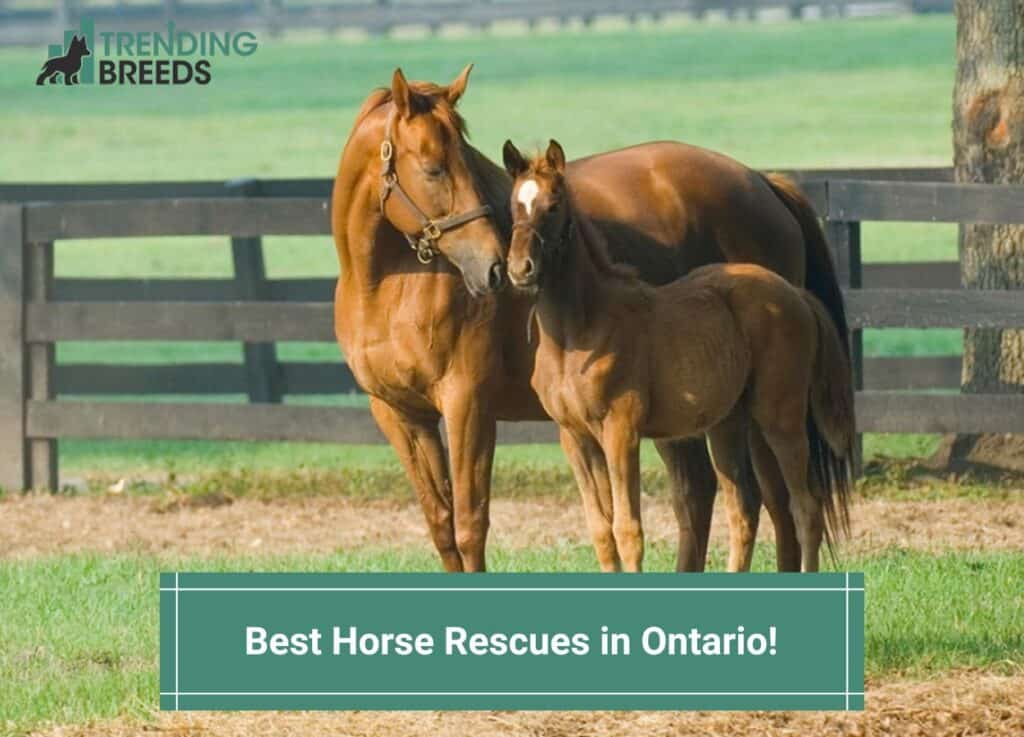 There are thousands of horses in Canada that are living through abuse and neglect. If you are looking to adopt a horse to help it from such neglect and abuse, then your search should start with the best horse rescues in Ontario.
Even if you wish to surrender a horse that you can no longer care for, these shelters are there to help.
While the idea of adopting a horse in need is certainly a great one, finding the right horse rescues in Ontario or nearby provinces can be tough. Worry not, we are here to help make this search a lot easier.
The horse rescues in Ontario listed below have already done the medical treatments and training assignments on the horses in need. Therefore, you are sure to find a healthy horse having a stable temperament to welcome into your home.
Other articles you would like: Horse Rescues in Alberta and Horse Rescues in British Columbia.
11 Best Horse Rescues in Ontario
1. Whispering Hearts Horse Rescue
Whispering Hearts Horse Rescue Center (WHHRC) is a federally registered non-profit organization with charitable status located in Ontario.
Brenda and Dave, the owners of WHHRC provide rehabilitation, medical care, food, shelter, and love to horses in need.
The goal of this organization is to create a volunteer-based equine welfare organization to provide care and treatment to horses. They also conduct awareness campaigns to educate people about horses.
If you are wondering what to do with a horse you can't keep, or wish to volunteer for this great Ontario-based equine welfare organization, please get in touch with Brenda or Dave via their Facebook page or on the details below.
Whispering Hearts Horse Rescue Details:
2. Ontario Standardbred Adoption
The Ontario Standardbred Adoption Society (OSAS) was formed in 1996 for the rehabilitation and relocation of retired Standardbred horses.
This approved charitable organization helps in the training and management of horses and also offers foster care for them.
Standardbred horses are also known as harness horses. These robust and rugged horses are capable of performing any job. They are best suited for harness racing but also good for pleasure riding.
Consider adopting a Standardbred from the OSAS.
Ontario Standardbred Adoption Details:
3. Last Chance Horse and Pony Rescue
Many people ask the question 'can I give my horse to rescue?' when they are unable to take care of a horse or aren't able to afford its medical treatment.
Last Chance Horse and Pony Rescue (LCHPR) is a registered equine charity (#866209711).
The founder, Sharon Wallace, is ready to take in your old or sick horse if you are unable to care for it. Ms. Wallace started this organization in 2018 and has helped rescue thousands of horses in the past 13 years.
In case you wish to adopt a horse from Ms. Wallace please check out LCHPR's database of over 35 horses and ponies that are in need of loving homes. These boys and girls have undergone all the necessary vet care and training.
LCHPR is always in need of volunteers and donations. If you care about horses and want to do some good this Holiday Season, please spare some time for them. You also get tax receipts for your donations.
Last Chance Horse and Pony Rescue Details:
4. Heaven Can Wait Equine Rescue
Are you wondering 'how much does a rescue horse cost?' – then Claire Malcolm of Heaven Can Wait Equine Rescue (HCW) can help you answer that question.
Ms. Malcolm has helped find loving homes for over 1200 horses in the past 22 years. She even helps rescue other animals like dogs, cats, and pigs. The facility even has a tack shop with friendly and helpful staff.
Note that not all horses at the HCW are old, abused, or neglected. Some of them belong to honest private sellers who want to make sure that their horses go home to good owners but don't want to auction them.
The HCW is a temporary home for such horses, so you can rest assured that you have a great chance of finding a healthy and happy horse from HCW.
Heaven Can Wait Equine Rescue Details:
5. Freedom Valley Horse Rescue
Christine Markle-Welch and her husband Howie Welch started the Freedom Valley Horse Rescue in 2008. To date, they have rehabilitated more than 50 horses and prevented them from the horrors of slaughterhouses.
Freedom Valley is a non-profit charitable organization. However, they are not registered yet. Worry not, they will never think of profiting from the situation of the horses that come to them.
They have helped many of their unwanted horses find permanent loving homes.
Freedom Valley Horse Rescue Details:
6. Silver Willow Farm
Established in 1996 in Mansfield, Mulmur Ontario, Silver Willow Farm is the only sanctioned, non-species-specific rescue home and animal foster farm in Ontario.
Situated over 100 acres, the Silver Willow Farm has been thoroughly inspected and meets all the standards laid down for approved foster, rehabilitation, and rescue facilities.
Laura McArthur – the founder of Silver Willow Farm believes that the animals that come to her did not choose the life they have and they deserve better. With this goal in mind, Ms. McArthur has saved hundreds of goats, horses, dogs, cats, donkeys, bunnies, etc.
Whether you wish to surrender a horse, adopt one, or simply volunteer or donate, please contact Ms. McArthur on the details below:
Silver Willow Farm Details:
7. Second Chance Ranch Canada Inc
The founders of Second Chance Ranch believe that they are not an animal shelter – there are too many of those in Canada.
What sets them apart is that they provide complete rehabilitation to old, injured, or sick horses in addition to basic facilities like food and shelter. Second Chance Ranch also offers miles of groomed trails, outdoor boarding, and trail rides.
They take in horses with a difficult past and help them find loving homes. Their team consists of knowledgeable caregivers and trainers who know exactly what horses that walk in through their gates need.
Second Chance Ranch also provides shelter to alpacas, ponies, pigs, donkeys, and goats.
Contact Second Chance Ranch to donate, volunteer, surrender or adopt a horse.
Second Chance Ranch Canada Inc Details:
8. Horseshoe Stable
Horseshoe Stable does not have a website but its owner – Jackie – communicates with buyers and donors through the charity's Instagram and YouTube.
This horse rescue in Ontario has helped hundreds of horses from going to slaughterhouses. Jackie arranges to train and protect unwanted and abused horses.
She gets veterinary care and check-up for all her rescued horses and provides detailed records and reports to all her clients. She even arranges for the transport of the horse to the buyer's place, even if it is outside of Ontario.
Horseshoe Stable Details:
9. The Horse Sanctuary At Stonegate Farm
The Horse Sanctuary at Stonegate Farm's mission is to rescue at-risk horses and enrich human lives through equine-human interactions. They offer horse riding lessons to women in children who have faced trauma, abuse, violence, etc.
The Horse Sanctuary is a non-profit organization that runs on donations and volunteer efforts.
The Horse Sanctuary At Stonegate Farm Details:
10. Forever Thyme Sanctuary
Forever Thyme is a government-sanctioned charity for elderly horses in need of food, shelter, and veterinary care. They DO NOT rehome horses – rather they provide a permanent sanctuary for old and retired horses.
Of course, they also take in young, injured racehorses or horses whose owners are not able to take care of them anymore – should the situation arise.
Forever Thyme is run on a private farm nestled on a 50-acre property. Please visit their wonderful website to find out about upcoming fundraising events.
Forever Thyme Sanctuary Details:
11. Out of the Ashes
Last on the list of the best horse rescues in Ontario is Out Of The Ashes. This animal sanctuary provides care, food, and shelter to animals big and small. All animals, especially horses that are neglected, abused, and unloved get medical treatment, a warm place to rest, and nutritious food.
Please donate or adopt from Out of the Ashes using the details below:
Out of the Ashes Details:
Conclusion For "Best Horse Rescues in Ontario"
Whether you wish to donate or adopt a horse or pony that has been abused, neglected, or hurt – then your search should begin with horse rescues in Ontario. Some of them even take in old horses or horses you can no longer care for.
We hope this list helps you find the charity to make your life and a horse's life better!
You will also like:
Before you bring home a horse from a rescuer in Ontario, you can learn more about horses by watching "TIPS FOR NEW HORSE OWNERS: Essential Beginners Guide" down below: