Horse rescues in British Columbia do an excellent job of saving horses from the terrors of the slaughterhouse.
They take in old, sick, injured, neglected, abused, abandoned, and unwanted horses and provide them with food, shelter, love, and medical care. Some even help make end-of-life decisions for horses that need it the most.
Most of these horse rescues in BC aim to rehome horses after providing them with health care, training, and socialization. In this guide, we have a list of 10 of the best horse rescues in British Columbia.
These organizations are very transparent about what they do. Many are registered, non-profit charities that provide tax certificates to donors.
Additionally, these horse rescues have very clear goals and are transparent about their achievements on their websites and social media pages. This makes it easy for donors to trust these horse rescue charities.
Other articles you would like: Best Horse Rescues In Alberta.
10 Best Horse Rescues in British Columbia
1. Freedom's Gate Equine Rescue Society BC
Freedom's Gate is a registered non-profit charitable equine rescue society dedicated to the welfare of horses that are abused or about to be sent to slaughterhouses. The organization is BCSPCA-approved.
Located in Salmon Arm, BC, Freedom's Gate Equine Rescue has given many horses the happy endings they deserve.
Once a horse comes into Freedom's Gate, their expert trainers and handlers assess its temperament, health, etc. Based on this assessment, they decide where the horse will go – to regain its health, for veterinary assistance, for training, etc.
Each horse receives parasite treatment, deworming, veterinary care, and nutrition until it can be re-homed.
Freedom Gate Equine Rescue has a wonderful website with beautiful photos of horses that are ready for adoption. They also have some permanent residents for whom they need sponsors.
Freedom's Gate Equine Rescue Society Details:
2. Second Chance Cheekye Ranch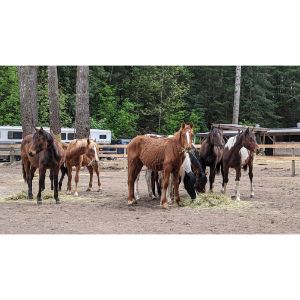 Kris Latham founded the BC-based Second Chance Cheekye Ranch (SCCR) in 2016.
With a team of passionate animal lovers, Latham aims to rescue, rehabilitate, and rehome horses in need. To date, SCCR has saved over 302 horses from slaughterhouses.
They get many horses that are completely wild and unused to humans. Kris and her team spend hours with such horses and slowly gain their trust.
The SCCR works closely with other equine rescues such as Horse Heroes Alberta to help rehome and rehabilitate horses in need.
Second Chance Cheekye Ranch Details:
3. Circle F Horse Rescue
Located in Abbotsford, British Columbia, Circle F Horse Rescue has been rehabilitating and rehoming rescued horses for over 20 years.
Circle F is an insured non-profit charity established way back in 1997. Their facility consists of 10 acres of pastures with a riding ring, barn, and training arena. They take in horses of all breeds, ages, and types.
If you have to surrender a horse or adopt one from Circle F, please email them at [email protected].
Circle F Horse Rescue Details:
4. Greener Pastures BC
This BC-based non-profit organization was started in 2003. Their aim is to find forever homes for retired standardbred racehorses.
Over the years, they have helped match hundreds of retired Standardbreds with loving people looking to give them a second chance.
All their horses are up-to-date on hoof care, vaccines, and are dewormed. They are also vet-checked and have received dental care.
Greener Pastures Details:
5. New Stride Thoroughbred Adoption Society
Thoroughbreds are great horses to adopt because of their stable temperaments and intelligence. Unfortunately, thousands of retired Thoroughbreds end up being abused, neglected, or abandoned after their racing career is over.
New Stride charity was started in 2002 at the Hastings Racecourse by a group of concerned breeders of Thoroughbreds to prevent the neglect and abuse of this intelligent horse breed.
Over the last 20 years, this charitable organization has placed more than 175 Thoroughbreds in loving homes. They even provide assistance to owners of Thoroughbreds in various ways.
If you are looking to adopt a smart and loving horse or simply wish to surrender a Thoroughbred, do contact New Stride on the details provided below:
New Stride Thoroughbred Adoption Society Details:
6. Pipsqueak Paddocks Miniature Horse Haven Society
Pipsqueak Paddocks Mini Horse Haven Society is located in Chilliwack, Fraser Valley of scenic British Columbia.
The organization rushes to rescue animals that are a victim of natural disasters. They have helped rehome many displaced Mini horses and even take back the Minis they have rehomed – should the new owners face issues keeping them.
Pipsqueak Paddocks also geld Miniature horses. They run awareness campaigns for encouraging Miniature horse owners to geld their Minis.
Through their efforts, the volunteers and trainers at Pipsqueak Paddocks help turn pushy, rude, and high-strung Mini stallions into gentle, steady-tempered, and loving horses.
Pipsqueak Paddocks Miniature Horse Haven Society Details:
7. Bear Valley Rescue
We simply cannot discuss the best horse rescues in Canada without talking about Bear Valley Rescue. Although it is not near or in BC, it is one of the most trustworthy equine rescue organizations in the country.
Bear Valley Rescue is run by Mike and Kathy Bartley. These two animal lovers started the organization in 2005 and since then, have taken in thousands of animals that are in need.
They train, feed, and care for the animals before rehoming them. Their rescues include horses, donkeys, cows, sheep, hens, and roosters.
No wonder, the Bear Valley Rescue has even been featured on CTV2 Alberta Primetime in 2016. They are also voted as one of the top 10 charities by My Giving Circle.
Bear Valley Rescue is a member of the Animal Welfare Coalition of Alberta. They are also Global Federation of Animal Sanctuaries or GFAS verified. GFAS is the only globally recognized organization that has very strict standards that are met by Bear Valley Rescue.
Bear Valley Rescue Details:
8. Last Chance Horse And Pony Rescue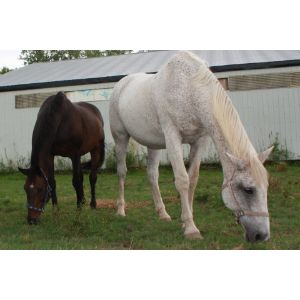 Based in Ontario, the founder of Last Chance Horse and Pony Rescue (LCHPR) – Sharon Wallace believes that by saving horses and their land, we can also save humans.
This non-profit registered charity (registration number #866209711RR0001) has been rescuing horses and ponies for over 17 years and is currently providing sanctuary to over 35 horses. They provide tax donation receipts upon request.
Last Chance Horse And Pony Rescue Details:
9. Secours AHT Rescue (Horse Tale)
Kerri Fenoff started the non-profit charity AHT Horse Tale Rescue in 2013. Today, AHT consists of over 400 members and volunteers who work tirelessly to provide love, care, and attention to every horse that comes in through their gates.
This QC-based organization rehabilitates, rescues, and rehomes horses in need of a second chance. The AHT team also conducts equine-assisted therapy programs for people with mental, physical, or special needs.
Do visit their events page to find out more about their upcoming fundraisers.
Secours AHT Rescue Details:
10. Integrity's Haven Equine (Animal) Rescue Centre
Integrity Haven Equine Rescue Center is a non-profit/registered charity farm located in Chester Basin, Nova Scotia.
They help all kinds of old, sick, abused, and unwanted horses and animals.
They even take in dogs and cats in need. Their aim is to provide shelter, love, and care to abused, neglected, or abandoned animals. They have helped match hundreds of animals with loving owners.
IHERC also offers official tax receipts.
Integrity's Haven Equine (Animal) Rescue Centre Details:
Conclusion For "Best Horse Rescues in British Columbia"
Are you looking for the best horse rescues in British Columbia to donate to this Holiday Season?
Perhaps you would like to surrender an old horse or volunteer at a shelter and help such charities. Perhaps you are looking to open your heart to a rescued horse.
In any case, the list of best Horse Rescues in British Columbia listed above is a good place to start your search.
These organizations are all reliable and some of them are registered as non-profit organizations and can provide tax receipts for your donations. We are sure your donation dollars will be spent well here.
You will also like:
If you want to learn more about horses, you can, by watching "Buying a HORSE for the FIRST Time? Watch this FIRST!" down below: