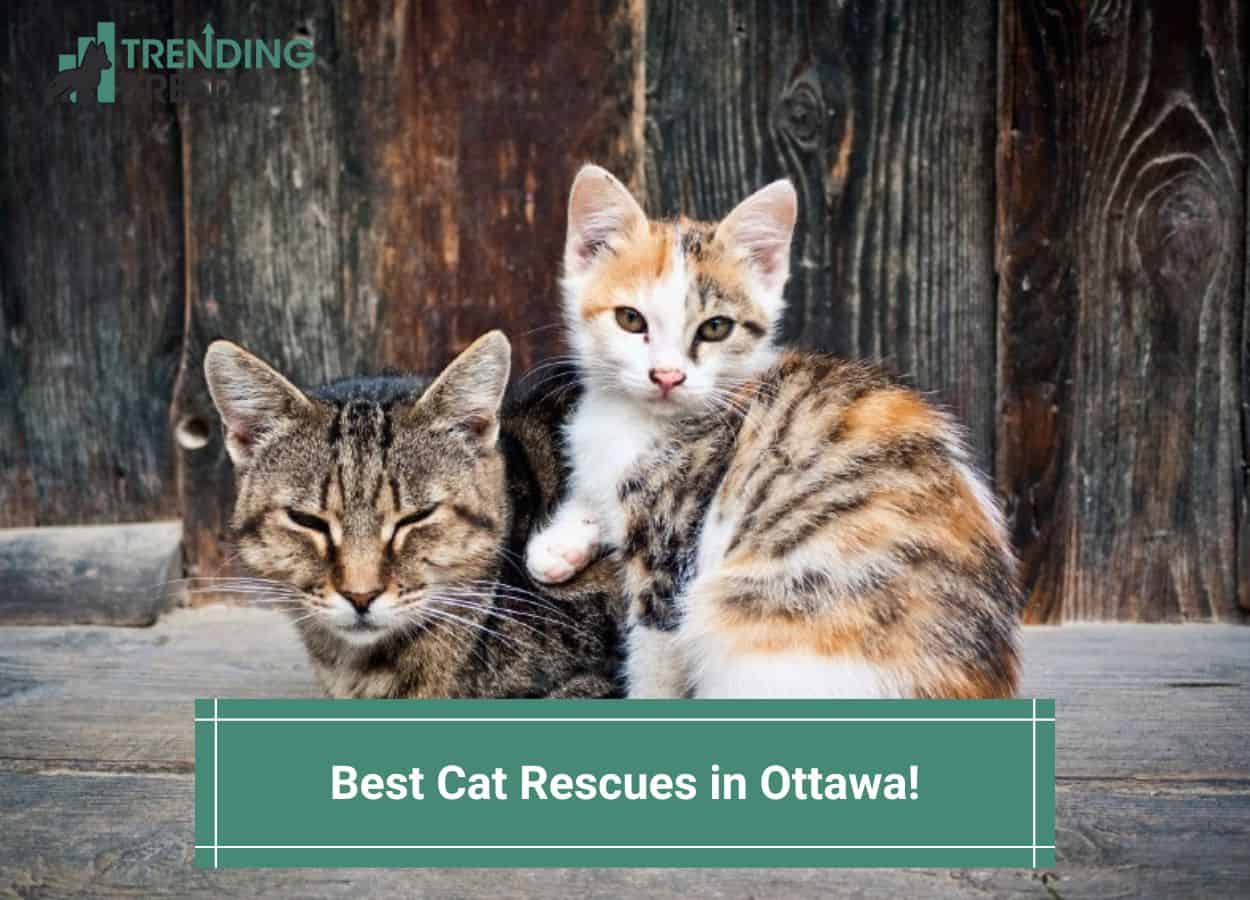 Cats are one of the most common domestic pets and make an excellent addition to various homes. Many people love these wonderful pets because they are easy to care for and require less maintenance than dogs.
Many people have also chosen adoption over buying from a breeder because of the act of kindness involved and the many benefits it comes with.
In addition to spending a lot of money, buying from a breeder takes a lot of time, and you would have to wait for over two months after the kitten is born to go home with them.
However, that is not the case when it comes to adopting a cat. The best cat rescues in Ottawa have simple and quick adoption processes; you can start and finish the process in less than two weeks.
Whether you want to help a homeless street cat that has been neglected or donate and support a cat rescue in Ottawa, there is a charity for you.
Keep reading to learn about the best cat rescues, how they work, how to apply, and their contact details.
Other articles you would like: 10 Best Cat Breeders in Ottawa and Cat Rescues in Calgary.
The Best Cat Rescues in Ottawa
1. Ottawa Stray Cat Rescue
Ottawa Stray Cat Rescue made it to the top of our list because of its excellent reputation and good deeds in this field.
This registered, non-profit charitable organization is 100 percent dedicated to saving, helping, and placing cats in loving forever homes.
They get adoptable cats off the stress and high-kill shelters, regardless of their health or behavioral issues. The organization saves these cats and places them in homes in and around the National Capital Region.
This adoption program is one of the best in the country, as it genuinely cares about these cats and focuses on giving them a second chance at life.
Ottawa Stray Cats Rescue (OSCatR) is a foster-based rescue program, meaning all their cats are fostered in homes across the city, not in a central facility.
Each foster family pays close attention to their foster cats to ensure they are healthy, happy, and safe. While in foster care, the cats are tested for various health conditions and treated for any known issues.
The foster families also ensure the cats are well-socialized again before putting them up for adoption and finding their forever homes.
All the cats in their care were stray, abandoned, and neglected before being rescued, so they don't have historical/background information about them.
What they provide adopters is the behavioral and health information obtained while the cats are in their care.
Since they have no information about their history or background, they cannot guarantee the future health of their cats. However, they do ensure that all adopted cats are healthy and sound before leaving.
The cats are also trained and equipped with all they need to transition to their new homes smoothly. Cats usually have cold-like symptoms due to the stress of moving homes. These symptoms usually disappear on their own after a few days.
However, if the symptoms persist, you can reach out to the rescue team within the first 30 days of adoption, and they will work with you to schedule a wellness checkup at one of their partner animal hospitals.
Their adoption policy requires all their cats to be indoor cats, except they are supervised on a leash or harness or in an enclosure where they cannot escape.
The team spends so much energy and time taking these cats off the streets, so they want them to have a happy, long life indoors and not return to the streets.
Adoption fees range from $150 to $250, depending on the cat's age. The adoption fee includes a deworming treatment, vet exam, vaccinations, microchip, and spay/neuter.
Ottawa Stray Cat Rescue Details:
2. Furry Tales Rescue
If you are looking for the best place to adopt kittens and cats of various breeds and sizes, Furry Tales Rescue is a great option to explore. Furry Tales Rescue is a rescue organization created by dedicated, cat-loving volunteers.
The team's major focus is to help cats at risk of being euthanized. They also help homeless, stray, abandoned, neglected, and senior cats that need love, care, attention, and a place to call home.
Furry Tales Rescue is located in Smiths Falls but serves all of Ontario. It is a foster-based rescue agency founded in 2015 by compassionate cat lovers. The rescue is registered as a charitable non-profit, solely managed by volunteers, and funded by donations.
Their primary goal is to help cats who need urgent care and medical attention. There are local vets on the team; they are in charge of medically treating the cats and ensuring they are healthy before being adopted.
Their helping hands extend beyond Ottawa to surrounding areas, rescuing cats from hoarding situations and those who have been surrendered by their owners. Another thing we love about this organization is that they fully prepare their cats for adoption.
While preparing them for adoption, they offer top-notch vetting, such as vaccines, spay/neuter, deworming, and microchip. They take on many medical cases and have completed numerous amputations, dental, and entropic surgeries.
Furry Tales also care for many senior cats with thyroid and kidney disease and take FIV cats. Since its emergence, this rescue organization has rescued, medically treated, and rehomed more than 6,000 cats.
They have a four-step adoption process, which includes:
Filling out the online adoption form
Telephone interview after approval
Meet and greet
Complete the adoption
After filling out the online form, an adoption coordinator will contact you to review your application and conduct an interview to match you with a cat that best suits your lifestyle, personality, and unique needs.
All approved potential adopters must meet and spend some time with the cat before proceeding with the adoption process.
This helps you know the cat and determine if you both are compatible with each other. Once the process is complete, you can go home with your newfound love.
Furry Tales Rescue Details:
3. Hungry and Homeless Cat Rescue (HHCR) Ottawa
Hungry and Homeless Cat Rescue is committed to making a difference one small life at a time. Based in Ottawa, Ontario, HHCR saves, rehabilitates, and rehomes cats in various parts of the country.
Their goal is to save sick, injured, lost, abandoned, and surrendered cats and place them in loving, caring homes in Ottawa.
They take great care in finding the right homes for these cats. All their applicants are thoroughly assessed to ensure they are the ideal home for the cats.
They do not only rescue cats but also rehabilitate them to increase their chances of being adopted.
Medical help is also provided for cats suffering from illnesses and injuries. Those requiring dental care and surgery are also attended to by professional vets.
All rescued cats are placed in temporary foster homes until they find their forever homes. While in foster care, the cats do not lack anything. They enjoy the best meals and are given all the love, care, and attention they need.
Their cats are only put up for adoption when they are in stable condition. The cats go home vaccinated, dewormed, spayed/neutered, and microchipped.
A home visit is conducted for all potential adopters to ensure the place is safe and comfortable for the cats.
Another thing about this team is that they are always there for their cats. They provide lifetime support, meaning you can always reach out to them for support or guidance when raising your cat.
They have cats of different breeds and sizes, including kittens. The team occasionally has twin cats and adopt them together. You can visit their "Adoptables" page to see the list of available cats and start the adoption process.
Hungry and Homeless Cat Rescue Details:
4. Paws for cause Animal Rescue
Next up, we have Paws for Cause Animal Rescue. PCAR is a non-profit, foster-based cat and dog rescue organization in Ottawa. The program has a dedicated team of volunteers who help animals in need locally and internationally.
Their team is managed by volunteers who are passionate about rescuing, rehabilitating, and rehoming lost, abandoned, neglected, and surrendered dogs and cats.
They work with many international rescue partners that help them save stray and at-risk pets in other countries.
In addition to rescuing cats, this organization strongly advocates for pets. They also educate people about responsible pet ownership and the importance of spaying/neutering their pets.
The co-founders of this organization, Marrie and Tessa, have many years of experience with pets. They had been involved in animal welfare for many years before starting this non-profit organization.
All their rescued cats are taken to the vet for proper vet examinations. They are tested for various health conditions and treated accordingly. The cats are also brought up to date on vaccinations and deworming before being placed for adoption.
PCAR's cats go home:
Vaccinated
spayed/neutered
Microchipped
The cats are also re-socialized and trained to enable them to blend seamlessly into their new homes. You can also contact the rescue team if your cat is having difficulty adjusting or needs advice on how best to raise them.
Paws for cause Animal Rescue Details:
Conclusion For "Best Cat Rescues in Ottawa"
Before reaching out to the rescue organizations here, we recommend doing your research to find a suitable cat breed.
There are tons of different cat breeds out there, and finding one that will suit your home, lifestyle, and personality is important. You should also prepare your home and make it cat-proof and comfortable before bringing your new friend home.
You will also like:
Before you bring home a cat from a rescuer in Ottawa, you can learn more about cats by watching "😽 EVERYTHING I WISH I KNEW BEFORE ADOPTING A KITTEN" down below: