Guinea pigs make excellent pets; the only thing better than picking your new friends from a pet store is adopting them from a rescue.
These guinea pig rescues in Texas have surrendered pets that need loving homes. Check out their websites and social media to see who's available for adoption and how you can help their mission.
Other articles you would like: Best Guinea Pig Rescues in the US and Guinea Pig Rescues in Florida.
Why Do Guinea Pigs End up in Shelters?
Many people buy guinea pigs without researching the pet. They think guinea pigs are small, easy pets like hamsters, but they need larger cages and have different nutritional needs.
Guinea pigs can get sick and require vet visits, which many pet owners who want small animals can't afford.
When pet owners can't care for their animals, they might take them outside and let them run away.
Unfortunately, especially in Texas, the small animals will likely become hawk food. Surrendering a guinea pig to a shelter ensures it will have a safe home and the care it needs while waiting for the right owner to come along.
Guinea pig adoption is a great way to bring a new animal into your family. You're rescuing guinea pigs from life in a shelter or foster home and giving them your love. If you're considering adopting a guinea pig, check out these rescues in Texas.
Top 8 Guinea Pig Rescues in Texas
These guinea pig rescues in Texas operate with the animals' well-being in mind. If you're ready to adopt guinea pigs, consider supporting these rescues.
1. Texas Rustlers Guinea Pig and Small Animal Rescue
Anyone looking for an adoptable guinea pig should check Texas Rustlers Guinea Pig and Small Animal Rescue first. This organization has a great reputation in the Dallas-Fort Worth area.
You can contact them anytime about rescuing a guinea pig via email, but they only answer the phone on Saturdays, when someone staffs the Rescue Store.
Texas Rustlers Guinea Pig and Small Animal Rescue provide animals with clean cages and two fresh meals a day. To provide supplies for their fosters, the organization runs a Rescue Store.
Buying supplies for your guinea pigs and small animals here supports their mission. They have lower prices than retail, and all profits help the surrendered animals until they're adopted.
Texas Rustlers Guinea Pig and Small Animal Rescue Details:
2. Austin Guinea Pig Rescue
If you live in the Austin and Round Rock area and think about adopting a guinea pig, visiting Austin Guinea Pig Rescue is the best way to help.
You can also foster guinea pigs if you can't adopt one yourself. They post their adoptable guinea pigs on Petfinder and Facebook. You can fill out the adoption application online to fast-track the process.
The rescue focuses on saving animals at risk of euthanasia, so they don't accept surrendered pets from the public. They provide guidelines on what Austin-area pet owners can do with their unwanted guinea pigs to keep them safe and healthy.
The site also includes information on local vets that treat guinea pigs, rabbits, chinchillas, hedgehogs, and ferrets.
Austin Guinea Pig Rescue Details:
3. Houston Area Guinea Pig Rescue
The Houston Area Guinea Pig Rescue hosts adoption events. You can get started by filling out an online application for an adoptable guinea pig.
The shelter only adopts single guinea pigs if you already own one; otherwise, you must adopt a pair to ensure they're properly socialized.
The site has a lot of information regarding the ideal cage size for one or more guinea pigs. It also estimates the costs you might encounter owning a guinea pig, so all owners have the correct information.
Their education tab includes resources for families with children, information about toys and cages, and diet plans.
Houston Area Guinea Pig Rescue Details:
4. Precious Critters Pet Rescue
Precious Critters Pet Rescue is a home-based nonprofit, so you need to email them if you want to adopt a guinea pig.
They don't have a shelter where you can see the animals in person, but you can see them on Facebook. The rescue helps guinea pigs and other small animals, like chinchillas and hedgehogs.
Like many other guinea pig rescues, Precious Critters Pet Rescue offers guinea pigs in pairs. You can also use their services for boarding if you're going out of town and need care for your small animal.
Precious Critters Pet Rescue Details:
5. Second Chance Cavy Rescue
While Second Chance Cavy Rescue takes in all small animals, they focus on fostering adoptable guinea pigs until they find a new family. You can see the available pets on their website and Facebook or visit in person.
Adoption isn't the end of the relationship with Second Chance Cavy Rescue. They provide educational resources, nail trims, and regular health checkups.
You, in turn, can support their mission by volunteering, fostering, or donating funds. The rescue also provides guinea pig waste for farm fertilizer in exchange for fresh veggies for the pets.
Second Chance Cavy Rescue Details:
6. Citizens for Animal Protection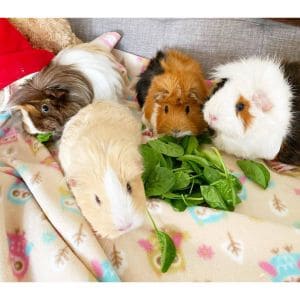 The Citizens for Animal Protection (CAP) rescues all sorts of animals in Houston, but they often have guinea pigs available. The nonprofit houses surrendered and homeless animals until they find a forever home.
In addition to adoptions, CAP educates the public to prevent animal cruelty, spays and neuters animals, and sells pet supplies.
You can view the available small animals online, but the shelter is open every afternoon to visit in person. CAP also allows volunteers to foster animals before they adopt. This opportunity lets you see how a guinea pig will fit into your life before you commit.
Citizens for Animal Protection Details:
7. The Bryi's Meows and More Rescue
The Bryi's Meows and More Rescue is part of The Woodlands Petsitting business in Montgomery County, Texas. The family-owned organization provides care for your pets when you're out of town.
They also rescue guinea pigs, cats, rabbits, and other small animals. You can adopt from them by contacting them directly or seeing what animals they have on Petfinder.
The Bryi's Meows and More Rescue Details:
8. Guinea Pig Finder
While it's not local to Texas, you can adopt a guinea pig using GuineaPigFinder.com. Search the Texas city closest to you and see what small animals are available for adoption.
You'll see pictures of guinea pigs, information about their current home, and the reason why the owner needs to surrender them.
Guinea Pig Finder Details:
Tips for Owning Guinea Pigs
After getting your new pets from one of these guinea pig rescues in Texas, you need to know how to care for them. These tips will help you give your rescue guinea pig the best life.
Nutrition
Knowing what to feed your guinea pig is crucial for their health. Give them a balance of fresh vegetables, hay, and pellets. Guinea pigs love leafy lettuce, kale, and parsley. You can also feed them broccoli, carrots, tomato, and zucchini.
Giving fruit as a treat is healthier than buying commercial treats, which contain artificial sweeteners and high fructose corn syrup. Since fruit is high in sugar, you don't want to give them large portions. Small pieces of apples, bananas, or oranges are ideal.
Cage Size
Give guinea pigs room to have separate areas for a nest, food and water, and a bathroom. You should get a cage that meets these minimum conditions:
Playtime and Socialization
Guinea pigs love to play. They must get out of the enclosure to stretch their legs and run free daily.
Your guinea pig loves spending time with you, but they love other guinea pigs even more. If you're able to adopt two guinea pigs together, you'll give them both a better quality of life.
Conclusion For "Best Guinea Pig Rescues in Texas"
If you're thinking of rescuing a guinea pig, ensure you're ready to give them the love and care they need. Then visit one of these quality guinea pig rescues in Texas.
They work hard to provide loving homes for surrendered guinea pigs, so adopting from them instead of from a pet store helps them with their mission. You'll have so much fun with your new pet!
You will also like:
For more information about Guinea Pigs, check out the video down below: