Cockapoo puppies are special because they are small, hypoallergenic, quiet, and easily trained. These angels don't even mind if your apartment is small. They are happy as long as you are giving them food, shelter, comfort, and love.
Due to all these reasons, people living in New Jersey often look around to adopt a Cockapoo puppy and have them as lifetime companions. Are you one of them, by any chance?
Other articles you would like: Cavapoo Puppies In New Jersey and Cockapoo Exercise Requirements
Cockapoo Breeders In New Jersey
If you've answered yes, the following list of the best Cockapoo breeders in New Jersey will help you find the soulmates you have always been looking for.
Here are the top 4 contenders for reputed cockapoo breeders in your area. Take a quick look to learn more about them!
1. Jans Cockapoos
The 1st generation Cockapoos at this breeding center are born from Miniature Poodles and Cocker Spaniel females. On the other hand, the 2nd generation Cockapoos are bred from Miniature Poodles and Cockapoo females.
Since a tender family raises the pups, they grow up with sound mental and physical health. If you have more in mind than just puppy adoption, Jans Cockapoos also offers doggy daycare services and boarding facilities!
On the day of adoption, you will receive a New Jersey Health Guarantee (a 6-month guarantee for genetic diseases and a 2-week guarantee for overall health).
Also, the pup will be up-to-date on current vaccinations, deworming, tails docked, training schedule, a list of essential supplies, a vet health certificate, food, toys, and a blanket.
The owner of the breeding center is willing to respond to your queries before and after adoption to ensure that the puppies are in good health and in the right hands.
But of course, the visits are based on appointment-only policies. If you need to know anything else, just reach out to the lady!
Cockapoo Breeder Information:
2. Eden Dog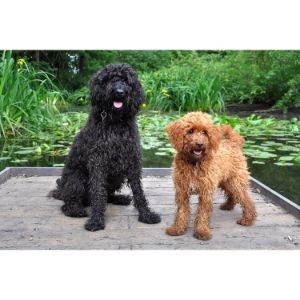 Eden Dog is another professional New Jersey breeding center specializing in breeding Cockapoo puppies! All the pups are American Kennel Club certified, and you will receive the paperwork on the day of the adoption.
The Poodle dad is Jasper, who is Canine Eye Registration Foundation cleared and Progressive Retinal Atrophy cleared. There are 2 moms; one is Tiffany, who is a Miniature Poodle, and the other one is Mellie, who is a Cockapoo.
If your eyes are on any of the puppies, you must make a reservation with a non-refundable deposit of $500. You can either use PayPal or your credit card to make the payment.
Besides, for those living far from New Jersey, the breeding center staff can meet you within 60-mile radius to deliver the puppy, but for a charge of $100. If that sounds too much, just drive there and pick up the puppy yourself!
Moreover, the breeding center only allows visitors when the pups have reached 5 weeks of age.
You are also informed not to visit dog parks, vet offices, dog shelters, other breeding centers, and pet stores before visiting the center to prevent the spread of parvovirus.
Cockapoo Breeder Information:
3. Stacia's CutiePoos
A proud member of the American Cockapoo Club, this breeding center is also managed by a loving family living in New Jersey. Since the puppies are raised on a 90+ acre farm, they get plenty of sunlight, fresh air, and space while growing up!
The family also treats them as one of their own, which adds great value to their upbringing because they are showered with love, positive self-esteem, confidence, and intelligence.
You must complete an application form to adopt a Cockapoo puppy from Stacia's CutiePoos.
The form is very detailed, and it asks important questions to analyze whether you are suitable for the puppies. Don't take that as an offense, though!
The center just wants to ensure the puppies can spend the rest of their lives in an ideal environment.
Enough information is also provided on the website about the fathers and mothers of the Cockapoo litter. Moreover, online training is available for those of you who are likely to struggle caring for a puppy.
The family at Stacia's CutiePoos is also super friendly and supportive. So, if you have any questions, just reach out to them!
Cockapoo Breeder Information:
4. Happy Doodles Place
Happy Doodles Place is also another breeding center where a kind-hearted family raises little Cockapoo babies in a home environment.
Being raised in a loving home environment produces healthy and happy puppies, and you will see proof of that if you end up adopting one of them!
These puppies receive social training from a young age. Hence, they can adjust to new people and animals pretty quickly! They are used scary household items, like vacuum cleaners, hair dryers, lawnmowers, showers, blenders, and microwaves.
On top of all these, the pups also sleep in the bedroom with the owners of Happy Doodles Place. Sometimes, even on the bed!
Having said that, even though these babies will come with a big personality, they are usually quiet, intelligent, and adaptable.
Cockapoo Breeder Information:
Factors To Consider When Adopting Cockapoo Puppies In New Jersey
Even though you can contact the list of Cockapoo breeders mentioned here, you should still do your search. The factors we will discuss below will eventually help you to determine good breeders from bad breeders.
· How Are The Puppies Being Treated At The Center?
People are paying more attention to animal rights these days. With that being the case, the breeding centers and customers are equally concerned about how the puppies are treated when nobody looks.
Breeders will ask customers hundreds of questions when they come to adopt a puppy.
In the same way, the customers also want to know every detail about the puppy's day to understand whether it is given adequate love and care.
You will notice that some breeding centers are open about their breeding methods on their websites. But some are not so transparent. In that case, you must visit those centers to find the truth in person!
· Are The Right Documentations Provided?
Another concern during puppy adoption is whether the breeding center is providing the right documents and paperwork related to the process. For example, puppies registered with the American Kennel Club will always have documents to prove it.
The same goes for medical examinations, vaccination reports, deworming, microchipping, and hereditary records.
Furthermore, the center may also ask you for valid documents to prove your identity to prevent selling puppies to criminals or mentally ill individuals.
· Do They Have Sufficient Knowledge About The Cockapoo Breed?
A Cockapoo breeder must know enough about the breed to put it up for adoption. Not all customers have previous experience with the breed. So, they will ask more questions to the breeder about Cockapoo puppies.
Experienced breeding centers have upgraded their websites to include all the important information about Cockapoo rearing.
You can easily find out what you need to know, such as potty training, house training, obedience, hygiene, meal schedule, sleep schedule, and playtime.
Questions To Ask Cockapoo Breeders In New Jersey
Now that you have established all the essential qualities of the best Cockapoo breeders, you can ask them everything that has been giving you anxiety since the first time you laid eyes on the puppies!
How often should I bathe, groom, and declaw my Cockapoo puppy?
Is it possible to see the medical reports of the Cockapoo parents?
How many hours of exercise should the puppy get every day?
What is the ideal diet for a Cockapoo puppy?
Do you provide any puppy training programs?
Best Cockapoo Breeders In New Jersey
Now that you have learned much about Cockapoo puppies, it is time to get into action! Have you done your research when it comes to taking care of Cockapoo babies?
Can your monthly budget support them? Think about all these factors, and hit the centers to adopt a little angel today!
You will also like:
For more information about the Cockapoo Breed, check out the video below: