If you are looking for the best places to buy Bernedoodle puppies in New Jersey, you have come to the right place, as we have carefully lined up some breeders you can trust.
Bernedoodles are a loving dog breed many families wish to have in their homes. However, many first-time puppy owners and even some puppy enthusiasts usually have difficulty selecting an honest breeder from the dozens out there.
The best breeders always prioritize the health, training, and socialization of their puppies over profit.
If you want a puppy that will not have you visit the vet weekly due to health complications, you should only patronize an honest breeder with high breeding standards.
To help reduce your search range, we have compiled a list of four trustworthy Bernedoodle breeders in New Jersey. You can call or visit the breeder near you to inquire about their puppies and proceed with the purchase.
The Best Bernedoodle Breeders in New Jersey
Other articles you would like: Cavapoo Puppies In New Jersey and Cavapoo Breeders By State
1. B&B Bernedoodles
B&B Bernedoodles is one of the best places to buy this dog breed in New Jersey. Located in Rutherford, New Jersey, this family-owned breeding program invests a lot of time, resources, and energy into their program.
They ventured into breeding to ensure families looking for healthy puppies easily can find one with ease.
The family produces Mini and Micro Bernedoodles in various colors and generations. Since they focus only on the smaller puppies, they have more than enough room for the pups to run around and exercise in the yard.
They also ensure the pups are kept on strict routines, including daily exercises for better health and development.
B&B Bernedoodles has separated itself from other breeders because of its unique breeding and puppy-training process.
They have a stringent training program to ensure the pups are emotionally and physically prepared for their new families. The pups are trained to be loyal to their owners. In addition, they undergo potty, crate, and behavioral training.
They also raise their dogs to be great comfort and service dogs for children and adults with disabilities, people who just need someone to love and cuddle, and military persons with PTSD.
They also allow their customers to pre-pick the color, gender, and estimated time they would like their puppy to come home.
All their puppies are bred, born, and raised in their home, not in a separate structure or barn away from the family house. They believe it is essential that the pups are brought up and cared for in a loving home, cared for by people who love them.
The family also ensures each puppy is well-socialized with kids and the daily sounds, sights, and smells they will experience in their own home. They are also exposed to dogs, cats, and other pets. All puppies come with:
Nose-to-tail certified vet guarantee.

Puppy shots

Birth certificate

A large basket filled with goodies, toys, and food
Bernedoodle Breeder Information:
2. Bella Pups
Next up, we have Bella Pups, a highly experienced and dedicated Bernedoodle breeder in Pennington, New Jersey.
You can expect both healthy and well-trained puppies from Bella Pups. This breeding program is owned and managed by Patricia Hess – a premier breeder with years of experience.
When puppies begin life with excellent care and love, they are happy, calmer, and well-behaved.
Patricia is passionate about her pups and ensures they get the best start in life. She handles her litter in a cage-free environment, giving them the freedom to play and roam around freely.
Patricia is concerned about a pup's first exposure to humans being kind, friendly, and loving. Hence, she uses only large whelping boxes and playpens to allow them to play freely to enjoy their freedom and curiosity.
All her puppies are carefully pampered with the best nutrition and sufficient exercise to remain fit.
The puppies also enjoy continuous human interaction with a lot of lap time, brushing & kisses, and holding. She raises and sells her puppies as loving, wonderful family pets, not for breeding.
In addition to breeding healthy puppies, she ensures every puppy is well-prepared to meet its new families by eight weeks of age.
By continually learning new things about this breed, Patricia is able to improve her breeding program significantly.
She knows how best to care for her breeding dogs to produce only happy and healthy pups. After whelping, she allows the pups to stay with their mother to learn and experience a mother's love.
Bernedoodle Breeder Information:
3. HC Bernedoodles
If you are looking for super friendly and healthy Bernedoodle puppies, HC Bernedoodles is one of our top recommendations.
HC Bernedoodles is located in Trenton, Missouri, but they ship and deliver their puppies to New Jersey and other neighboring states. Owned by a prestigious family, this breeding program focuses on helping families find the best Bernedoodle puppies possible.
They strive to breed pups for outstanding temperament, and, most importantly, health. To achieve that, they conduct thorough health tests for all their breeding dogs.
The dogs are Elbow and Hip tested by the Orthopedic Foundation for Animals (OFA). They are also DNA tested for Von Willebrand's Disease and Degenerative Myelopathy.
By conducting these health tests, they believe they significantly reduce the chances of their pups suffering any genetic defects or hereditary diseases.
They offer Bernedoodles in different sizes, colors, and coats. So you can reach out to them with your specific needs. The common colors they have include:
Black and white

Black and tan

Brown

Black

Sable
The various sizes they specialize in are:
This family knows the hassle of purchasing a new puppy, so they want to make the process easier for potential pet owners.
Even when you are not buying a pup from them, they are willing to help you overcome the daunting task of buying a pup and the loads of sketchy and dishonest breeders out there.
HC Bernedoodles is not one of the oldest breeders in the state, but they know what they are doing. They are well-informed and continue to improve themselves.
The family also works with many professionals, including licensed vets, to ensure their pups and dogs receive the best care possible.
With their excellent breeding program, you can expect nothing but high-quality designer dogs from this breeder. All their dogs and puppies are raised kennel-free and cage-free. They are all given the freedom to play and roam around the house.
Bernedoodle Breeder Information:
4. Bernedoodles of Love
We expanded our search to another neighboring state, PA, to find you this great breeding program. Bernedoodles of Love is a family that has been raising Bernedoodles and Goldendoodles for more than 30 years.
With three decades of experience, the family has developed an effective strategy to produce happy and healthy puppies consistently.
As a small in-house breeder, they give individual attention to all their puppies. The puppies enjoy lots of tender love and care while being treated like family members. The family also ensures the pups get the best-socialized start in life.
They are exposed to people, pets, sounds, lights, and other things they will likely encounter in their new homes. Their goal is to give their customers a great start in owning a lifetime companion and friend. All puppies from this breeder come with:
Vet health certificate

Puppy purchase agreement

First round of shots and worming

Health guarantee
In addition, this breeder always updates their website with current information about current and upcoming litter.
You can browse their website to find a puppy and initial the purchase process. They produce F1, F1B, F2 Bernedoodles and F1, F1B, F2 Goldendoodles.
Bernedoodle Breeder Information:
Conclusion For "Bernedoodle Puppies in New Jersey – Top 4 Breeders"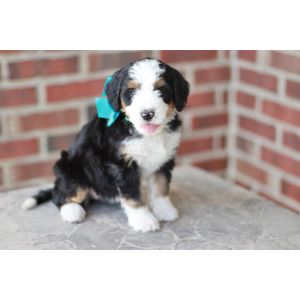 When looking for the best Bernedoodle puppies in New Jersey, do not make any financial commitment without contacting the breeder and meeting with them. You should be able to see the breeder and their home or farm.
If the pup is less than eight weeks old, you should be able to meet the mother of the litter. Reliable breeders will always answer your questions and grant your requests to prove their legitimacy.
You will also like:
For more information about the Bernedoodle Breed, check out the video below: