Cavapoos are small dogs but truly are a great bundle of joy. If you are based in Rhode Island and looking to buy a Cavapoo, check out our top picks on Cavapoo breeders in Rhode Island.
Cavapoos are intelligent dogs that are easy to train and make great apartment buddies. Despite having a medium exercise requirement, they are fairly active small dogs that make great pets for first-time dog owners.
Cavapoos are small, but their grooming needs are big. Even though they are hypoallergenic and shed only seasonally, they require grooming frequently. Cavapoos are a hybrid breed of Cavalier King Charles Spaniel and a Poodle.
With almost stuffed toy-like features, Cavapoos come in various colors and have either soft, curly, or wavy fur, making them huggable soft little buddies.
Before you scroll further down this guide, check out these other Cavapoo-related articles: Top Cavapoo Breeders in Michigan and Cavapoo Puppies In California – Top Breeders.
1. Blue Diamond Family Pups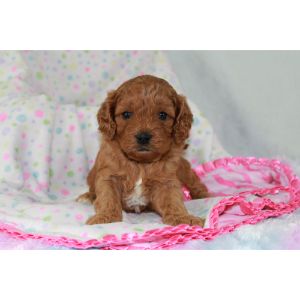 Blue Diamond Family Pups is our top pick because it offers the best designer Cavapoo puppies for sale in Rhode Island. They breed their dogs from genetically tested parents.
Their F1 pups are bred from a King Charles Cavalier purebred mother and a toy/miniature purebred Poodle father.
However, their F1b Cavapoo puppies are born from a Cavapoo Boutique mother and a purebred miniature father.
They breed their puppies with a specific focus on their color. They specialize in red, white, and apricot-colored coat puppies. Their standard puppies grow up to 20 pounds, and their average life span is 11-16 years.
Each mother dog at Blue Diamond Family Pups goes through a physical examination bi-annually or every six months so that the litter's health is ensured and each litter is timely planned.
Once the puppies are born, they are examined by a veterinarian and checked for their health.
Each puppy gets their age-appropriate vaccines and is already on a deworming schedule given by the vet. All their puppies are tested for temperament; you can meet their dog trainer upon request.
The starting price point for their Cavapoo puppies is $2995.
Blue Diamond Family Pups ensures that their puppies are healthy.
Each of their puppies comes with a one-year health guarantee and is micro-chipped. They emphasize socialization, and therefore, all their puppies are well-socialized.
Besides Cavapoos, they breed Beabulls, Bernedoodles, Mini Bernedoodles, and Mini Goldendoodles puppies that can be shipped anywhere in the United States.
They offer door-to-door ground delivery, and the charges range from $300-$500, depending on the state.
The charges for their Flight Nanny service are from $800-$900. For puppies picked up from the kennel, an additional 7 percent sales tax is charged.
Puppy Details:
Generation: F1 and F1b Cavapoos
Size: Standard
Color: red, white, and apricot
Blue Diamond Family Pups Details:
2. Redcastle Cavapoo
RedCastle Cavapoo is a small hobby breeder with healthy and happy Cavapoo puppies for sale in Rhode Island. They are a selective breeder and have a limited number of litters yearly.
Each litter at RedCastle Cavapoo is carefully planned, and they do not breed their puppies without carefully selecting the parent dogs.
Their pricing for each puppy varies and is decided when the puppy is chosen from the litter. They do not hold puppies without a deposit, and since it's only a few litters each year, to ensure you have a spot on their waiting list, apply early.
As a fairly new breeder in the list of Cavapoo breeders in Rhode Island, they work with other credible breeders to ensure their dogs are free from any diseases.
They use the stud service of Brookside Cavalier to ensure they produce healthy pups.
Brookside Cavalier's dogs are health tested and DNA tested as well.
RedCastle Cavapoo's open declaration for collaboration with Brookside Cavaliers shows that they are honest about their breeding practices and want to ensure that the pups they are providing you with come from a healthy bloodline.
Redcastle Cavapoo Details:
3. Crocket Doodles
Crocket Doodles is a premier Cavapoo breeder that works alongside its sister site, Best Cavapoos, to provide Doodle enthusiasts with top-quality Cavapoo dogs.
They are pioneers in producing health-tested premier designer Cavapoo puppies in Rhode Island and other dog species.
They have extended their services and pickups through their Partner Home Networks, which allows them to carry out their breeding practices for multiple breeders.
But they only accommodate 5 percent of these requests as they emphasize breeding for quality.
If you are looking for a Black Cavapoo, the price ranges from $1100-$1800 since Crocket Doodles specializes in lighter color coats.
The price for cream or caramel puppies ranges from $1700-$2500; for apricot, red, or tri-colored puppies, the range is from $2100 to $3100.
The price is also dependent on the size that you are going for. If you choose a traditional or standard-sized Cavapoo, it is +$400 for the price, and for a petite or toy puppy, it is an additional $600.
Their traditional Cavapoos are bred from a make Cavalier and a Moyen Poodle.
To reserve your puppy, you must make a $300 deposit if your application has been approved.
If you later change your mind and can no longer have the puppy, you can ask for a refund of your initial deposit but with a deduction of an 8 percent processing fee.
Each puppy at the time of adoption has had their age-appropriate vaccinations and deworming medications.
All the puppies come with a spay-neuter contract. To ensure that their puppies reach their new homes safely, Crocket Doodles offers Ground Delivery and Flight Nanny service, as they do not ship their puppies.
Puppy Details:
Generation: F1, F1b and Multigenerational
Size: Mini and Toy/petite
Crocket Doodles Details:
4. Poodles and Doodles
The last pick on our list is Poodle and Doodles, a breeder specializing in breeding Cavapoo dogs for temperament.
Their puppies are sold on a first-come, first-served basis. All their puppies come with a 12-month health guarantee and are checked by two different veterinarians.
When you are ready to pick your puppy, they'll be up to date on their age-appropriate vaccinations and deworming schedule.
Each puppy comes with paperwork with the veterinarian's contact information, so there are no gaps in maintaining the necessary health measures for the puppies.
They allow you to visit their facility and meet the puppy, so you know your choice. Poodles and Doodles LLC is based in Massachusetts but can deliver their puppies throughout the United States.
They do not just breed Cavapoos; their breeding program also includes Maltipoos, Cockapoos, and Cavapoos.
You can choose your favorite puppy from any breeds if you change your mind about having a Cavapoo puppy.
Poodles and Doodles Details:
How to Choose a Cavapoo Breeder in Rhode Island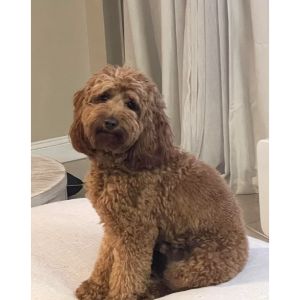 There aren't many Cavapoo breeders in Rhode Island, which is one of the reasons to be even more careful in selecting the breeder.
Here are a few points to note when selecting Cavapoo puppies in Rhode Island and the breeder to get your puppy from.
Experience: When selecting a breeder, choose a breeder that has been breeding dogs for many years and has a solid knowledge base about the needs and characteristics of the breed. A seasoned breeder will be confident in their breeding practices and will not shy away from showing their experience.
Health testing: Puppies are a big commitment, and getting a healthy puppy should be your number one priority. Look out for breeders that offer health testing for congenital diseases and conduct the necessary screenings to ensure that the puppies and parent dogs are healthy.
Compatibility: To make sure that a breeder is credible, try visiting the facilities offered by the breeder. A breeder who is open to answering your questions and queries will understand your needs and requirements as a dog owner. They'll want to ensure you can take care of their puppy.
Contracts and policies: Reading through the policies of the breeder that you choose is an extremely important step. Make sure to go through the policies and contracts of the breeder you choose to see if they can provide support for their puppies and, in case of any emergencies with the puppy, what can be done. From the policies on shipping to providing support, check it all thoroughly.
Frequently Asked Questions
What are the downsides to owning a Cavapoo?
These dogs occasionally inherit some genetic diseases, so you should find a good breeder first.
Do Cavapoos bark a lot?
This depends on the dog. Some dogs are quiet, while others are noisy.
Are Cavapoos hard to look after?
Cavapoos are not hard to look after at all. After some training, you can get them to co-exist peacefully with children and other pets.
Where Are the Best Cavapoo Breeders in Rhode Island?
Cavapoos are adorable and friendly little pups. Their sweet nature will melt your heart. If you are based in Rhode Island, do check out the Cavapoo breeders in Rhode Island listed above to make your search easier.
Small breed dogs may seem little, but they have big care requirements, so do not be hasty in making your choice.
Thoroughly research, ask questions, and visit breeder facilities to make a decision that lasts.
If you find this guide, "Best Cavapoo Breeders in Rhode Island," informative and helpful, you can check out these other dog-related articles from our team:
Before you find a Cavapoo puppy for sale in Rhode Island, you can learn more about this dog breed by watching "Cavapoo – TOP 10 Interesting Facts" down below: