Every year, about 6.3 million dogs and cats enter U.S. animal shelters. Of those, just over half were cats. Unfortunately, cats are also more likely to be euthanized. No worries, though. We've got a list of the best cat rescues in Minnesota for you here.
Of the 920,000 shelter animals euthanized each year, about 530,000 are cats. Cats are also less likely to be reunited with their owners, with only 100,000 returned to owners yearly compared to 710,000 dogs.
However, 2.1 million cats are adopted each year thanks to the effort put forward for cat adoption at animal shelters and rescues.
These cat rescues in Minnesota often take in cats that have been abandoned or abused and provide love, shelter, and medical care until they can find a forever home.
Other articles you would like: Cane Corso Adoption and Maltipoo For Adoption.
Top 6 Cat Rescues in Minnesota
Minnesota has several fantastic cat and kitten rescues. Many of these rescues work to care for and rehabilitate cats and kittens who have difficulty socializing or special medical needs.
It might be challenging to find free cats, but here are the top five rescues in Minnesota specifically for cats and kittens, in alphabetical order.
1. Bitty Kitty Brigade
The Bitty Kitty Brigade is a rescue specifically for infant kittens who have been abandoned or in cases where the mother cat cannot feed them.
They take the cats in and hand-feed them until they can eat on their own. The non-profit, no-kill organization takes in kittens who are 0-5 weeks old and nurtures them until they are 12 weeks.
The Bitty Kitty Brigade was started in 2018 by Joan Barrett and Mandy Dwyer. They employ a network of foster homes to help care for kittens that they receive from local rescues and community members.
They've also formed the Birth Control Brigade, a team of volunteers that humanely traps stray cats and partners with local programs like the Animal Humane Society and MN SNAP to spay and neuter these cats.
Eligible cats are put up for adoption, while others are returned to where they were found.
Both kittens and adult cats are available for adoption. Interested owners must adopt kittens in pairs or to a home that already has a young companion animal to provide proper socialization.
All kittens are spayed or neutered, microchipped, tested for feline leukemia virus (FeLV), and vaccinated. The shelter charges $250 per kitten and $200 per adult to offset medical costs.
If you're interested in becoming a foster caregiver to these bitty kitties, you'll need to fill out an application and complete the training program. Other volunteer opportunities are available as well.
You can also donate by sending money or purchasing items from one of the shelter's wishlists. To see the latest updates and kitten photos, follow them on Facebook.
Bitty Kitty Brigade Details:
2. Caring for Cats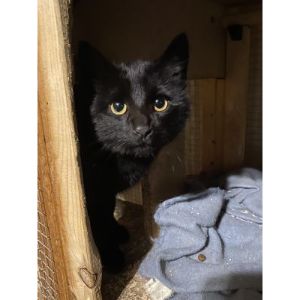 Caring for Cats is a no-kill shelter for cats and kittens. The shelter houses dozens of cats, while their foster network cares for a few dozen more. Annually, they can find forever homes for an average of 95% of their cats and kittens.
Nancy Mosier started caring for special needs cats in 2001. At the time, she was working out of the basement of her home.
She partnered with Dr. Sue Swanson to provide special care for cats with medical conditions. Together they opened their no-kill shelter, and it's been at its current location since 2003.
To adopt a cat or kitten, the shelter requires an hour-long appointment so that you have enough time to get to know the cats.
Before your appointment, you can view all the cats and kittens that are currently available and look at their information and the adoption fee. Adoption fees average between $125-$225.
As a non-profit, the shelter depends on donations and volunteers to keep the cats happy and healthy.
You can make a general donation or sponsor a specific cat. The shelter offers volunteer options both in the shelter and as a temporary foster parent.
Even kids can get involved! Kids ages 6-13 can sign up for a half-hour time slot to sit and read to the cats through the shelter's Cat Tales program. For fun, check out the shelter's 24-hour live stream of their cats and kittens.
Caring for Cats Details:
3. Kitty Revolution
Kitty Revolution is a no-kill foster network for down-on-their-luck rescue cats and kittens. They provide veterinary care such as checkups, vaccinations, medication, and testing for FeLV.
Cats and kittens are also spayed/neutered and microchipped. Foster families nurture these cats until they are placed in a forever home. Many of these cats have special needs.
A group of cat lovers started Kitty Revolution to help care for cats that may traditionally be overlooked for adoption.
These cats may have difficulty socializing, have been abused or neglected, and have medical needs or chronic illnesses. Kitty Revolution provides love and support and helps place them in the right homes.
Kitty Revolution has several adoptable cats, and their website allows you to sort by factors like age, breed, and sex.
Each cat's profile gives you a rundown of its personality and medical needs. The profile will also tell you if they've bonded with a foster sibling so you can adopt them together.
To submit an application, choose the "apply for adoption" button on the cat's profile or use the foster parent's contact information at the bottom of the profile.
To help the rescue continue its work, you can volunteer or donate. Kitty Revolution is looking for foster caregivers and volunteers to help care for the cats and keep the business running.
You can also donate by making a financial contribution, sending supplies, or sponsoring a foster. Kitty Revolution also hosts events yearly to raise money and facilitate adoptions. Follow Kitty Rescue on Facebook for the latest updates.
Kitty Revolution Details:
4. Feline Rescue
Feline Rescue is a no-kill, limited-intake rescue for cats that have been abused or abandoned.
They operate out of a shelter in St. Paul and through a network of foster caregivers. The rescue takes in homeless and endangered cats and provides them love and care until they can place the cats in a loving home.
Founded in 1997, Feline Rescue is a non-profit. In their care, cats receive both love and shelter, medical care, and social rehabilitation. The rescue also offers community education and numerous resources for pet parents.
Most adult and senior cats are housed at the shelter, while kittens and cats with more complex needs are cared for in foster homes. Feline Rescue has multiple cats available for adoption through both the shelter and foster network.
All cats and kittens are tested for FeLV, treated for parasites, spayed or neutered, and microchipped. The adoption fee for kittens is $200, for adults is $180, and for senior cats over ten years old is $100.
You can volunteer, donate funds or supplies, or sponsor cats and kittens. Their events calendar can keep you updated on adoption events and fundraisers.
Feline Rescue Details:
5. Furball Farm Pet Sanctuary
This non-profit refuge is for adult cats who need a little extra love. The cats here are often not socialized and have been victims of abuse, neglect, or abandonment. Many were just days away from euthanization when Furball Farm took them in, which is their last resort.
Julie Marvets, who is a former vet tech and army veteran, started the sanctuary. The goal of the rescue is to shower these unwanted cats with love, kindness, and understanding.
Interested owners can then adopt some of these cats out to forever homes. For those that aren't, Furball Farm becomes their forever home. Currently, the shelter houses over 350 cats.
Furball Farms currently has several cats available for adoption and often posts adoptable cats on its Facebook page. The shelter requires a $50-$100 donation for adoptions, fully refundable if things don't work out. All cats are spayed/neutered.
If you would like to help in other ways, Furball Farm is always looking for donations and volunteers. You can also watch a live stream of the sanctuary and check its calendar for upcoming fundraisers and events.
Furball Farm Pet Sanctuary Details:
6. The Wildcat Sanctuary
This sanctuary is unique among the rescues on this list because they don't rescue domesticated cats. Instead, they rescue big wild cats.
The sanctuary takes in cats that have been abused by private owners. In May of 2021, they took in four large cats previously in the possession of the controversial "Tiger King" Joe Exotic.
The sanctuary does not sell, breed, or exhibit the wild cats. As a rescue, not a zoo, The Wildcat Sanctuary provides spacious enclosures with indoor and outdoor habitats and lifelong care.
They are accredited by the American Sanctuary Association and the Global Federation of Animal Sanctuaries, licensed by the USDA, and a member of the Big Cat Sanctuary Alliance.
The Wildcat Sanctuary depends 100% on donations and volunteers. They are always looking for volunteers to help with cleaning and chores around the sanctuary.
If you prefer to donate, you can set up a recurring monthly donation, a one-time donation, or an annual sponsorship.
While you can't visit The Wildcat Sanctuary, you can take a virtual sanctuary tour or stay updated on their Facebook page.
The Wildcat Sanctuary Details:
Conclusion For "Best Cat Rescues in Minnesota"
Minnesota has many wonderful animal rescues across the state. Cat-specific rescues allow for a better focus on cat care and needs. These cat rescues in Minnesota provide love, care, and compassion so their cats and kittens can thrive.
You will also like:
For more information about Cats, check out the video down below: