Welcome to the world of Whippet breeders in Florida! Dog lovers know Whippets are among the cutest and most endearing breeds available. This breed will add life to your home and give you all the happiness you want!
Did you know these elegant dogs were developed to hunt tiny prey like rabbits in England in the 18th century?
But today, Whippets are more than just hunting dogs – they're loyal companions that make great family pets.
And if you want to bring a Whippet into your household, you need to look for a reliable breeder that can provide you with a healthy, content puppy, and that's where we come in!
Join us as we explore the best breeders in Florida, from the stunning beaches of Miami to the lively streets of Orlando.
We'll introduce you to some of the state's most dedicated breeders committed to creating Whippets that are stunning, healthy, and have excellent temperaments.
So, buckle up and get ready to embark on a journey full of wagging tails and puppy kisses. Beware; you might end up falling in love with an adorable pup today.
Before you scroll further down this guide, check out these other dog-related articles: Best Vizsla Breeders in Florida and Best Cane Corso Breeders in Florida.
1. Wise Heart Whippets
Meet the wonderful family behind Wise Heart Whippets – Elizabeth, her husband Jason, and their five children, Jase, Cristian, Seriah, Rebekah, and Elizah.
When they're not running their flooring installation business, they're busy snuggling up with their four-legged family members – their adorable Whippet puppies in Florida, and finding happy homes for them!
These furry friends have brought so much joy, giggles, and excitement to their home that they can't imagine life without them – and they want to share this happiness with others by providing their litters with loving forever homes.
Elizabeth and her family discovered the wonderful world of Whippets over 14 years ago and have been in love with the breed ever since.
Not content with just having these fantastic dogs as family pets, Elizabeth and her family have also ventured into the world of sporting and showing their Whippets.
They love participating in Conformation and Lure Coursing AKC/UKC events. Giving back to the breed they love is a fulfilling and rewarding experience.
Wise Heart Whippets has got you covered if you want to learn more about this family-friendly breed.
Check out their "INFO" tab for all the Whippet-related knowledge you want. Their pups will steal your heart and compel you to contact them about adopting a pup.
So, come join the Wise Heart family on their Whippet journey and embrace the joy that these furry friends bring!
Wise Heart Whippets Details:
2. Karasar Whippets and Alphonse Grooming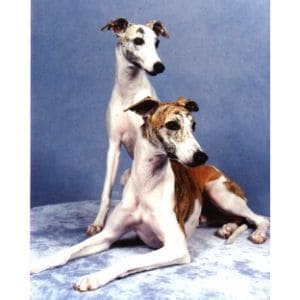 Our next breeder, Karasar Whippets and Alphonse Grooming, has an impressive track record of producing high-quality Whippet puppies for sale in Florida that proves their credibility.
With 14 generations of champion Whippets and 13 different AKC USA Best in Show awards, they definitely won't disappoint you!
With five different #1 Whippets in three countries, Karasar Whippets has established itself as one of the top Whippet breeders globally.
Their Whippets have won multiple Best in Sweepstakes, Specialty, and Supported Entry competitions and have even been featured in a national ad campaign by Purina.
If you're interested in getting a puppy, Karasar Whippets has a litter available born on January 22, 2023, with both parents being champions and health tested.
The puppies are brindle and white, and the adoption fee starts at $2000, which includes a health certificate.
In addition to breeding top-notch Whippets, Karasar also offers grooming services for your furry friends. Don't forget to check out their Facebook page for pictures of their amazing Whippets.
Karasar Whippets pride themselves on their ethical breeding practices and their love for all their pups.
Don't hesitate! This is a once-in-a-lifetime opportunity to find your future best friend who has had an incredible start in life. Contact Karasar Whippets today.
Karasar Whippets and Alphonse Grooming Details:
3. Pinnacle Farm and Kennel
Hold onto your leashes, folks, because Pinnacle Farm and Kennel is the place to be for top-notch Whippet puppies in Florida and Italian Greyhounds!
These pooch-loving experts are committed to ensuring their animals are healthy and happy, and they're pretty darn good at it, too.
The American Kennel Club has recognized them as Breeders of Merit for Whippets and Italian Greyhounds!
Located just a stone's throw away from I-75 in gorgeous North Georgia, Pinnacle Farm and Kennel is the perfect place to pick up your new furry family member.
You can grab your pup in person if you're close by, or if you're coming from a bit further afield, they've got you covered with transport options.
You can meet at the Atlanta, GA, or Chattanooga, TN airport, or even have a pet nanny deliver your pooch right to your local airport – fancy, huh?
But that's not all – Pinnacle Farm and Kennel's owners, Justin and Cheslie Smithey, are serious about their furry friends.
Justin's been in the business for years, and he's a successful Professional Dog Handler who attends over 150 dog shows annually.
Cheslie's no slouch, either – she's been breeding Whippets and Italian Greyhounds for years, with numerous champions and acclaimed wins under her belt.
GCHP Pinnacle Kentucky Bourbon, the Top Winning Whippet in AKC History, is owned, bred, and handled by Justin, who takes great pride in this achievement.
"Bourbon" has won over 80 All Breed Best in Show titles and was recently Reserve Best in Show at the 2020 Westminster Kennel Club Dog Show; these siblings are indeed the cream of the crop.
At Pinnacle Farm and Kennel, animals are treated like royalty. There's plenty of room to run and play outdoors; they get the best nutrition and vet care.
Justin and his team ensure that all their animals are safe and sound, and they go to great lengths to ensure their furry friends reach their full potential.
So what are you waiting for? If you're looking for a new best friend, Pinnacle Farm and Kennel is the place to be.
Just remember, puppies won't be held without a deposit, and those deposits are non-refundable – but trust us, they're worth every penny for Whippet puppies for sale in Florida!
Pinnacle Farm and Kennel Details:
4. Cherché Whippets
Are you ready to add some joy and love to your life? Look no further than Cherché Whippets! These lovable pups have been bred and shown with care since 1985, and their health and happiness are top priorities.
Located on One Day Farms, approximately 60 miles east/northeast of Georgia, Cherché Whippets are worth the trip.
Their dogs are not just show dogs, but members of the family who live as house companions. With six Whippets and six chickens, this home is filled with love and laughter.
Cherché Whippets are hobby breeders who focus on breeding dogs for themselves to show and run.
Health testing and sound temperaments are of utmost importance, ensuring each pup is ready to be a loyal and loving addition to your family.
Started as a hobby in 1984 by Glenda, Cherché Whippets has grown to include the passion and expertise of Glenda's daughter and best friend, Crystal McNulty of Hycks Hollow Whippets in Illinois.
Together, they have bred numerous AWC National, AWC Regional, and Independent Specialty Best in Show winners.
Cherché Whippets love to have fun! Most of their dogs are dual-purpose, excelling in both conformation and field events. All of their dogs are BAER tested for ears, and OFA tested for heart and eye.
If you want to add a Cherché Whippet to your family, fill out an application today!
Please note that a home visit and fenced yard are mandatory – but with a lovable pup like this, all Whippet breeders in Florida will want to make sure they're safe and sound.
Cherché Whippets Details:
How to Choose Whippet Breeders in Florida?
Florida is a beautiful place to find a Whippet breeder. But with so many options, how do you choose the right one?
Don't worry, furry friend! We have got your back with some helpful tips for finding the perfect Whippet breeder in the Sunshine State.
Research, research, research: Before committing to a Whippet breeder, do your research. To learn what other dog lovers are saying about them, check out their website, social media profiles, and online reviews.
Check out the breeder: Visit the breeder in person to get a sense of how they operate. Do they give their dogs proper care? Are the dogs happy and healthy? Do they have a clean and safe environment? These questions are worth considering.
Pose inquiries: If you have any doubts regarding their breeding program, dogs, or rules, a good breeder will be pleased to respond. Do not be hesitant to inquire about the methods used for socialization, temperament, and health testing.
Check for certifications: A reputable breeder will have their dogs health tested and certified by organizations such as the Orthopedic Foundation for Animals (OFA) and the Canine Eye Registry Foundation (CERF). Make sure the breeder you choose has these certifications.
Get references: Ask the breeder for references from past puppy buyers. If you want to purchase a Whippet from them, this can give you a decent sense of what to anticipate.
Remember that selecting a Whippet breeder is a serious decision, but with careful thought and some investigation, you can find the ideal furry friend!
Conclusion For "Best Whippet Breeders in Florida"
Congratulations! You have officially become a Whippet expert! Now that you know the qualities to look for in a breeder and the best Whippet breeders in Florida, you may choose a trustworthy Whippet breeder.
With this information, you are well on your way to discovering the ideal furry friend. There is a Whippet breeder out there for everyone, whether you want a show dog or a loving friend.
Start your search now, and be ready to welcome your new furry family member! Keep in mind that getting a Whippet will bring you a lifetime of love and memories, not simply a new pet.
We hope you start making these new memories with your pup soon!
If you find this guide, "Best Whippet Breeders in Florida," informative and helpful, you can check out these other dog-related articles from our team:
Before you find a Whippet puppy for sale in Florida, you can learn more about this dog breed by watching "WHIPPET Dog Breed 🐶 | Characteristics, Care and Health 🐾" down below: