If you are considering adopting a sweet Ragdoll, please check out the amazing work some of the Ragdoll Rescues in the UK are doing.
These inspiring organizations are striving hard to keep ragdolls off the streets and out of kill shelters. They provide food, shelter, and medical care to all ragdoll cats in distress and even help find good homes for them.
So, before you contact any ragdoll breeders for ragdoll cats or kittens on sale, it may be worthwhile checking out these ragdoll rescues in the UK to find out if they have a pet for you!
Other articles you would like: Best Cat Rescues in Scotland and Maine Coon Breeders In Scotland.
10 Ragdoll Rescues in the UK
1. Ragdoll Rescue UK
First on the list of Ragdoll rescues in the United Kingdom is Ragdoll Rescue. The team at Ragdoll Rescue UK consists of volunteers from areas like Staffordshire, Hampshire, West Midland, and Peterborough.
Once they get a request about a surrendered ragdoll, they try and obtain as much information about it – temperament, health, neuter status, etc.
If the need arises, they even feed sick ragdoll cats using syringes and lovingly nurse them back to health. Before accepting ragdolls, they ask for the cats' complete vet records.
If none are available, they get the surrendered cats' health tested and even their teeth checked. They also sometimes have other popular cat breeds or mixes such as the Maine Coon, that you can rescue.
Aggressive ragdoll cats and cats with allergies often need more time at the shelter. Thankfully, the volunteers at Ragdoll Rescue always ensure the cats' best interests at heart.
Once a ragdoll cat is healthy and back to normal, they help find a loving home for it.
If you wish to surrender your Ragdoll in the winter months, please note that you might need to pay extra for food and heat. Do get in touch with Ragdoll Rescue UK on the details given below:
Ragdoll Rescue UK Details:
2. British Ragdoll Cat Club Rescue and Rehome
The British Ragdoll Cat Club Rescue and Rehome (TBRCC) is a volunteer-based organization with members from all across the UK.
Over the years, they have helped find second homes for thousands of ragdolls whose owners are unable to care for them. TBRCC is also a member of The GCCF – Giving Cats Care Forever and adhere to its code of ethics.
TBRCC does a complete assessment of a rescued cat – particularly its health and nature. They take the cat's previous lifestyle into account – which helps in finding suitable owners for it.
If you wish to adopt a ragdoll or have no option but to surrender one, please contact TBRCC on the details below:
British Ragdoll Cat Club Rescue and Rehome Details:
3. Cats.Org – Cats Protection
Cats Protection happens to be UK's leading cat welfare and charity.
Since their conception – way back in 1927 – they have helped rehome over 1 million cats and championed the rights of millions of others. Search their database for a ragdoll cat or contact them if you wish to surrender your ragdoll.
Cats.Org – Cats Protection Details:
4. Romney House Cat Rescue
Romney House Cats Rescue was founded in 1998 and since then, it has helped rehome thousands of cats.
They even partner with other rescue organizations like Battersea Dog and Cat Rescue (listed below) and take in cats that cannot cope in large catteries.
Today, the rescue organization has 9 garden sheds converted into cat homes with beds, litter boxes, and other cat furniture.
All costs pertaining to food, vet care, etc. are all funded by the Romney House. So, please consider donating or adopting a cat from here:
Romney House Cat Rescue Details:
5. Cats Birmingham Adoption Centre
Cats Protection is a registered Charity No. 203644 (England and Wales) and also has a branch in Scotland. If you're in Scotland, we highly recommend that you check out our full list of cat rescues in Scotland.
Cats Protection Birmingham Adoption Center has helped find forever homes for more than a thousand cats for several years.
This adoption center works with three goals in mind – rehoming, neutering/spaying, spreading awareness and educating people about neutering/spaying their cats.
If you want to rehome your ragdoll cat, please call them at 01564 822 020. Do note that they have long waitlists. If you wish to adopt a ragdoll, visit their page here.
Cats Birmingham Adoption Centre Details:
6. Feline Care Cat Rescue
In addition to taking in cats of all breeds and ages, Feline Care Cat is doing a wonderful job of spreading awareness among cat owners regarding neutering/spaying and microchipping cats to prevent unwanted kittens and lost cats.
It is a registered charity with the registration number 1144830.
Feline Care Cat Rescue also takes care of feral cat colonies by trapping, neutering, and returning them to the same area.
They even rehome ragdolls and other cat breeds with a view of finding forever homes for them.
This wonderful organization works with other non-profit charity organizations and cat rescues so you have a good chance of finding a healthy and stable ragdoll here.
Feline Care Cat Rescue Details:
7. Four Paws Cat Rescue
Four Paws Cat Rescue is a registered organization founded in 2010. They rescue, rehabilitate, and rehome cats and kittens in Oxfordshire and surrounding areas.
Their team of dedicated cat lovers and volunteers organize fundraisers and educational campaigns to educate people about cats and the importance of spaying/neutering them.
They also help people with their cat's specific health/behavioral issues. You can depend on this wonderful charity to support you in the care of your cat, should you need advice.
Four Paws Cat Rescue Details:
8. Ginger Cat House Rescue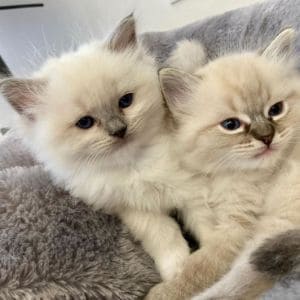 This wonderful organization takes in cats of all breeds – particularly in the Epsom, Worcester Park, and Surrey areas.
They even take in pregnant cats. This is a self-funded organization – they rely upon donations to fund the vet bills. If you have a ragdoll to surrender, they will take it in -no questions asked, no judgment made!
Ginger Cat House Rescue Details:
9. Helping Dogs and Cats UK Rescue CIC
This is a non-profit rescue based in Basingstoke and operating in Hampshire, Kent, and Surrey. The team at Helping Dogs and Cats UK Rescue CIC (charity number 1420295) rescues, rehabilitates, and rehomes cats, dogs, and small animals in need.
They are a volunteer-based organization consisting of a small team of animal lovers – they do not have government funding and rely on donations. Helping Dogs and Cats UK Rescue CIC microchip the animals and even spay or neuter them.
They have a straightforward process of rehoming cats and the entire process goes smoothly. If you are interested in ragdoll adoption, do contact them below for details.
Helping Dogs and Cats UK Rescue CIC Details:
10. Battersea Dogs and Cats Home
At the time of writing this guide, the Battersea Dogs and Cats Home had over 17 cats ready for adoption. The non-profit organization rescues all breeds of cats and dogs, so there is a good chance of finding a healthy ragdoll here.
They also work with other rescue organizations. Battersea Dogs and Cats Home also conduct animal welfare campaigns to raise funds for animals in need.
They are a registered charity with registration number 206394. Battersea Dogs and Cats Home is also registered with Fundraising Regulator.
If you wish to surrender your ragdoll, do get in touch with Battersea Dogs and Cats Home
Battersea Dogs and Cats Home Details:
How Do I Get a Rescue Ragdoll In the UK?
Nearly 20,000 cats are abandoned in the UK each year. Therefore, finding a ragdoll cat should not be tough.
Also, there are many ragdoll rescue organizations working specifically toward the welfare of surrendered or neglected ragdolls and you can start your search there.
Many of the Ragdoll rescue organizations in the UK even let you search by location, age, and gender. Once you have zeroed in on a ragdoll cat, you need to fill in an application form and answer the questions posted there.
Some centers arrange to have a volunteer visit you to ensure that your home is suitable for a rescued ragdoll.
You must also visit the center several times to meet the chosen ragdoll. Try to spend time with the cat to assess its health and temperament.
Good shelters always provide you with all veterinary/dental records of the cat as well as its history.
They also provide advice about the right food, toys, and environment for the cat. Once all the formalities are completed, you can take your rescue ragdoll home.
Conclusion For "Best Ragdoll Rescues in the UK"
Though there are many places to find ragdoll cats and kittens for sale in the UK, we recommend giving a rescue ragdoll the chance of the happy life it deserves.
Even if you aren't ready to adopt a ragdoll currently, you could always consider donating or volunteering for one of the ragdoll rescues in the UK listed above. Your funds and efforts might help save a life.
So, what are you waiting for? Contact the ragdoll rescue shelter/s today!
You will also like:
Before you bring home a Ragdoll from a rescuer in the UK, you can learn more about this cat breed by watching "Ragdoll Cat 101 – Learn EVERYTHING About Them!" down below: