Maine Coon cats are well-known for being unusually large and fluffy creatures with a high level of intelligence and superbly friendly personalities. But buying a Maine Coon cat directly from a breeder has several notable drawbacks.
Adopting a Maine Coon from a rescue organization is far more affordable. Even better, rescue organizations are dedicated to ensuring that the animals they take in find the best possible homes and enjoy top-notch healthcare.
But finding Maine Coon cat rescues in your area can be challenging, especially if you're unfamiliar with local rescue organizations. This guide will make this process easier, helping your select a Maine Coon rescue that suits your needs!
Other articles you would like: Adopt A Basenji Puppy and Maltipoo For Adoption.
The Top 7 Maine Coon Cat Rescues in The USA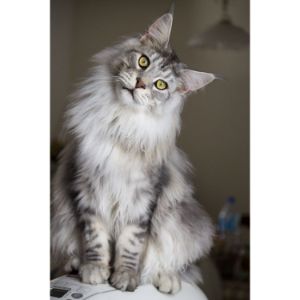 Adding a Maine Coon to your household can be a rewarding experience. After all, these cats are intelligent and affectionate, and they make wonderful family pets due to their friendly natures.
If you're unconcerned with pedigree or prefer to adopt rather than buy a Maine Coon, several cat rescues throughout the United States can help you find Maine Coons that are ideal for your household and budget.
These rescues take in abandoned Maine Coon cats from around the country and help them find new homes. They're staffed by people who work hard to ensure that these new homes are stable, loving, and appropriate for both the cat and the adopter.
Without further ado, let's explore the top seven Maine Coon cat rescues that are more than happy to help you bring home that cat of your dreams.
1. Only Maine Coons Rescue
Only Maine Coons (OMC) Rescue is one of the most reputable and reliable options. This rescue is a 501 (c) (3) nonprofit organization and is fully staffed by kind and friendly volunteers dedicated to providing the best possible care.
Centered in New Jersey, this organization offers Maine Coon cats of all ages to residents of:
Connecticut

Delaware

District of Columbia

Maryland

Massachusetts

New Jersey

New York

Pennsylvania

Virginia
Unfortunately, they don't release cats to residents of other states. But this decision ensures minimal transport times, keeping each cat's stress levels low (while reducing transport costs).
To adopt a Maine Coon from this rescue, you'll need to complete an interview process, spend time fostering your chosen cat, and complete a home visit with Only Maine Coons Rescue volunteers.
If you and the rescue feel confident that your chosen cat is a great fit for your home, you'll arrange a pick-up time and date.
Though this process can take several weeks or months, ensuring each cat ends up in the best possible forever home requires time and patience.
When choosing a rescue organization, check how thoroughly they investigate potential adopters. The more thorough the adoption process, the more certain you can be that the rescue is determined to provide the best possible homes to their cats.
Only Maine Coons Rescue Details:
2. Maine Coon Rescue
Maine Coon Rescue is based in Lerona, West Virginia, but they serve all of the United States. They're a 501 (c) (3) nonprofit organization supported by the consistent efforts of volunteers from all around the country.
So, no matter where you live, this rescue can help you find and adopt a Maine Coon!
Adopting a cat from Maine Coon Rescue is a straightforward process. First, you'll need to browse their available cats and kittens (available online) and select the one that steals your heart.
If possible, create a list of your top three choices, just in case your preferred cat is already in the process of being adopted.
After that, you'll receive a phone call and participate in a phone interview to verify your interest in adopting a Maine Coon and confirm your details. You'll need to provide a personal reference, as well as a reference from a veterinarian.
If the rescue deems you an appropriate fit for your chosen Maine Coon, you'll need to sign two agreement forms and pay the adoption fee. This fee varies depending on the cat's age and pedigree, but prices vary between $150 and $425.
Maine Coon Rescue Details:
3. East Coast Maine Coon Rescue
As the name of the breed suggests, Maine Coon cats originally hail from Maine! So it should be no surprise that several of the best Maine Coon rescues are located along the East Coast.
This includes East Coast Maine Coon Rescue (ECMCR), a 501 (c) (3) nonprofit organization located in New Jersey. Founded in 2009, this rescue takes in purebred and mixed Maine Coon cats from around the country, helping them find new and loving homes.
Adoption applications submitted to East Coast Maine Coon Rescue are valid for six months, and applicants must pay a $5 fee to submit their application. This fee helps support the rescue, which is entirely funded by donations and staffed by volunteers.
The adoption process is similar to the one you'll experience with other reputable Maine Coon rescues.
For example, after applying to adopt a cat, the rescue staff members will contact you to interview you and ensure you're the best potential choice for the cat in question.
East Coast Maine Coon Rescue Details:
4. Arizona Maine Coon Cat Rescue
You don't need to live along the East Coast to adopt a Maine Coon cat! Rescue cats are available throughout the United States, and those living in the Midwest or along the West Coast should consider adopting from Arizona Maine Coon Cat Rescue (AZMCCR).
This rescue organization is partnered with two Mesa, Arizona, veterinary clinics (Paws Veterinary Clinic and Agape Animal Clinic). So every cat awaiting adoption receives the best possible veterinary care while waiting for its forever home.
Arizona Maine Coon Cat Rescue Details:
5. Maine Coons & More
Adopting a Maine Coon from an animal shelter can mean adopting a cat that's survived terrible conditions, including cramped cages and a lack of socialization.
But when you adopt a cat from Maine Coons & More, you can rest easy knowing that your new Maine Coon comes from a loving foster home. The cats available via Maine Coons & More enjoy the best possible veterinary care and socialization.
Though the pool of available cats and kittens is comparatively small, as this rescue is still growing, they work with individuals and families throughout the United States.
But it's worth noting that adopters are responsible for picking up adopted cats from their foster homes.
Maine Coons & More Details:
6. Abandoned Maine Coons Rescue
Many Maine Coon rescues in the United States are located in New Jersey or other East Coast states. But Abandoned Maine Coons Rescue is located in Simms, Texas, making it one of the most accessible options for those living in the South or Midwest.
This rescue is comparatively small, and the adoption process is exceptionally straightforward.
For example, adopting a cat from Abandoned Maine Coons Rescue is often as simple as requesting an application, submitting that application, then waiting to hear back from the staff.
After that, you'll pay minimal adoption fees and arrange the transport of your new four-legged family member.
But while this rescue primarily focuses on rehousing Maine Coons, they also take in and adopt out domestic cats of all breeds and mixed bloodlines.
Consequently, you'll want to take time to review their available cats and ensure you're choosing a Maine Coon before completing the adoption process.
Abandoned Maine Coons Rescue Details:
Location:

184 CR 4275, Simms, TX 75574

Phone Number:

903-543-1178

Email:

[email protected]
7. Specialty Purebred Cat Rescue
Though this rescue doesn't specialize in only adopting out Maine Coon cats, they often have Maine Coons available for adoption. After all, the Maine Coon is a purebred feline with a long history of careful breeding!
Still, this rescue takes in (and adopts out) both purebred and mixed-breed Maine Coons, ensuring that all types of Maine Coons in need of loving homes are given the opportunity to find one.
Fortunately, this rescue allows residents from any state to adopt available cats. However, adopters are responsible for arranging transport to pick up their chosen Maine Coon, as the rescue does not ship adopted animals.
Adoption fees for obtaining a Maine Coon rescue cat from this organization vary between $125 and $600, depending on the chosen kitty's age, health, and pedigree.
Starting the adoption process with Specialty Purebred Cat Rescue is as simple as filling out this online form!
Specialty Purebred Cat Rescue Details:
Additional Resources for Finding Rescued Maine Coons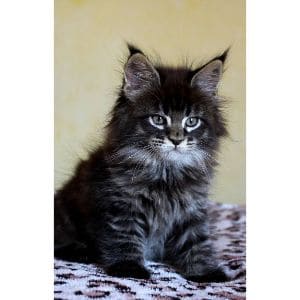 Not every state is home to a Maine Coon cat rescue. You might need additional resources to locate and adopt rescued Maine Coon cats.
Generally, there are two options available:
Utilizing pet search databases, or

Contacting local animal shelters
Let's explore both of these to discover which might work best for you!
Utilizing Pet Search Databases
Pet search databases are a fantastic resource for those hoping to adopt rescue cats.
These databases typically feature updated listings of available pets around the country, making it easy for searchers to find adoptable pets of all breeds, including Maine Coon cats.
Some of the most popular and reputable search databases include:
Petfinder

Rescue Me

PetCurious
Using Petfinder to Adopt Maine Coon Cats
Petfinder is one of the most popular pet adoption search databases in the United States, and its list of available cats is immense and constantly updating. For these reasons, you might want to search for adoptable Maine Coons using this online resource.
You can use the search engine's filter settings to narrow down available cats via distance from your current location, gender, age, and appearance. This database is helpful if you don't live near a Maine Coon cat rescue.
Using Rescue Me to Adopt Maine Coon Cats
Rescue Me is similar to Petfinder. But instead of solely displaying adoptable pets, it offers a list of breed-specific rescue organizations and animals for each state.
If you're looking for a Maine Cat rescue in your state, you can use this website's helpful map to narrow down your options.
Using PetCurious to Adopt Maine Coon Cats
PetCurious lists adoptable pets in the United States, and their easy-to-use sort and filter tools make it easy to find Maine Coon cats in your area.
If the above options haven't helped you find and adopt a Maine Coon, browse their list of available cats today. On the off chance that you're still unable to find a cat that suits your preferences (or is nearby), the next best thing you can do is contact local animal shelters.
Contacting Local Animal Shelters
When pet owners can no longer care for their animals, they typically contact their local animal shelter to give up their pets. As such, animal shelters can quickly fill with abandoned pets of all breeds and varieties.
If you're looking for a Maine Coon cat (purebred or mixed), your local animal shelter could be the ideal place to start your search.
You save money by adopting from a local shelter, as many shelters charge minimal adoption fees (and occasionally adopt out free cats). Additionally, you won't need to pay hefty transportation fees to bring your Maine Coon home!
Besides, adopting from your local shelter saves lives and opens new spots for in-need pets. So, if you cannot find a Maine Coon rescue in your state, please consider contacting or visiting the nearest animal shelter.
Many shelters also have websites with current pet listings, making it easy to check if any Maine Coons are available in your area.
Conclusion For "Best Maine Coon Cat Rescues in The USA"
Adopting rescue cats instead of buying from a breeder is a wonderful way to save a cat's life while enjoying a comparatively low-cost adoption process.
Contact the Maine Coon cat rescues discussed throughout this guide if you're interested in Maine Coon cat adoption. You can also use resources like pet search databases and local animal shelters to find Maine Coon cats that need a loving home.
You will also like:
For more information about Maine Coon Cats, check out the video down below: