What do you get when you combine a Labrador with a Poodle? A good-looking and affectionate Labradoodle! Labradoodle puppies in California are a superb choice if you're looking for a pet with playful energy and mild temperament.
Both parents pass down their admirable qualities to their offspring; where a Labrador is outgoing and gentle, the Poodle is alert, faithful, and trainable.
When you combine the two, you get a puppy that's intelligent, easy-going and curious. As a novice dog owner, you need control over your dogs' activities and training a Labradoodle becomes convenient with these traits.
However, they love to be around people. Luckily, this family-friendly pet doesn't bark a lot either, so they're also suitable for communal housing.
If you're impressed by these qualities and are looking for Labradoodle breeders In California, you've come to the right place.
Choosing a reliable and authentic breeder is essential, and so we have made a list of trustworthy Labradoodle breeders that offer high-quality puppies for sale in the state.
The Best Labradoodle Breeders in California
Other articles you would like: Best Brush For Labradoodles and Do Labradoodles Need Grooming?
1. Elite Blend Labradoodles
Elite Blend is an operation run by a married couple with two young boys right outside Sacramento, California, where they breed and raise the cutest puppies on nearly an acre of land. They also have another location in San Diego, California.
The breeders of Elite Blend consider raising Labradoodle puppies a family affair, as their dogs take birth and grow up with their families.
Their primary focus is to maintain the quality of American and Australian Labradoodle by partaking in selective breeding practices only.
Elite Blend puppies have a calm and content temperament, with an easy-to-train nature, making them super desirable. These Labradoodle puppies love outdoor activities like jogging, fetch and swimming.
Elite Blend is cautious about the living situations of their dogs, and their breeding dogs reside in approved Guardian Homes. In addition, the dogs have undergone appropriate health testing and have adequate clearances.
These measures ensure that the puppies are healthy and not at risk of contracting a hereditary disease.
They have some of the best Labradoodle puppies for sale In California because their puppies are loved, spoiled, cuddled and handled from birth.
They carefully chose the pairing of their dogs, ensuring that the breeding results in an intelligent, low shedding and healthy puppy.
They are selective about puppy placement; the breeders have a smart screening process through which they determine the suitability of applicants and match their puppies to appropriate owners.
If you're interested, start by sending them an email or filling out their online form.
Labradoodle Puppy Information:
Size: Mini and Medium
Generation: F1B and Multi-gen
Elite Blend Labradoodles Details:
2. Sugar Pine Doodles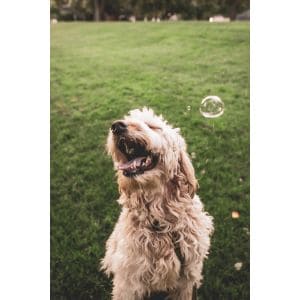 Sugar Pine Doodles is a medium-sized in-home breeding operation in Amador County, California. Jeanine, the owner of Sugar Pine, has loved doodles for more than 17 years and is passionate about them and their ability to heal broken hearts.
After the demise of her husband, she realized how dogs could be your best friend and truly help you overcome pain. Their pets mean a lot to them and live with them like family.
The dogs at Sugar Pine sleep in the breeders' bedroom and have unique experiences like day trips, get-togethers, school events, and the family.
The dog food and treats are all homemade; the breeder has a special recipe that ensures the puppies and dogs get the most nutritious and tasty food.
The breeding program involves an interested and devoted team of puppy training, full-time workers and vet interns. They truly care about the dogs in the facility.
The breeder provides lifetime support to their puppies and new owners, aiming for what's best for them. They microchip the puppies before sending them to their new homes and hand over the paper to registration when moving.
Sugar Pine Doodles recommends the necessary vaccinations according to the puppy's age and have several tips about their maintenance. They have some of California's most beloved and famous Labradoodle Puppies, so be sure to check them out.
Labradoodle Puppy Information:
Size: Miniature
Generation: Multi-gen
Sugar Pine Doodles Details:
3. Sierra Vista Labradoodles
Located in Orangevale, Sierra Vista is one of the best Labradoodle breeders In California, breeding and raising lovable family dogs with excellent health. Their program is focused on allergy-friendly Labradoodles and Goldendoodles.
Learning from the experience of family members, they realized the importance of non-allergenic pets and chose to breed these fluffy companions with friendly dispositions.
In addition, their puppies are intelligent and active, coming from dogs living in their own home or approved Guardian homes.
Sierra Vista puppies have a calm and pleasant attitude because they live and nurture children of all ages along with other dogs and cats.
The breeders are thorough and selective when choosing female and male dogs for breeding so that the puppies are born with a similar mix of positive personality traits, excellent fur coats and optimum health.
Their Labradoodles have loyal and faithful nature, which makes them high in demand. It means the breeder has several requests for meeting dogs in person, but that isn't possible.
To limit interaction, they invite interested clients to their ramps, where they can introduce their pups to the public.
These puppies are given complete attention and care at their home, and the breeder expects the same kind of affection for them from their new owners.
Labradoodle Puppy Information:
Size: Miniature, Medium and Standard
Generation: Multi-gen and F1B
Sierra Vista Labradoodles Details:
4. Shadow Mountain Labradoodles
Having the slogan 'Where Teddy Bears Come to Life', Shadow Mountain Labradoodles are based in Southern California – Nuevo, CA. They have been running this program for 15 years and aim to breed and raise friendly and empathetic dogs for loving families.
Shadow Mountain puppies are loved and handled from a young age and socialize in a family environment, so their moving process becomes more flexible and adaptable.
These puppies spend time with people of all ages and backgrounds to become compatible with every member in their new home.
They also undergo temperament testing to ensure perfect placement in new homes with suitable matches. Australian Labradoodle Puppies were initially bred as therapy and service dogs as non-shedding, allergy-friendly pets.
The breeder believes that all their dogs have inherited the traits that make them a source of comfort and joy.
Before taking the pup home, your new pet will have been tested for wellness by a certified vet. It will bring a care package including a go-home crate, chew toy, stuffed toy with littermates' scent and microchip.
The puppies would already have had an introduction to grooming, crate training and lure training. And according to their age, the breeder would give them the necessary vaccinations and dewormings.
Labradoodle Puppy Information:
Size: Standard
Generation: Multi-gen
Shadow Mountain Labradoodles Details
How To Choose Labradoodle Puppies in California?
Labradoodle puppies in California are in demand; they have become popular in the past decade along with other hybrid and hypoallergenic dog breeds. Unfortunately, their notoriety has given rise to unethical puppy breeding programs.
Due to the lax animal rights laws in the country, many puppy mills have set up shops to sell puppies bred and raised in appalling conditions. Mill puppies are unhealthy and may require you to spend thousands of dollars in health expenses early on.
In addition, they are often ill-adjusted pets as they have been raised in an abusive environment.
Most mill puppies are often scared, anxious, and timid. They can also become hostile and aggressive in new environments and may not react positively to a new home.
It takes experts years to help mill dogs overcome the psychological, emotional, and physical trauma they suffer at puppy mills. A new pet owner is not qualified to deal with that trauma; therefore, you must ensure that the puppy you get is from a reliable breeder.
Here is what you can do to reduce the risk of puppy mills:
Ask the breeder for proof of genetic testing to rule out heritable diseases to ensure they're an outcome of healthy breeding.
Look out for scams by reading reviews of the breeder and learning about their reputation online before filling out an application.
Check the puppy's health guarantee because reliable breeders are sure and confident about the health of the parent dogs and the quality of their litter. It means that only ethical breeders will provide you with a health guarantee.
Conclusion For "Labradoodle Puppies in California – Top 4 Breeders"
In conclusion, if you're looking for Labradoodle puppies in California, you should check out each breeder mentioned above.
We've only mentioned tried and tested breeders that will provide you with an energetic and loving puppy!
You will also like:
For more information about the Labradoodle Breed, check out the video below: