Protective and fiercely loyal, the Belgian Malinois is a herding dog that originates from the city of Malines in Belgium.
It is a well-muscled and medium-sized dog that has a strong work ethic and high energy levels, which make it a hugely successful working dog that is frequently employed in law enforcement and the military.
They are also one of the most versatile breeds, capable of competing in a wide range of dog sports, including agility, herding, tracking, and Schutzhund.
With their high energy level and strong work drive, Belgian Malinois needs to be given plenty of exercise and stimulation.
If they are not given enough physical and mental activity, they can become bored or destructive, which frequently results in them being given up for adoption by inexperienced owners.
However, when properly trained and socialized, the Belgian Malinois is an obedient, loyal, and loving companion.
If you are looking to adopt a Belgian Malinois, we've done the heavy lifting for you! This blog post lists the top Malinois rescues in the United States so you can find your new best friend.
The Best Belgian Malinois Rescues in The USA
Other articles you would like: Why Do Police Use Belgian Malinois? and How Much Does A Belgian Malinois Cost?
1. Malinois Rescue League
Founded in 2019 by a group of different individuals around the world, the Malinois Rescue League (MRL) was inspired by a Belgian Malinois called Junzi, a meat trade survivor that had horrifying injuries.
Junzi was made famous by his eventual owner, Hollie Cornes, posting on social media about him being hoisted by the neck by a dog butcher in China.
Plush Bear's Shelter in China was at the slaughterhouse that day and managed to save Junzi and a few other pups.
Junzi's story gained the attention of Aloha McBride, the founder of the Malinois Rescue League, who committed herself to saving hundreds of Malinois, bringing them to the US and many other countries.
MRL is constantly updating its "available to adopt" page with Malinois that are pending rescue from the dog meat trade, and its adoption process includes a background check and a home visit, either in person or on video.
Once a suitable dog has been matched with the potential adopter, the adoption agreement can be signed.
MRL will then coordinate the logistics and make the arrangements to have the dog flown to the US. Adoption fees can be up to $2,000 to cover the air travel cost, travel crate, and training.
Malinois Rescue League Details:
2. American Belgian Malinois Rescue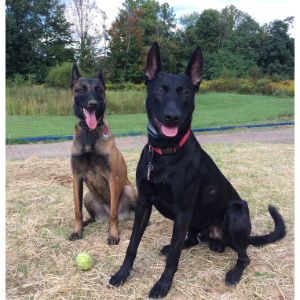 The American Belgian Malinois Rescue first started as a committee that was a part of a national breed club dedicated to the Belgian Malinois.
At the time, this breed was still very ambiguous and not very popular with the public. Despite this, the committee was able, even back then, to rescue around 10 to 12 Belgian Malinois a year for many years.
A non-profit and breed-specific rescue organization, THE ABMR is staffed by an all-volunteer team. Dedicated to rehabilitating and homing Malinois in need, the organization works with a variety of sponsorships and donations to provide the best care for the breed.
One of the biggest expenses of the ABMR is veterinary care and boarding, so the rescue organization is most in need of foster homes and monetary donations which are also usually tax deductible.
When taken in, the dogs are placed in foster homes where they are socialized and trained, all while they go through vetting and TLC while being updated on their shots, being microchipped, or sprayed or neutered.
The mission of ABMR is to protect the homeless or unwanted purebred Belgian Malinois dogs that are often abused or neglected. They aim to give these unfortunate dogs a chance for rehabilitation, medical treatment, and permanent loving homes.
They carefully screen their potential adopters and don't allow families with children under the age of five. They also don't recommend homes with smaller dogs and cats, and you get bonus points if you have a fenced yard.
American Belgian Malinois Rescue Details:
3. MAD Rescue
This rescue is particular due to the nature of how it operates and the attention it divides between two breeds.
The MAD Rescue Mission is short for Malinois and Dutch Shepherd Rescue, a non-profit organization dedicated to helping both breeds, stepping in to care for the homeless, those that have been impounded, neglected, abused, or surrendered.
One of the advantages of this rescue is that it doesn't have a physical location, meaning it can operate from any place at any time.
The team is operated by professional volunteers who devote their time and their skills, as well as their resources at hand to the needs and the care of the Malinois and the Dutch Shepherds.
Compassionate and like-minded, the volunteers take care of adoption and fostering, while also managing new volunteers.
Since the MAD Rescue organization aims at providing the best dog for the adopter.
They also give the attention and care needed for the dogs, like medical attention, rehabilitation as well spraying and neutering if needed, placing the dogs in foster care while their health and evaluation are completed.
Helping expand the organization to find the best home for these dogs, the rescue currently has over 40 Belgian Malinois ready to be loved and housed.
MAD Rescue Details:
4. Woof Project
A non-profit organization with a team of trained volunteers, the Woof Project specialized in rescuing the Belgian Shepherd Malinois on the West Coast, most often from private or public shelters.
The Woof Project aims to save stray and abandoned dogs and find them a loving, secure home with owners that are knowledgable about the breed.
All of the dogs have unique personalities which is why this organization takes pride in its research and approval of the inquiring families, so both sides can be perfectly matched and satisfied.
With expert knowledge in Belgian Malinois, the team consists of volunteers specializing in veterinary care, nutrition, and training, providing the best care and support for the breed, all from rescue to finalizing the adoption.
Even when you are not ready to fully commit, the organization offers a program for foster care, so the dogs can be temporarily housed while waiting for their forever home to be approved.
Operating in Washington, Oregon, California, Idaho, Nevada, Montana, and Arizona, the organization is also able to provide care for some non-Malinois dogs when in need and often has different mixes on their adoption page.
Woof Project Details:
5. Rescue Garage
Rescue Garage is dedicated to overall stable pet ownership and animal welfare issues.
With previous experience in owning and training Belgian Malinois dogs, a specialized working breed, this organization saw the need to assist in the rescue, rehabilitation, and protection of this breed.
This is how Chez Malinois (House of Malinois) was founded. Based in Southwest Florida, the organization saw the issue with the overpopulation in kill shelters with all types of dogs needing rescue, medical care, and loving homes.
The focus of the Rescue Garage is still on Belgian Malinois, dedicating most of its place and resources to the breed, it also provides the same services for all breeds of dogs when in need.
The organization mainly saves from high kill rate shelters in the surrounding communities of southwest Florida, while others are rescued directly from adverse living conditions.
After rescuing, they address the medical requirements like spaying, neutering, and microchipping after which they provide training for all animals in their care.
When having provided primal care for the dogs in need, the mission is to rehome the dogs while providing the educational tools and support so both the adopter and the dog can adapt to their new relationship as soon as possible.
This is done through outreach programs and support groups that advocate for caring pet ownership.
The adoption application is a lengthy process that includes an extensive questionnaire, and they also have cats for adoption on their site!
Rescue Garage Details:
6. Belgian Malinois Rescue
The Belgian Malinois Rescue organization is one of the best sites aiming to find a safe place for the Belgian Malinois.
The Rescue Me! Animal Rescue Network provides information on groups on social media, volunteer groups as well as locations all over the United States, that work together to provide the best care for this breed.
The map provided on their site shows all the Belgian Malinois Rescue groups available in each state, with all groups of each state numbered and listed separately, while protecting data information with user accounts.
Having all the information at hand can help you better inform yourself of all the necessary data which will help you find the best rescue and provide the best care for the Belgian Malinois that you want to help one way or another.
All the profiles of the dogs have the information needed and the direct links to the dogs and their caretakers, speeding up the process much faster than usual.
Belgian Malinois Rescue Details:
7. PetFinder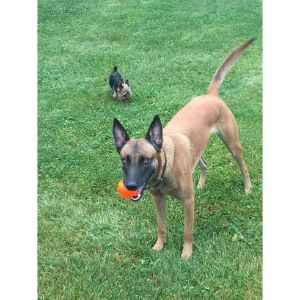 Petfinder is one of the biggest online databases of animals in need of a home.
With a directory of over 11,000 animal shelter and adoption organizations, Petfinder works across the United States as well as Canada and Mexico to provide the most accurate and quickest information to help you locate your new dog.
Finding the best pet that matches the needs of the adopter.
This site includes a shelter's web page referencing their services while also providing information on discussion forums, a pet-care resource directory, and a library of free pet-care articles to better equip you when taking in a Belgian Malinois.
Petfinder Details:
Why Do Belgian Malinois Get Given Up For Adoption?
When a dog gets given up for adoption, it doesn't necessarily mean that the dog is misbehaving or difficult to manage. It can also be due to several dramatic changes in the owner's lifestyle, such as a divorce, relocation, or even death.
However, because the Belgian Malinois is a working dog breed, they can also be challenging to train. They are herding dogs with a high prey drive and will possibly chase smaller animals, wildlife, and livestock.
Because of this, many rescue groups will refuse adoption to households without a fenced-in yard, or with young children.
They are also intelligent dogs with a high working drive that needs to be fulfilled with a job. Their high energy levels require a solid hour or two of exercise a day to keep them happy.
A bored Malinois is likely to exhibit destructive behaviors like chewing, barking, and digging if they are not adequately physically and mentally stimulated.
Potential Health Problems
Before adopting a Malinois, you might want to know about a few potential health concerns of this magnificent breed. If the rescue organization that you adopt from has medical facilities, you can screen for some of these conditions before adoption.
Hip Dysplasia
Hip dysplasia is a common problem in dogs, particularly large breeds. The condition is caused by a malformation of the hip joint, which can lead to pain and lameness.
While hip dysplasia can be treated with surgery, it is often difficult to diagnose in the early stages. As a result, many dog owners are unaware that their pet is suffering from the condition.
Progressive Retinal Atrophy (PRA)
PRA is caused by the gradual deterioration of the retina, the light-sensitive layer of tissue at the back of the eye. Early symptoms include night blindness and difficulty adapting to changes in light levels.
As the disease progresses, dogs may experience total loss of vision. There is no cure for PRA, but there are treatments that can help slow its progression and improve a dog's quality of life.
Conclusion For "Best Belgian Malinois Rescues in The USA"
We hope this list has made it easier for you to find your new furry friend. Good luck, and all the best in your search!
You will also like:
For more information about the Belgian Malinois Breed, check out the video below: