Many people consider guinea pigs starter pets, but they're wonderful, loving, energetic pets that require a lot of time and attention.
Unfortunately, many people don't prioritize the care they need and end up dropping them off anywhere or abandoning them at a shelter.
If you're hoping to rescue one (or a few!) of these lovely creatures, check out these reputable guinea pig rescues in California.
Other articles you would like: Best Guinea Pig Rescues in the United States
The 10 Best Guinea Pig Adoption Shelters and Rescue Agencies in California
Here are our top picks for the best guinea pig rescues in California. Remember that the species are known as herd animals, meaning it's best to adopt them in pairs or groups.
If you choose only to get one at a time, ensure that you give them plenty of daily interaction each day, and they should be fine.
1. L.A. Guinea Pig Rescue and Adoption
The L.A. Guinea Pig Rescue and Adoption is in Chatsworth, CA. This shelter has a no-kill policy, focuses on saving guinea pigs, and you can find all of their guinea pigs onsite at their facility.
At any given time, the organization has over 300 guinea pigs in their possession, some of which are babies. You must schedule an appointment for their services, including health checks, bubble baths, supply pickup, and adoptions.
The organization provides sanctuary, rescue, and adoption services, nail trims, advice, free check ups, and continuous support to guinea pigs and their loving owners.
L.A. Guinea Pig Rescue and Adoption Details:
2. California Northern Cavy Rescue
The California Northern Cavy Rescue set out to rescue abandoned guinea pigs from shelters in surrounding counties. The organization also offers proper adoption through community outreach and cavy care.
California Northern Cavy Rescue's services include nail clipping, nail trimming, animal adoption, adoption events, small animal adoption, and animal care.
They have committed themselves to educating the public about how to take care of guinea pigs in the best way possible.
California Northern Cavy Rescue Details:
3. Wee Companions Small Animal Rescue
Wee Companions Small Animal Rescue's mission is to rescue guinea pigs, hamsters, rats, and small exotic mammals from places of abandonment, people giving away their pets, and poor shelters.
It's their goal to provide safe housing for these animals regardless of temperament, health status, and age.
This organization provides socialization and veterinary care to these animals, hoping they're placed in a home forever. Animals who get sanctuary status are placed in their foster care network to live out the rest of their lives with love and comfort.
Wee Companions Small Animal Rescue also emphasizes foster parents' education about feeding and preventing unwanted litters with these particular animals.
Wee Companions Small Animal Rescue Details:
4. Cavy Spirit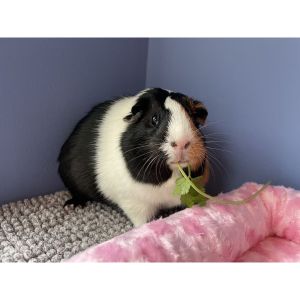 Cavy Spirit takes in abandoned guinea pigs within a private home and places them in quality, happy, healthy, permanent homes. Cavy Spirit focuses on public awareness and education concerning the proper care and respect that guinea pigs deserve.
They endeavor to break the chain of abandonment, abuse, and neglect.
During the guinea pigs stay at Cavy Spirit Rescue, they receive consistent medical treatment, daily interaction and stimulation, proper nutrition, and enjoy bonding as they wait for their adopters to find them.
The adoption process is simple, and they're willing to allow families to adopt one guinea pig at a time.
Cavy Spirit Details:
5. Orange County Cavy Haven
Orange County Cavy Haven believes that neither guinea pigs nor any other pet should be treated as a product. From the very moment the guinea pigs enter their volunteer homes, they are treated as family.
The organization offers the public and adopters discounts on supplies such as food, toys, and hay at their monthly supply day fundraiser in exchange for a nominal donation.
Additionally, they provide boar grooming and nail trimming for donations as well. All grooming and supply donations proceeds get transferred to their emergency vet and supply funds.
Keep in mind that there are no guinea pigs at the rescue address; this address only serves as a mailing address.
Their guinea pigs are housed in Orange and Los Angeles Counties foster homes. If you are interested in adopting, they'll arrange for you to meet their guinea pigs.
Orange County Cavy Haven Details:
6. Friendly Farms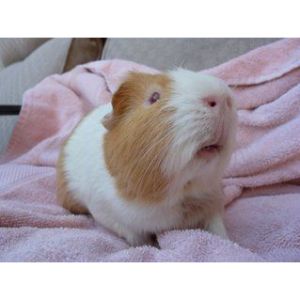 The idea for Friendly Farms was conceived in Washington State but came to fruition in Monterey County, California. Friendly Farms serves as a sanctuary and home to assist in protecting and placing guinea pigs and rabbits at risk in the community.
This organization works to facilitate adoptions and promotes spay and neuter programs and proper care for healthy, happy, and give a lifetime worth of a relationship with their pets.
Friendly Farms Details:
7. Guinea Gang
Guinea Gang houses many guinea pigs, rabbits, and chinchillas who are all waiting for homes. They operate under the umbrella company, Bunny Bunch. You can start the process by filling out their adoption application, but you must be at least 21 or older.
Guinea Gang's mission is to rescue guinea pigs, hamsters, rats, and other small exotic animals from situations of neglect and abandonment. These efforts are consistently made, whenever possible, regardless of health status, age and temperament.
Guinea Gang Details:
8. Southern California Guinea Pig Rescue
The Southern California Guinea Pig Rescue has dedicated itself to rescuing, rehabilitating, and finding homes for guinea pigs that have been abandoned, abused, neglected, and are all around at risk.
This non-profit organization places the guinea pigs in homes with foster volunteers until someone comes along to adopt them. Their operations are made possible through donations and volunteer services.
SCGPR serves the communities of Ventura County, Los Angeles County, and Orange County, as well as all of Southern California.
With more than three decades of experience, the primary goal is rescuing guinea pigs as possible while getting them into their forever homes.
Southern California Guinea Pig Rescue Details:
9. Gardener's Pig Pen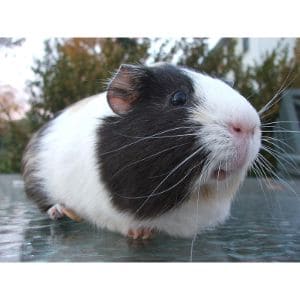 Gardener's Pig Pen is a rescue agency (home-based) located in the California Delta. They specialize in helping you find an adoptable guinea pig if you already have one or in pairs if it's your first time adopting.
You must adopt in pairs if you're not setting up a bonding date to get your piggy a new friend. The strict policy by which the Gardener's Pig Pen offers adoptions is based on the following criteria:
Purchase a cage that's the appropriate size for your guinea pig

You must be at least 18 years old, or your parent will be the person to adopt the guinea pig

Fill out an adoption application when you arrive at the home

Agree to bring the guinea pigs back to the rescue if you cannot care for them

Feed them Oxbow pellets
Gardener's Pig Pen Details:
10. Misfits Pet Rescue
At Misfits Pet rescue, it's one of the smaller guinea pig rescues in California. Most of the piggies are older or from other unfortunate situations. You have to apply online to adopt a guinea pig, and there's an adoption contract that you must sign.
While there's no technical requirement, the staff urges adopters to buy the proper cage beforehand, and they're also open to adopting guinea pigs to schools and not just individual buyers.
This agency will allow potential adopters to get only one guinea pig at a time.
Misfits offer training and education opportunities for new parents and a recommended list of necessary supplies. They also don't spay female guinea pigs or neuter males.
Misfits Pet Rescue Details:
Why Do Guinea Pigs End Up in Shelters in California?
Though they're cute, furry, small bundles of joy, guinea pigs are in danger of getting abandoned and neglected because of ignorance.
You need an agency to rescue guinea pigs because many purchase them impulsively without understanding their care and nutrition requirements.
It requires research to properly house these little furballs, but sadly, they get dumped in parks and shelters where they end up as food for predators.
Unfortunately, there are also many cases where the guinea pig gets sick, and the owner doesn't want to pay for vet care.
Conclusion For "Best Guinea Pig Rescues in California"
Adopting a guinea pig is a big responsibility, but it's worth it when you're prepared to provide adequate care.
These guinea pig rescues have received excellent reviews, hold policies that indicate their dedication to properly rehoming the guinea pigs, and are easily accessible throughout California.
Please contact any of the agencies below if you're thinking about getting your own cute and snuggly guinea pig.
You will also like:
For more information about Guinea Pigs, check out the video down below: