You're probably familiar with the term "feral cat." Used to describe cats living loose in neighborhoods with no apparent owners, the term "community cats" is beginning to replace it.
Whichever you choose to use, these cats are considered a nuisance in the communities they occupy. Feral cat colonies are not beloved by most neighborhoods because most believe they bring nothing but noise, odors, and disease.
Many feral cat rescues in the United States work very hard to educate communities on how to care for these animals.
Properly caring for feral cats and education on managing these colonies is the one true way to bring balance to neighborhoods that find themselves swamped with them.
Other articles you would like: Italian Greyhound Adoption and Cane Corso Adoption.
Difference Between Animal Shelter and Feral Cat Rescue
Animal shelters primarily attempt to find homes for stray cats (cats that previously used to live indoors). These cats are easier to socialize with and will accept living indoors again.
On the other hand, genuinely feral cats that have not been socialized won't accept living indoors and do not fare well in shelters. Regrettably, shelters are sometimes known to put down feral cats.
In contrast, feral cat rescues take these cats off the streets, trap, neuter/spray, and release them.
Truly feral cats will never be happy when forced to live indoors, so it's better to leave them outdoors. Neutering and spaying them ensure that feral cat colonies won't grow in size.
When Should You Visit a Feral Cat Rescue
You should contact a feral cat rescue if you notice the number of feral cats increasing in your area.
A feral cat rescue will be able to give you helpful advice on how to set up shelters and feeding stations. They can also offer assistance in trapping cats so they can be fixed, ultimately reducing the number of cats in the colony.
Some rescues will offer educational services that you can network with your neighborhood and educate them. A neighborhood educated in how to care for their community cats is less likely to be hostile to them.
Are Ferals Cats Suitable for Cat Adoption?
Some feral cats are indoor cats that get out, which people call strays. These cats can be outgoing and friendly and potentially live inside again.
But others are cats born outside and have lived outside their entire lives. These cats are fearful and cautious of humans. They won't want to socialize with people and, if brought indoors, will be deeply unhappy.
Ultimately, it will depend on the cat whether or not it can be adopted. In the cases of fully feral cats, it's best to leave them outdoors. You can set up feeding stations and shelters, but the cat will be happier outside.
Aren't Feral Cats Just Free Cats?
No, definitely not. It can be tempting to pluck a friendly feral cat from the street and bring it home with you. But you shouldn't just take any cat you see and transport it into your life.
In addition to not always wanting to be rehomed, feral cats can come with various diseases and parasites. Your new "free cat" will also need to be spayed or neutered and caught up on vaccinations.
While you may not pay money to get the cat initially, you will be spending many costly fees to the vet to get them a clean bill of health.
Top Feral Cat Rescues in The United States
In the United States, many feral cat rescues are dedicated to trapping, fixing, and releasing feral cats and educating the community on their care. If you have feral cats in your neighborhood, consider checking out some of these groups and their resources.
1. Alley Cat Allies
Alley Cat Allies is a large organization dedicated to changing how the world views feral cats. They offer education and go into communities to work with shelters and rescues so they'll have all the necessary resources.
They offer educational printouts and a thorough FAQ section for anyone that needs more information on feral cats and their place in the world.
Alley Cat Allies organizes the Feral Friends Network, to which you can reach out if you need information or resources.
You can join their mailing list and even donate to different programs that they help sponsor, further promoting the welfare of cats across the country.
Alley Cat Allies Details:
2. Stray Cat Alliance
Stray Cat Alliance was established in 1997 and was formerly known as the Feral Cat Alliance. Their mission is to empower communities to help act in the best interests of all cats, indoors or outdoors.
They strive to give advice so that the lives of feral cats aren't in danger. Many people are advised by animal control to stop feeding feral cats, which they say is incorrect.
Instead, you should feed your local feral cats. If you remove their food source, you're just dooming them to starve.
Simply starving out the current cats is unlikely to help you in the long term. It's been found that when one group of cats is removed or pushed out, another takes its place. The best plan is to attempt to maintain the population through a neutering and release program.
The Stray Cat Alliance also discourages you from trapping feral cats and bringing them to your local animal shelter because many of them won't have the resources to re-home, and they could be euthanized.
Stray Cat Alliance Details:
3. Feral Cat Rescue of Southern Maryland
Feral Cat Rescue of Southern Maryland is dedicated to reducing the number of feral cats in St. Mary's County, Maryland, without resorting to euthanasia. With their trap, neuter, and release program, feral cats are taken to veterinarians to be sterilized.
This rescue advises against creating a "Vacuum Effect," which is just removing feral cats from the area; they say that it will result in even more cats returning to the space to fill the void.
Unfortunately, many neighborhoods are quick to call animal control, where drastic and sometimes inhumane methods are the first step rather than the last.
Feral cats that can't be socialized and adopted are released back into areas where they're more comfortable. Kittens and domesticated cats that can be adopted are brought into their program and placed with temporary fosters.
From there, they'll be adopted into their forever homes and live comfortable lives with loving families.
Feral Cat Rescue of Southern Maryland Details:
4. Feral Cat Coalition
The Feral Cat Coalition was founded in 1992 in San Diego, California, and has spayed and neutered more than 50,000 cats. Approximately 24,000 surgeries have been performed at their stationary clinic that opened in 2012 called Feral and Friends.
The organization will trap and neuter-return feral cats to the area where they were caught. Neutering feral cats is the only way to help reduce the population that is foolproof. The removal of feral cats will only result in more cats taking their place.
According to the organization, sterilizing feral cats will also reduce unwanted behaviors, such as spraying, fighting, and yowling while in heat, and of course, more unwanted cats being born.
Feral Cat Coalition Details:
5. Feral Cat Foundation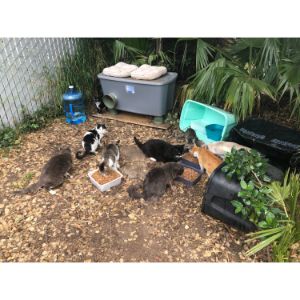 The Feral Cat Foundation is like many feral cat resource groups in that they use the trap-neuter-return model, where cats will be caught, sterilized, and returned to the area they originated.
Cats that can be tamed and socialized will be placed in forever homes to care for them; this is sometimes the case with kittens and young adult cats. However, this organization lacks a sanctuary and some other resources.
Without the sanctuary, they cannot remove cats from neighborhoods, take owner surrenders, or rescue cats from kill shelters.
Feral Cat Foundation Details:
6. Feral Cat Warriors
Feral Cat Warriors operates out of Mohave County, Arizona. They found homes for unwanted, homeless, and neglected kittens throughout the county.
Initially, they were a group of trap-neuter-return advocates, but today they're a no-kill foster-based cat rescue. Many cats from feral colonies find shelter life too stressful, which doesn't provide the right set-up for success.
Instead, Feral Cat Warriors have a system of well-vetted fosters. These cats, who are often shy and not well socialized, have a chance to warm to human contact. The organization is almost always taking volunteers to help foster.
Feral Cat Warriors Details:
7. Feral Cat Helpers
Feral Cat Helpers is located in Mount Pleasant, South Carolina. Their trap-neuter-release program enables them to join the Charleston County-protected Free Roaming Cats.
Charleston County Free Roaming Cats are cats that have been neutered/spayed, microchipped, vaccinated, and ear-tipped. These cats won't contribute to the feral cat population and are free to be left alone in their natural habitat.
Feral Cat Helpers maintains various outdoor cat shelters and feeding stations. The program cares for approximately 50+ colony cats daily and has fixed, vaccinated, and released 500+ cats in the Charleston area.
The organization's ultimate goal is to eventually open a full cat sanctuary in the East Cooper area so that they have a central base of operation and can care for feral cats on site.
Feral Cat Helpers Details:
8. Feral Care Sanctuary
Feral Care Sanctuary in Snohomish County, Washington, is an organization that sees the trap-neuter-release of feral cats in its home county. They'll also take in kittens and strays that can be adoptable and find them, families, to care for them.
They take care of over 100 ferals daily. These cats live on the grounds, finding food and shelter there. They don't take all cats and are adverse to taking in any animal that already has a safe place in their neighborhood.
Being brought to the Feral Care Sanctuary is the last resort for cats that don't have any other place to go and no safe home.
Feral Care Sanctuary Details:
Location: Bothell, WA, US 98012
Phone Number: 206-446-8656
Email: [email protected]
Website: Feral Care Sanctuary
9. Friendly and Feral Cat Rescue
Friendly and Feral Cat Rescue is based out of Schaumburg, Illinois. They're a non-profit, all-volunteer, no-kill organization that finds homes for friendly strays. All of their cats are kept at the adoption center located at the Golf-Rose Pet Store.
Like many other rescues, this rescue will not adopt out cats without neutering/spaying, vaccinating, and microchipping them. They also require that potential adoptees sign a form stating they will not declaw the cats in the future.
Friendly and Feral Cat Rescue Details:
10. Stray Cat Blues Inc.
Stray Cat Blues Inc. rescues stray and abandoned kittens in the Montgomery and Bucks county areas of Pennsylvania. They encourage the trap-neuter-release of adult feral cats and see the placement of more adoptable younger cats.
The organization educates the community on how to take care of their feral cat colony, leading to the community cats thriving and living comfortably in the neighborhoods they call home.
The feral cat rescue will take in some strays and attempt to find them placement, or if that fails, they'll be fixed, vaccinated, and re-released.
Stray Cat Blues Details:
11. Forgotten Cats
Forgotten Cats is based out of Delaware, providing treatment for sick or injured feral cats, finding homes for adoptable cats and kittens, and operating a trap-neuter-release program for feral cats.
Since 2003, the feral cat rescue claims to have sterilized over 150,000 feral cats and found homes for 17,000 cats.
The rescue always looks for more volunteers and fosters, especially during the kitten season when shelters become overwhelmed with kittens needing homes. If you're interested in fostering and living in the area, they'd be glad to hear from you!
Forgotten Cats Details:
Conclusion For "Best Feral Cat Rescues in The United States"
Feral cat rescues serve an essential role in their communities. As you've read, most of the general public doesn't understand how to care for feral cats in their neighborhoods.
A lack of education has led many people to believe the harshest ways are the only ways, such as the forcible removal of cats and needless killings.
Thankfully these rescues engage in loads of community engagement, bringing knowledge and power to cat lovers everywhere. Feral cat populations are lower and more controlled, making everyone happy.
Their hard work brings balance to these feral cat colonies and leads to the placement of many adoptable kittens and cats looking for their forever home.
You will also like:
For more information about Feral Cats, check out the video down below: