Have you ever been searching for a dog breeder in Washington? If this is the case, you are no doubt thinking about getting a dog for your home. The simple fact is that there are a plethora of dog breeders in Washington.
It also doesn't help that there are a seemingly unlimited number of dog breeds out there. A couple of the most popular breeds are German Shepherds, Beagles, Labradors, and Golden Retrievers.
While you might be tempted to get a dog directly from a pet store, the best way to get a dog is to head over to a dog breeder.
The reason for this is that dog breeders are especially familiar with the particular breed in question and are more than able to provide you with much-needed advice, especially if you have never had a dog before.
With that in mind, here are the 10 best dog breeders in Washington.
Other articles you would like: Cheap Cavapoo Puppies For Sale Under $1000 and Best Bernedoodle Breeders In The USA.
1. Barberry Brook Labradoodles
Barberry Brook Labradoodles is a breeder that focuses on breeding designer Labradoodles. Labradoodles are a cross between a poodle and a Labrador. This affectionate and gentle breed is great for families and is also hypoallergenic.
Their website has all the available puppies as well as the dogs they have. If you are interested in reserving a puppy, you will be required to send a Puppy Adoption Application, as well as a signed copy of the breeder's Health and Purchase Agreement.
You will also be required to send a $500 non-refundable deposit. The rest of the balance, around $3000 will be required once the puppies are 7 weeks old.
Barberry Brook Labradoodles has a puppy preparation course, where you can learn how to care for your new puppy. There is also an online puppy training program.
Barberry Brook Labradoodles Details:
2. McOwen Kennel
McOwen Kennel is the breeder you go to if you want a Great Dane. This breeder is experienced at raising these majestic dogs, and with over 10 years of experience, you can be sure that you are getting the very best dog for you.
All the puppies from this breeder are raised inside their homes. This ensures that all the dogs have healthy and happy bloodlines. McOwen Kennel lets you have a look at the available puppies on their website.
Every puppy from this facility comes with a 30-month health guarantee as well as lifetime breeder support. To this end, the necessary vaccinations, health certificates, and a take-home goody bag also come with your new puppy.
If you are interested in getting a Great Dane, you can reach out to Mowen Great Dane Kennel via telephone or email. You should note that while Great Danes are a fantastic breed, they can grow up to 90kg for males and 59 kg for females.
McOwen Kennel Great Dane Details:
3. Silver Moon Huskies
Silver Moon Huskies is a breeder that concentrates on breeding high-quality huskies. So, if you are interested in getting the best Husky, then this is the breeder for you.
Not only do they offer video and phone chatting to new families, but Silver Moon Huskies can deliver the puppies to new owners regardless of where they are in the United States.
Every puppy from this breeder is registered with the American Kennel Club. When you get a puppy from Silver Moon Huskies, you get everything you might need, from the necessary vaccinations to a favorite toy and a bag of puppy chow dry food.
In order to adopt a puppy from this breeder, you will need to make a deposit of $200 which goes towards the full price of the puppy.
Silver Moon Huskies places available puppies on their websites for prospective owners to look at. They also include the other dogs that reside on the property.
Getting a husky can be a demanding ordeal as they require a great amount of upkeep, from daily exercises to weekly brushing.
Silver Moon Huskies Details:
4. Bowtie Pomsky
Pomskies are a cross between a Husky and a Pomeranian. As a breed, Pomskies have gotten quite popular over recent years. These dogs are exceptionally affectionate and adorable.
If you are interested in getting a Pomsky from Bowtie Pomsky, you can find out all the information you need on the puppies and their parents at this breeder's website.
You can also apply to adopt a puppy by simply filling out the online application form on the website.
For those getting their first Pomsky, Bowtie Pomsky offers a University Training Centre where new owners can learn more about the breed and how to care for them.
When it comes to cost, you can get a Pomsky puppy for about $3,000 to $5,000. This all depends on how high up the waiting list you are. Typically, new owners can pick up their puppies or have them shipped in about 8 weeks after they are born.
Bowtie Pomsky Details:
5. Von Waldberg Kennels
Von Waldberg Kennels is renowned for breeding German Shepherds. German Shepherds are known for having a great temperament.
Not only are they great family dogs, but they are also wonderful guard dogs. You can find information on all the dogs and puppies Von Waldberg Kennels has on their website.
If you are interested in bringing a puppy from this breeder home, it is typically recommended that you reach out to the breeder about 4 to 6 weeks before you hope to take the puppy home.
This time enables them to properly answer all your queries. Von Waldberg also offers training and has an excellent community page. You also get 4 complimentary puppy classes when you get a puppy from this facility.
Von Waldberg Kennels German Shepherd Details:
6. Wandering Acres Ranch
Wandering Acres Ranch is known for breeding Australian Shepherds. Australian Shepherds are renowned for being well-rounded family dogs.
Every one of the puppies available is displayed on the website alongside the current sires and dams. Occasionally, you can also adopt an older puppy or adult dog from Wandering Acres Ranch.
Every one of the puppies from this breeder is socialized and they are inspected by Kennel and Washington State Licensed.
There isn't that much information concerning the adoption application process. However, Wandering Acres Ranch allows inquiries on their website.
Wandering Acres Ranch Australian Shepherd Details:
7. Seattle Goldendoodles Co.
Seattle Goldendoodles Co. is a breeder that specializes in breeding Goldendoodles. Goldendoodles are a great mixed breed made from Poodles and Golden Retrievers. At this breeder, the focus is on creating high-quality Goldendoodles.
Seattle Goldendoodles Co. concentrates on temperament and quality. This facility has 1.3 acres of space for all the puppies to get their daily exercise.
Before a puppy from this breeder makes it to their new home, they are potty and crate trained. All the Goldendoodle pups are fed using a high-calorie dietary supplement and high-quality kibble.
The puppies also receive the necessary shots. If you are interested in getting a Goldendoodle from Seattle Goldendoodles Co. then you will be required to pay a $415 deposit.
You will also be required to submit a summary full of answers to queries you might have on the website.
Seattle Goldendoodles Co. Goldendoodle Details:
8. Johnson Point Labradors
Johnson Point Labradors is the breeder to go to if you want Labradors. They are great family dogs, and they also grow up to be wonderfully loyal breeds.
Johnson Point Labradors concentrate on breeding Labradors and caring for their litters on their 15-acre property.
Every one of the Labradors at this facility gets ample exercise and daily walks. You can view the current dogs as well as any upcoming litters on the website.
The process of adopting one of the Labradors at Johnson Point Labradors is simple. You have to put your name on the puppy master waiting list. You will also need to drop a $100 non-refundable deposit.
The puppies that make it to new homes come with a guidance packet, basic information, deworming, vaccinations, and a 2-year health guarantee, among others.
Johnson Point Labradors Details:
9. Luckyrottweiler Kennels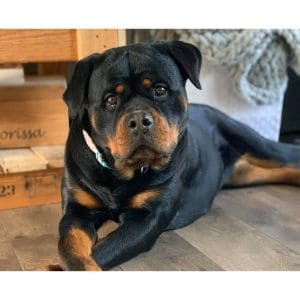 If you have always wanted to have a Rottweiler as a pet, then you can head to Luckyrottweiler Kennels. This breeder helps breed the affectionate and loyal breed that isn't just great for family members but also an excellent guard dog.
All the available puppies are found on their websites. The website also houses post-puppy updates.
Luckyrottweiler Kennels Rottweiler Details:
10. Pups By Taylor
Pups By Taylor is a dog breeder that specializes in Doodles. Doodles aren't a particular dog breed, rather, they are a cross between a poodle and another dog. If you are looking to get a doodle, then you can't go wrong with this breeder.
Pups By Taylor is located in South Snohomish, and all the available puppies are on display on their website. The majority of these puppies can cost anything from $4000 to $5000.
This breeder makes it easy to get a doodle. You simply need to fill out the application form located on its contact page.
This breeder concentrates on ensuring that each puppy adopted complements the family they go to and their way of life.
For this reason, it takes temperament matches extremely seriously. All of this means that it can be a while before you get matched with a puppy that is suited to your needs.
Pups By Taylor Doodles Details:
What to Look Out For in a Breeder
There are benefits to finding a responsible dog breeder. For one, you can get insight into any familial health problems, and you can also be sure that your puppy has a good temperament and has been socialized early.
That being said, discerning a reputable and good breeder from puppy mills and scam artists can be difficult. This section of the article will highlight key factors to consider when trying to ascertain the credibility of your prospective breeder.
A good breeder lets you visit their facility
You should be able to visit the breeder at their facility. This provides you the opportunity to verify the breeder's authenticity. Additionally, it also lets you discover how the puppies are being treated and raised.
A legitimate breeder will be more than happy to let you see where and how their puppies are living. Some breeders even insist on you making a visit before you can purchase a puppy from them.
A good breeder lets you meet your puppy's parents
Puppy mills typically focus on churning out as many litters as possible, not considering the health of the dogs. A reputable breeder will be more than willing to introduce you to your puppy's lineage.
They do this for a couple of reasons. For one, meeting your puppy's parents can help you discern their temperament, look, and health. If the mother is kept in a different location, then chances are the dog is not being properly cared for.
You should also be able to ask the breeder how many litters the dog has had. If the litter number is unusually high, then you should steer clear from that breeder.
You should pay attention to how the puppies act
When you visit a breeder's facility, it is imperative you notice how the puppies behave. Are they fearful or lethargic? Do they growl or cower? These behaviors can be important insights into their socialization level and overall health.
A well-socialized puppy will typically be cautious yet curious. It will also be open to being petted and handled. If the puppies are being treated well, they will be alert and bright.
You will also like:
Before you bring home a puppy from a breeder in Washington, you can learn more about this dog breed by watching "Top 10 Puppy Facts You Didn't Know" down below: