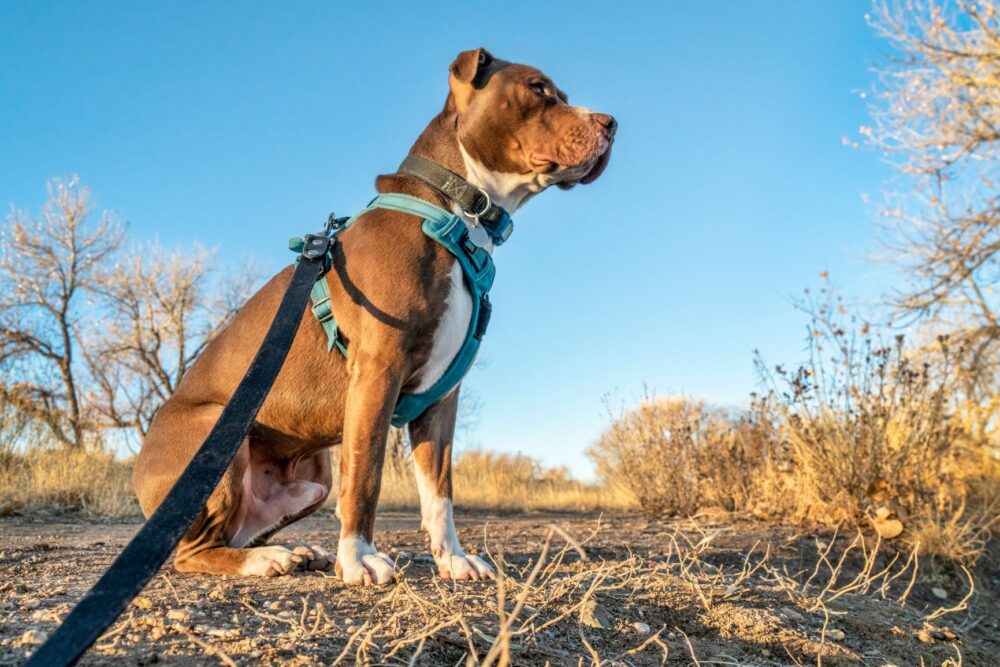 Having your canine companion join you on your hiking trips is not only great exercise but another bonding opportunity for you guys.
Keeping them safe and secure, however, is another story, especially with all those new smells to sniff!
You might already have a harness for regular walks in the park or going around the block a couple times, but in the great outdoors and with added potential for adverse weather conditions, an upgrade could be required.
We've rounded up five of the best hiking-appropriate dog harnesses available right now, each being a well-made piece of attire for your furry friend that ensures their safety and can stand up to even the toughest of treks.
These are some of our favorites!
To read up on what makes a high-quality harness, as any good owner might, look no further than our Buyer's Guide below.
We've clearly and concisely outlined features to look out for, as well as some reasons why you should opt for a harness, not a leash.
Should there be any remaining queries after checking out our top picks, consult our set of Frequently Asked Questions at the end.
As we've answered common inquiries from hiking lovers, yours may well be there too!
In A Hurry To Find A Harness? Here's Our Top Pick:
Review of The Best Dog Harness For Hiking
With a range of sizes from XXXS to XL in nearly 30 different designs to choose between and thousands of five star reviews, we have no problem in recommending this step-in harness from Voyager as our #1 choice.
Putting it on is as simple as your canine companion stepping in, then you clipping it up, hooking up their leash, and you're ready to go!
No more messing around with straps and buckles for 20 minutes before leaving the house.
Constructed from an incredibly soft, lightweight, breathable mesh, your dog will be content wearing this harness in any weather, making it appropriate attire for walks at any time of day no matter what the season!
With two reflective bands on either side, a hook-and-loop fastener, double D-rings and a buckle, there's no chance of wriggling free; nor will you have trouble spotting your pup in low visibility – great for if you can only get out for a walk after work.
Manufacturers point out that their sizing does not relate directly to your dog's breed or weight, and highly recommend you MEASURE the pup and refer to their clear sizing chart in order to secure the best fit possible.
Likes:
Plenty of stylish designs to choose from, made of soft, breathable mesh.

All-weather wear, with a specific size chart for a perfect fit.

Reflective bands for added visibility when out early or late.

Easy to put on – no more stress before walks!
Dislikes:
Not adjustable – can't grow as your dog does.
Other Great Dog Harness Options For Hiking
Boasting a brand new, upgraded design, the Front Range dog harness from RUFFWEAR now boasts more durable shell fabric, a reinforced webbing loop, and an additional loop for more leash versatility, now on the back and at the front.
A reflective trim on every accent allows for added visibility even in the lowest, gloomiest light.
You'll also notice a light loop for adding The Beacon, Ruffwear's dog safety light (find it here), designed to clip onto your pup's harness for late night strolls.
Offering four points at which it can be adjusted, you'll be able to create the optimum fit for your furry friend, and a foam-padded construction ensures that they'll stay content and comfortable even after a full day of wear.
You'll also find an ID pocket on the back, which allows you to store important identification tags and help strangers identify them should you become separated, meaning they don't have to wear a collar in addition to the harness. It fits treats, too!
Their sizes range from XXS to XL, so you shouldn't have trouble finding one that appropriately fits your dog.
There's also 14 vibrant colors to choose from, making picking a harness that keeps them safe AND looks great fun and easy!
Likes:
Adjustable in four places for the ultimate fit, good size range and nice colors.

Reflective trim for added low-light visibility.

Multiple D-rings for front clip and back clip walking.

ID tag storage pocket, so your pup doesn't need a collar too.
Dislikes:
Can shift and slide on some breeds – double check the reviews (search for your breed and find matching reviews) before you buy!
Struggling to find a harness that can comfortably, effectively contain your pup? Not anymore!
Customize the fit of this WINSEE harness to perfectly match Fido's body shape using the built-in strap slide adjusters at the chest and neck.
Available in more than 10 adorable designs and made from a sturdy 1680 Denier Oxford fabric, it's highly durable.
Reflective material on the chest ensures your precious pup will glow in the dark, so you'll stay safe walking at any time of day.
Choose whether you attach by the front or the back with the built-in D rings, allowing you to adjust the experience depending on your dog's behavior that particular day.
Plus, buckle them in on road trips using the super sturdy built-in leather handle.
Though it's designed to prevent pulling, the harness comfortably and safely controls your dog's speed whilst distributing pressure evenly for a pain free experience.
Added soft sponge padding in the lightweight mesh lining further increases comfort.
Featuring lockable, quick-snap buckles, simply slide the small plastic switch for a more secure hold, and slide it back again when it's time to take the harness off.
You'll even get a free adjustable nylon collar to match with every purchase!
Likes:
Adjustable at the neck and chest with a good few inches of allowance.

Made from strong, durable Oxford nylon but still breathable.

Attach the leash at the front or the back, depending on preference.

Can be purchased for a younger dog and used continuously as they grow.
Dislikes:
Adjusters don't lock, which can prove bothersome if the harness slides midwalk.
No products found.
Not just a harness, but a color-changing light show, the LightHound harness from Noxgear is ideal for early morning or late night walkers, with owners able to choose between eight bright, solid colors or six amazing multicolor modes.
Designed to be worn all year round with military grade Cordura fabric, it can withstand far more than general wear and tear, able to survive poor weather and rolling on a regular basis.
Newly redesigned to offer a better fit, it's faster and smoother than ever to pop on your pup, sliding easily over any collar or jacket without tangling.
It's also highly adjustable in the neck and chest area for an especially comfortable fit.
Promising that your pup will be visible at over half a mile away, the harness makes it escape nearly impossible.
Unlike competing high-visibility gear, this tech-savvy harness is equipped with flexible fiber optic cables and 3M Scotchlite reflectors.
Quick to recharge and with a large, long-lasting capacity, the battery offers up to 12 hours of use before requiring a plug in.
Ranging from S to XL, it probably isn't suited to toy breeds but could fit most other dogs with ease.
Likes:
Bold, bright colors – either one solid or multiple flashing for 360 degree illumination.
Achieve the ideal fit with adjustable straps.
Military-grade material to resist the toughest hiking conditions.
12 hours of light on one charge – great for several days of walking!
Dislikes:
Pricier than your standard dog harness.
Last, but certainly not least, we have this final offering from TobeDRI, which also happens to be the most affordable on our list.
Don't let that fool you, though – it's still an incredibly worthy investment, and here's why.
Composed of enhanced, high-density Oxford nylon, with durable nylon webbing and a breathable mesh lining, it's able to stand up to rough and tumble and adverse weather.
The buckles and adjusters too are sturdy and strong.
It's simple to put on with quick snap buckles that lock for a totally secure attachment and four size adjusters that allow for an even better fit at the neck and chest.
Even the most determined dog will struggle to escape!
The use of reflective stitching also allows for added visibility at night, whilst a sturdy top handle allows you to lift a dog struggling with mobility.
It's soft and comfortable to wear, won't cause overheating, and comes in four stylish colors.
As a bonus, you'll also receive a similarly tough 5-foot matching leash, though if you have a tried and tested one on the go already, it's compatible with any clip-on style.
The back-clip fasten helps offer you more control without causing discomfort.
Likes:
Sizes ranging from S to XL with a handy size chart.
Durable Oxford fabric and solid steel components.
Safety locking buckles for added security.
Reflective stitching for more peace of mind at night.
Dislikes:
Some customers report the difference in size between S and XL can make picking the right one difficult.
Buyer's Guide
Harness 101: Why Use One
Where a traditional dog collar and leash combination (see our favorites here) is great for perfectly behaved pups, unruly or especially large dogs can benefit from a harness, as this will offer you a lot more control over them and help minimize potential injury!
Likewise, if you've got yourself a rambunctious little puppy, a harness can prevent trips and tangles should they become distracted or distressed, keeping you both safe and protected from the hazards of the outside world.
If your dog is out walking in their leash and collar and pulls away, they'll believe they've been successful as their forward momentum increases.
However, when wearing a harness, they'll simply be redirected with no reward of further movement.
This discourages negative behaviors, but it can also stop strain or injury of the neck, shoulder blade, and back as a result of them.
A harness can also be helpful in encouraging a less spritely or injured dog in moving from sit to stand without pain.
Plus, when you've got yourself a Houdini (or hound-ini… sorry) who loves to break free, you'll have no worries about them wriggling out of the harness, as it's clipped on in such a way that prevents escape.
Speaking of clipping…
Front Or Back Clip?
There isn't a hard and fast rule for which securing method is best, as it generally depends on your dog and their behavior.
A back clip harness, with its leash hook usually right on top of your dog's back, is the most commonly found.
They are arguably more effective for dogs who like to play escape artist and should help prevent injuries if you need to suddenly pull back on the lead while on a walk.
After all, you and your dog may be well trained, but that doesn't mean others are!
Front clip harnesses, on the other hand, secure on the dog's chest instead.
As a result, they can prove useful for training disobedient furry friends, causing their heads to turn back towards you in the event that they try to pull away.
Whilst they're great in this respect, many owners find the process of walking with a back clip is much easier and less likely to cause tangling, but they won't be as good at discouraging a dog that is determined to pull!
Features To Consider:
Perhaps the most important factor in choosing a harness for your dog is that you obtain one that fits securely and comfortably, not digging into their neck or back, with plenty of padding for comfort (especially furry dogs may not need this).
Too tight and it could put undue pressure on your pup, which is really dangerous around the throat; whilst too loose and they stand a much easier chance of successful escape!
An adjustable-fit harness is your best bet, in any case, as every dog (even those of the same breed) will be a different size, whether that's around their belly, their butt, or their legs and paws.
At the very least, you should be able to alter the chest and neck.
Likewise, since you'll be headed out hiking, you're going to want a resilient harness that can stand up to plenty of use, including in muddy, wet, and otherwise unpleasant conditions without fraying, tearing, or becoming damaged in any way.
And yeah, maybe your dog couldn't care less about looking cool, and it really doesn't matter if the harness is stylish or not, but there's no harm in picking out an attractive looking harness.
Who doesn't want to have the coolest pup at the park!
Remember that many manufacturers will determine which size harness is right for a dog not just on their measurements but by weight, so if you haven't been to the vet's office for a checkup recently, you may have to resort to your bathroom scale!
Frequently Asked Questions
Are Front Clip Harnesses Bad for Dogs?
Although harnesses that clip around front aren't considered bad for dogs, certain breeds would do better with a back clip.
For instance dogs with tracheal issues, short-nosed (or brachycephalic) dogs like Pugs (read about the tiny-but-mighty Pug here) and Frenchies (click here for lots of Frenchie facts), and small breeds generally will likely benefit from a back-clip model.
This is because a front-hook harness can put unnecessary pressure on their throat, especially if your pup is a fan of pulling, which can cause breathing problems and other injuries.
Be sure to pick the model best suited to your individual needs!
What Kind of Harness Is Best for a Dog Who Pulls?
We'd recommend a back-clip harness for smaller breeds or a front-clip harness for larger dogs.
We'd also recommend avoiding the controversial 'no-pull' harnesses that cause discomfort with straps positioned under the armpits to create pressure.
Just because a harness is advertised as 'no-pull', however, doesn't mean it's a bad one – just be sure to check the placement of all straps and how much padding is provided if they are positioned under the armpits.
In general, you may find that just making the switch from a collar and leash combo to a harness should help to reduce the amount of success your dog has at pulling and will help you to keep better control over them whilst walking.
Can I Leave My Dog's Harness on All Day?
Again, this depends on several factors. If you're headed out on a day-long hike, then yes, it's totally fine for the pup to be wearing the harness all day, provided you're taking plenty of rest breaks while you're out!
However, if you're just lazing around the house, it could begin to irritate your dog after long periods of wear, so taking it off for a bit on a regular basis is advised.
This allows the skin to breathe, and you can give them plenty of pets all over too!
Especially in long-haired dogs, matting of hair can be an issue, and if you've been out in the rain and gotten soggy, it can get really uncomfortable!
Tip: Always have some detangling spray (see the best detangling sprays here) on hand for long-haired dogs, or use what we do – this detangling conditioner for pain-free grooming.
Some dogs may even begin to chew at their harness if they've grown sick of wearing it.
Not only could that cause you problems getting them to put it on for a walk, but you may end up needing to replace it altogether should their biting attempts be successful.
In any case: take regular harness breaks, never leave it on longer than necessary.
Last update on 2023-09-25 at 01:05 / Affiliate links / Images from Amazon Product Advertising API