By now, we've tried quite a few different leashes and collars in an effort to find the right one. And what we've discovered is that it takes a little time to see what you actually need depending on your use of the leash/collar (walking…training…running) and the stage you pup is in.
We wanted to share what we recommend from our experiences.
You won't see any collars that rely on applying extreme discomfort or even pain on the dog, like choke chains or prong collars, on this list.
Collars
Features to Consider:
Adjustable Length – collars will typically come sized by the lengths they can adjust to/from (such as Medium: 14 in-20 in)
Nylon / Polyester Strap – a durable material, similar to what car seat belts are made of. They are smooth and won't snag on your pups fur.
Space for ID Tags – you can usually attach the tags to the leash loop, but some collars have an extra (smaller) loop specifically for ID tags.
Reflective or Illuminating – get noticed in the dark with a reflective or light-up collar.
Basic Adjustable Collar
This is where most owners start and end since it's the most common type of collar. They are usually made of nylon/polyester with a plastic snap closure and metal leash loop.
blueberry pet makes a ton of great and affordable collars like this. And you can get them in solid and patterned design, which is great for personalizing your pup a bit.
Martingale Collar
Originally designed for dogs with narrow heads who often slip their collars, the Martingale collar can be used to help with training leash manners.
They have an extra strap that goes through 2 metal loops. You connect the leash to this extra strap. When the dog pulls, the strap gently tightens to the size of their neck. This pressure when they pull can help remind them not to pull ahead of you.
This Martingale collar by blueberry pet is really reasonably priced and great quality nylon. They come in sizes X-Small through Large and in various different colors.
Waterproof Collar
Have a dog that loves the water like mine does? Have you smelled a collar that's gotten wet and dried out while around their neck a few times? It's gross, trust me. ????
These waterproof collars by Kurgo are awesome. It's like your typical nylon collar that's been coated with a waterproof layer. They come in a ton of patterns and colors and can be cut down to remove any excess length.
Leashes & Leads
Features to Consider:
Nylon / Polyester – like with the collars, these materials tend to stand the test of time.
Swivel Clip – the clip you attach to the collar should swivel. This helps keep the leash from tangling as your pup turns.
Length – I like a shorter leash for walking and a longer lead for training/playing outdoors. More on that below!
Reflective – for more visibility, consider a leash with reflective markings or that has reflective threads (better) woven through it.
Walking Leash
For walking, we really prefer a shorter (4 Foot) leash because it gives you much more control over your pup, which is especially important when they're young or untrained. Absolutely no retractible 'Flexi' leashes. They are dangerous for your dog, you, and others you might encounter on your walks.
Prima Pets makes nice nylon walking leashes that come in both 4″ and 6″ lengths, and various widths and colors.
We really like this leash because it also works well for training. It has a 2nd handle close to the collar clasp which gives you extra control. On top of that, it's reflective and comes with a loop to clip your poop bag dispenser onto.
Long Training Lead
Put your training to the test without the fear of your pup running off. Having a long lead lets your dog have the freedom to do their own thing, but gives you the control and assurance they won't get too far away.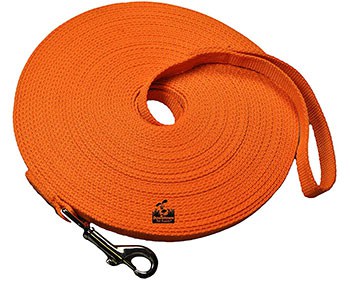 Living in Chicago, open parks are filled with distractions. Distractions are great for testing the training you've been working on with your pup, but the fear of them not returning when you recall them is real. This 50-foot lead from Downtown Pet Supply does the trick! And it also comes in 75 and 100-foot lengths and a few different colors.
Harness
Harnesses are popular because they help spread the pressure across the dog's chest rather than just there neck as with a traditional collar. They're also more secure for wiggly, escape artist dog, and give you more places to grab should you need to.
The Ruffwear Front Range harness comes highly reviewed and recommended, and with the features it has, I can understand why. This is the harness we'd buy.
Let's see why people like this harness so much…
4-points of adjustment for custom fitting to your pup
Padded upper and lower pieces
2-points where you can connect the leash
Reflective trim for high-visibility