While most people opt for a cat or dog as their pet, reptiles are gaining popularity as some of the best household pets! They're unique, and there are several different kinds to choose from which is why we have a list of the best reptile rescues in Florida for you right here.
The main thing about keeping a reptile as a pet, though, is taking proper care of it and being knowledgeable about its needs.
Unfortunately, many people who own reptiles have to surrender them due to not being able to care for them or underestimating the care they need.
That's where reptile rescues come into play. They take in the animals, care for them well, and hopefully allow reptile enthusiasts and lovers to adopt them.
Other articles you would like: Best Rabbit Rescues In Florida and Maltipoo For Adoption.
Why Do Reptiles End Up at Rescues?
The reason that reptiles end up in rescues is pretty similar to why dogs and cats end up in the same position. You'll find different kinds of reptiles at rescues for several reasons. The main reasons include the following:
Owners don't have the time to take care of them

Owners don't have the money to take care of them anymore

They were in the wild and became sick and needed rehabilitation

The reptiles were neglected and taken away to a rescue
Many people who choose to adopt reptiles severely underestimate how much it costs to care for them well.
The terrariums they need to be kept in can be pricey, and the electricity to keep lamps running and the cost of food can be more expensive than you might think. Then, you have to consider potential health issues needing medical care.
Reptile adoption is a great way to take a new pet reptile without purchasing one from an inhumane reptile store. Some rescues even breed their reptiles ethically to ensure their population doesn't dwindle.
What Types of Reptiles Are Commonly in Reptile Rescues?
There are over 10,000 species of reptiles and almost 3,000 subspecies, so it's hard to name all the types of reptiles that can end up in reptile rescues.
Depending on where you're located, you'll find different species of reptiles in rescues. These are some of the reptiles you'll commonly find at reptile rescues:
Water Dragons

Turtles

Tortoises

Snakes

Anoles

Geckos

Bearded Dragons
The 4 Best Reptile Rescues in Florida
If you live in Florida and want to adopt a rescue reptile, then you need to find a high-quality reptile rescue. There are dozens of reptile stores throughout the state, but rescues are the most ethical option.
To save you time, so you don't have to spend hours researching reptile rescues in Florida, we've rounded up the best ones with various reptiles that need new homes. Rescues are few and far between, but here are the best reptile rescues in Florida.
1. Hernando Reptile and Exotics Rescue, Inc.
Hernando Reptile and Exotics Rescue is a large rescue operation that focuses on all types of animals, especially reptiles.
They focus on taking in abused or neglected and sick animals to give them the proper care and love they deserve during their life. They take in native and non-native species and take great care not to release invasive species into Florida's ecosystem.
Hernando Reptile and Exotics Rescue's educational efforts make them stand out among other rescues. Other rescues offer education as well, but this rescue is incredibly thorough.
They ensure they offer educational information to people of all ages so they can learn all about reptile care and how to prevent them from ending up back in a rescue. The best part is that all their educational information is free upon request.
Some of the types of reptiles you'll see at their rescues include python snakes, bearded dragons, and geckos. You can look at their adopt reptile page to see what types of reptiles and other exotic animals are up for adoption currently.
Before you can be selected for adoption reptiles from this rescue, you'll need to fill out an adoption form. Remember, just because you fill out the form doesn't mean you'll be allowed to adopt any of their reptiles.
You're allowed to visit the rescue to meet the animals before adoption, but you'll want to contact them and schedule a time.
This way, they can ensure they're ready for you and can educate you on everything you need to know about caring for reptiles. You can even volunteer to help care for the animals before adopting if you want to gather invaluable knowledge and experience.
Hernando Reptile and Exotics Rescue, Inc. Details:
2. Santucci Small Animal And Reptile Rescue
Santucci Small Animal and Reptile Rescue is a 24-hour operation that strives to take in small animals and reptiles who have been left, neglected, or sick and need care in a controlled environment.
All their reptiles are well taken care of and used to educate kids and adults on the species, proper care, and more.
Even though they're open 24 hours a day, you'll want to make an appointment if you plan on visiting them. You can do that by visiting their website or giving them a call.
Something unique about this reptile and small animal rescue is that they constantly post updates on their animals on their website.
Whether it's that they've reduced intake, the status of certain animals, or other information, you can stay up-to-date on everything going on with the rescue reptiles at Santucci Small Animal and Reptile Rescue.
Some of the reptiles and other animals you'll find at this rescue include iguanas, tegu lizards, snakes, hedgehogs, and bearded dragons.
Before adopting any of their reptiles, you'll need to fill out an application, meet with someone on staff, and possibly attend one of their adoption events.
Santucci Small Animal And Reptile Rescue Details:
Location:

Palm Harbor

Phone Number:

727-922-5080
3. Crazy Critters Inc.
Crazy Critters is more than just a reptile rescue. They have a plant sanctuary and plenty of other animals that need their care and healing. The duo who run Crazy Critters have recently taken to adopting reptiles and giving them the home they deserve.
They welcome people to visit their rescue in Eustis, Florida, to see where they keep their plants and reptiles.
While their website doesn't expressly state that you have to make an appointment to visit them, it doesn't hurt to email the owners and ensures they'll be around and able to give you the tour and low-down on their reptiles.
A few types of reptiles that you'll find up for adoption at Crazy Critters include tortoises, turtles, snakes, and several kinds of lizards. Their tortoises are some of the most popular reptiles and, while rarely up for adoption, worth seeing when you visit.
We love that they allow people to sign up for their newsletter to learn more about what's going on with their animals and plants and educational information about the reptiles.
Even if you still need to get ready to adopt a reptile but are curious to see what owning one is all about, you can meet with them and discuss all your concerns.
Crazy Critters Inc. Details:
4. Xtreme Exotics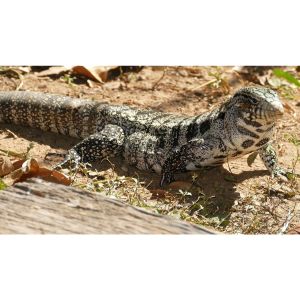 Last but not least, we have Xtreme Exotics in Jacksonville, Florida. This wildlife rescue features all your favorite little critters and a substantial amount of reptiles that are waiting for you to adopt them and bring them home.
Something that sets Xtreme Exotics apart from the other reptile rescues in Florida is that they also offer almost all the supplies you'll need to get started when bringing a new reptile home.
Other supplies include enclosures, enclosures accessories, food, and more so your new reptile can be happy and well taken care of.
While you can browse their website for information on their reptiles and other animals, the best thing you can do is to visit their rescue yourself.
When you're there, a staff member can show you around, talk to you about their animals and rescue efforts, and provide all the education you need to properly take care of a reptile and avoid them ending up in rescue again.
If you don't have time to visit their rescue, the staff regularly host "zoo" events throughout the surrounding areas of Jacksonville.
They bring out some of their animals and share their knowledge with anyone who wants to listen. These events are a great way to get acquainted with their practices and even volunteer if you want to spend more time around reptiles.
Xtreme Exotics Details:
Conclusion For "Best Reptile Rescues in Florida"
When looking for an adoptable reptile, choosing a company that is committed to reducing reptiles is ideal.
Rescues don't breed these animals excessively, and you can go to bed every night knowing you adopted a reptile that needed a loving home. Whether you want a new snake, turtle, lizard, or another reptile, rescue is the way to go.
If you live in Florida or are willing to travel to the state to look for a new pet reptile, you can't go wrong with the four best reptile rescues listed above.
They all offer educational information and are ethical rescues from which you can feel good about rescuing reptiles.
You will also like:
For more information about Reptiles, check out the video down below: