New York is a state of horse lovers. There are many horse rescues located throughout the State. 
We'll take a quick look at why horses in the Empire State end up in rescues. Then, we'll jump right into some of the best horse rescues in New York.
Other articles you would like: Best Horse Rescues In Michigan and Top Horse Rescues In Maine.
Why Do Horses End Up in Rescues?
In New York, horses are a major business. The New York Racing Association owns several tracks throughout the state. There's a great deal of infrastructure to support it, which involves thousands of horses.
In addition, there are also other unfortunate reasons why horses land in rescues. The Equis Save Foundation cites overpopulation and cultural changes as the main reasons. The most essential thing is that it's rarely the horse's fault.
Horse Rescues in New York
Here is a list of 26 horse rescue organizations in New York State.
1. 13 Hands Equine Rescue
13 Hands Equine Rescue takes in unwanted, abandoned, and abused horses and partners with veterans to rehabilitate them. This non-profit has therapy and volunteer programs and adopts the horses out when they're ready.
13 Hands Equine Rescue Details:
2. Amaryllis Farm Equine Rescue
Amaryllis Farm rescues slaughter-bound horses. This non-profit in the Hamptons on Long Island offers various programs, volunteer opportunities, and outreach to support its mission of giving these beautiful animals a peaceful end to life.
Amaryllis Farm Equine Rescue Details:
3. Arrowhead Ranch Horse Rescue
Arrowhead Ranch Horse Rescue is a nonprofit and part of the Arrowhead Ranch and Retreat. Arrowhead is primarily a rescue, allowing horses and many other animals to live out their lives in peace and tranquility.
They have some available for adoption but are happy to provide these gorgeous creatures with a haven for the rest of their days. They hold events, especially in the summer and autumn, and offer farm tours.
Arrowhead Ranch Horse Rescue Details:
4. Begin Again Horse Rescue
Begin Again Horse Rescue provides a place of rest for horses in need. These include abused, injured, and elderly horses.
Their programs have won awards. They offer volunteer and fundraising programs as well as adoption. They even have a tack shop where you can support their efforts.
Begin Again Horse Rescue Details:
5. Bright Star Farm
Bright Star Farm is a small, family-run farm rescue that not only takes in horses, but pigs, poultry, dogs, cats, and many other animals. They even had a peacock! Visit them online or call to find out about their programs.
Bright Star Farm Details:
6. Dream Chaser Farm
Dream Chaser Farm offers boarding and training services as well as rescues. The owners built the farm along the 130-mile Brookfield Horse Trail System, which the New York State Horse Council sponsored.
Dream Chaser Farm Details:
7. Easy Street Horse and Barnyard Rescue
Easy Street Horse and Barnyard Rescue has a vibrant volunteer program. You only need to commit two hours each week, and they provide the training to give excellent horse care. It's as good for you as it is for them.
Easy Street Horse and Barnyard Rescue Details:
8. Equine Rescue, Inc.
Equine Rescue, Inc. offers horses for adoption as well as horse sponsorship, in case you can't take yours home for only $25 per month or $250 per year.
This nonprofit organization rescues and rehabilitates horses physically as well as emotionally. You can also volunteer if you want to help.
Equine Rescue Details:
9. Hidden Hollow Farms
Hidden Hollow Farms in the Hudson Valley is an active non-profit riding center. They work with horses in need as well as humans.
They offer programs for veterans, people with disabilities, people battling physical and mental health conditions, and volunteer programs, too.
Hidden Hollow Farms Details:
10. High Hill Haven
High Hill Haven Horse Rescue is a small, private non-profit farm that offers sanctuary to horses, goats, ducks, and other animals. They rehabilitate horses and offer them for adoption whenever possible.
High Hill Haven Details:
11. Hope Springs Eternal
Hope Springs Eternal is a sprawling 280-acre sanctuary for horses to spend the rest of their lives in comfort and loving care. Many of the horses end up living in herds, similar to what they do in the wild. Adoptions are offered on a case-by-case basis.
Hope Springs Eternal Details:
12. Iron Horse Sanctuary
Located only 55 miles from New York City, Iron Horse Sanctuary has more than 160 acres where horses can live as nature intended.
The horses here have been rescued from slaughter, auctions, abuse, and other neglectful situations. They welcome volunteers and groups from the community to learn about their mission.
Iron Horse Sanctuary Details:
13. Little Brook Farm Sanctuary
Little Brook Farm is one of the oldest horse rescues in the United States. They have more than 100 horses who will spend the rest of their lives there, and they've saved hundreds of others.
They have several programs and work with many organizations, including local schools.
Little Brook Farm Sanctuary Details:
14. Lollypop Farm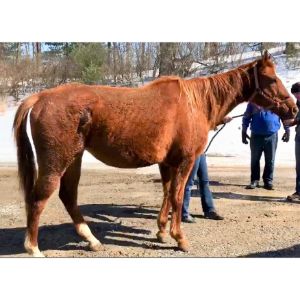 The Humane Society of Greater Rochester runs Lollypop Farm. They offer horses for adoption and connect horses in need with long-term sanctuaries. They also have programs meant to fundraise and educate the public about animal care and its mission.
Lollypop Farm Details:
15. Lucky Orphans Horse Rescue
Lucky Orphans Horse Rescue in the Hudson Valley is part of People Helping Horses Heal People, and that name adequately summarizes their mission.
They offer many programs for horses and humans, from volunteer rehab programs to equine-assisted reiki to corporate retreats. They have educational programs and even a summer camp.
Lucky Orphans Horse Rescue Details:
16. New Beginnings Equine
New Beginnings Equine in Newfield is nestled outside Ithaca in the Finger Lakes region. They rescue horses bound for slaughter, especially mares and foals. They offer foster and adoption services for ready horses. They also accept donations.
New Beginnings Equine Details:
17. New York Horse Rescue
The New York Horse Rescue does it all. They rescue and rehabilitate injured, abandoned, and abused horses on their property. They hold occasional events for the community and facilitate adoptions.
They also help connect other organizations to find the best living situation for all of the horses who pass through their doors, especially when adoption to a private owner isn't feasible.
New York Horse Rescue Details:
18. Oak Tree Sanctuary
Oak Tree Sanctuary isn't just a horse sanctuary; it's a natural paradise. The owners have devoted their property to sustainability. They and their animals live off the land as much as possible while still preserving and regenerating the land.
Oak Tree Sanctuary Details:
19. Peaceful Acres
Located close to the horse mecca of Saratoga Springs, Peaceful Acres is a non-profit that rescues and rehabilitates horses at risk and bound for slaughter. Some of them are retired racehorses.
They have a membership program and corporate donation matching from General Electric. You can volunteer with them and adopt.
Peaceful Acres Details:
20. ReRun
ReRun devotes itself to rescuing and rehabilitating thoroughbreds from the world of horse racing.
This nonprofit organization believes these beautiful animals still have a lot of life to live and love to give. They have fundraising, education, volunteer, and adoption programs.
ReRun Details:
21. Roanchar Ranch Draft Horse Rescue
Located in western New York, Roanchar Ranch rescues draft horses. They rehabilitate them and help connect them to new families ready to love them.
They offer many programs for public outreach and volunteering. They also help provide hay and supplies to loving owners who have fallen on hard times and can keep their beloved horses with them.
Roanchar Ranch Draft Horse Rescue Details:
22. Rosemary Farm Sanctuary
Rosemary Farm Sanctuary allows horses to live as closely to their natural state as possible, much like they do in the wild. You and your family can visit any Saturday for their weekly tour during the summer.
Meet some horses, learn about their lives, and see the historic farm and property. It's a terrific family day and a great way to support Rosemary Farm's mission.
Rosemary Farm Sanctuary Details:
23. Rukota Ranch Horse Rehoming
Rukota Ranch accepts horses from owners who can no longer care for them for whatever reason.
They find new homes for these adoptable horses, providing love and care in the meantime. They also offer a free tack set that fits your new horse, so you both can ride comfortably and safely.
Rukota Ranch Horse Rehoming Details:
24. Second Chance Thoroughbreds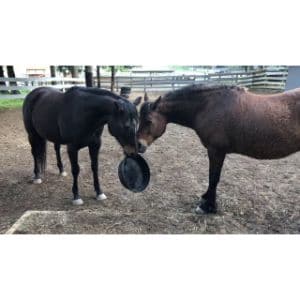 Second Chance Thoroughbreds celebrated its tenth anniversary in October 2022. They've rescued dozens of horses, most of whom have been rehomed.
They always have horses available for adoption. They're affiliated with the ASPCA and hold periodic fundraising events.
Second Chance Thoroughbreds Details:
25. Sunshine Horses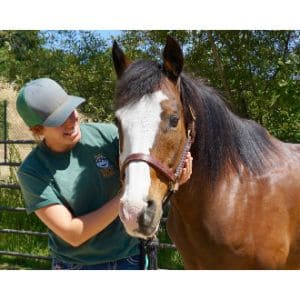 Sunshine Horses has saved more than 250 lives in their almost 20 years of rescuing horses.
They are 100% volunteer-run and supported by donations, so if you want to help a rescue horse, this is a terrific place to volunteer. They rehabilitate and retrain and then re-home through their horse adoption program.
Sunshine Horses Details:
26. Thoroughbred Retirement Foundation
Thoroughbred racing is the lifeblood of Saratoga Springs. The Thoroughbred Retirement Foundation works with other for-profit and nonprofit organizations around the country to prevent retired and injured racehorses from meeting a bad end.
They adopt horses and retrain them, and then work to re-home them.
There are other ways to get involved besides adopting horses. You can sponsor one until it finds its forever home or host a fundraiser in your community.
Thoroughbred Retirement Foundation Details:
Conclusion For "Best Horse Rescues in New York"
Whether you came here looking to find more information about horse adoption, volunteering, or donating, New York offers so many opportunities, as you can see.
There are countless horses in need, but many good people throughout the Empire State are working hard to help them. Get involved however you can. After all, rescuing a horse saves two lives: the horses' and yours.
You will also like:
For more information about Horses, check out the video down below: