Searching for German Shepherd puppies in Ohio? This blog will assist you in finding the top German Shepherd breeders in and near Ohio.
German Shepherds are among the most versatile dog breeds. Hailing from Germany, these dogs were initially bred as herding and guarding dogs, but they were later adopted as pets.
Given the versatility of their qualities, GSDs can become excellent guide dogs, competitive obedience dogs, tracking dogs, protection detail dogs, service dogs, and so much more.
Since they're a popular breed, you will find countless German Shepherd breeders in Ohio, but how will you know which breeder to trust?
Choosing a breeder can be time-consuming, from checking club registrations to scrutinizing certifications from AKC, HEART, SV, and other similar organizations.
This blog will make the process easier for you; here, we list five certified GSD breeders raising healthy and well-trained German Shepherd puppies for sale in Ohio.
If you want a listing of breeders that care for the dogs they breed, these five breeders should be at the top.
The Best German Shepherd Breeders in Ohio
Other articles you would like: Goldendoodle Puppies In Ohio and Basenji German Shepherd Mix Guide
1. Von Yoderheim
At Vom Yoderheim, you will find high-quality German Shepherd Puppies for sale in Ohio. They are the proud breeders of red and black German Shepherds of European lineages of large-boned quality.
The breeders at Vom Yoderheim are proud of the sound mind and bodies of the dog they raise.
Their GSDs are trainable and possess courage and intelligence. Depending on your need, they can be used for personal protection or companionship. The dogs in their breeding program are also Seiger show competitors.
Von Yoderheim is affiliated with the American Kennel Club (AKC) and is part of the HEART program certifying that care and treatment have been provided to the dogs at Von Yoderheim.
At Von Yoderheim, dogs and puppies are raised as a part of the family and are bred selectively from world-class standards.
At Von Yoderheim, if you purchase a dog, you will get a clean bill of health and assurance that the dogs have received quality feed and nutrition.
Von Yoderheim Details:
2. Vom Buflod German Shepherds
Vom Buflod is located in Waynesville, Ohio. Their dogs here are in high demand, so much so that you must place your reservation four months before the anticipated arrival of the litter!
Vom Buflod is a team of experienced breeders that raises and trains their dogs for excellence. So, if you call, you will talk directly to the breeders, not just a phone operator.
On their website, you will find a record of vaccinations, dates of deworming, and wellness exams for the available puppies, all of which will also be provided to you at the time of adoption.
The Vom Buflod German Shepherds also come with a twenty-year vet reference.
No corners are cut on the quality and care of the dogs at Vom Buflod. Their GSDs are intelligent, beautiful, and healthy. They come in black and red colors, and all the dogs are from DM-tested West German show lines.
If you want to visit these beautiful, social, and confident dogs, you can give them a call to arrange a kennel tour for you.
Vom Buflod German Shepherd Details:
3. Wisecup Shepherds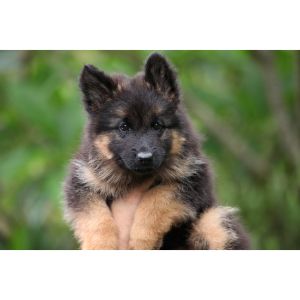 Wisecup Shepherds is the third breeder among the 5 German Shepherd breeders in Ohio listed here. Based in Sabina, Ohio, the Wisecup breeders raise purebred working-line, German Shepherds.
At Wisecup Shepherds, you will find generational guarantees that are hard to find elsewhere.
All the dogs here hold the highest quality guarantee. The business at Wisecup was started with the help of veterans, so special discounts are available for those in service and retired.
If you are an active service member or retired, Wisecup is a great option for you.
The German Shepherds are trained as early as possible, socialized, and taught to behave in the house. They are also very mindful of children and other small animals. Desensitizing them to household activities is part of the grooming and training project.
You can inquire about upcoming litters on the available link on their website. You can also schedule appointments to visit the private kennels and see the dogs yourself.
Wisecup Shepherds Details:
4. Locherie German Shepherds
Locheries is another excellent option for German Shepherd puppies in Ohio. The dogs at Locherie German Shepherds are proud participants of the Schutzhund. All parents are chosen from the Schutzhund trials.
This is because dogs that participate in the Schutzhund possess several attractive and wanted qualities.
Qualities of intelligence, trainability, protective instinct, and confidence. The Schutzhund participants must undergo training to pass but must also inherently possess these desirable traits for success.
At Locherie German Shepherds, their dogs make great pets because they are Breed Surveyed as well. Being breed surveyed means the dogs pass extensive requirements that deem them physically and mentally fit.
These requirements include a 12-mile endurance test, certification of hips free of dysplasia, and a rating from the conformation shown on the structure of the dogs.
At Locherie German Shepherds, the dogs receive the recommended training to become protection detail dogs and family pets. They also receive the best care and treatment any dog can receive.
Locherie German Shepherds Details:
5. Peter's Elite Shepherds
Peter's Elite Shepherds are proud breeders of German Shepherds puppies in Ohio and are also certified by the American Kennel Club (AKC).
Adding to the list of accolades in Peter's Elite Shepherds breeding program are memberships to the German Shepherd Dog Club America and the German Shepherd Dog Club Ohio.
The breeder has also received the special AKC breeder of merit certificate.
If you are not already sold on Peter's Elite Shepherds, here are some other qualities to sell you. The breeders raise beautiful dogs that have excellent health and temperament.
They are loyal, faithful, and loving creatures that can be working and family dogs.
Dogs at Peter's become guide dogs for the bling, tracking dogs as part of service groups, assistance dogs, participants of Schutzhund trials, show dogs, and so much more.
They raise versatile working and service partners that receive appropriate training as soon as they are able. All the dogs have clean bills of health, prescribed vaccinations, and genetic testing.
If you feel that this is the right fit for you, you can schedule an appointment to go visit the facility and the dogs through the details provided below.
Peter's Elite Shepherds Details:
How to Choose German Shepherd Breeders in Ohio?
With beautiful coats and colors, like red, black, and bi-colors, German Shepherds are companions and show dogs. Their power and endurance also make them participants in K9 sports and Schutzhund trials.
If you feel like you are still confused about how to choose the right breeder, create a checklist and check off the items one by one as you go down the list. The breeder that checks all your boxes is the right one!
Start your checklist with customer reviews. Read online reviews to find out what people say about your chosen breeders.
Look for reviews on Google, social media platforms, and third-party sites like Yelp. If the reviews are generally positive on all channels, you can be sure they are authentic and trustworthy.
Moreover, you can also ask about the breeder in local Facebook groups, your circle of friends and family, and your vet. Customer reviews are the best way to determine the authenticity of a breeder.
The second item on your checklist should be health checks; check if the breeder of your choice religiously follows health checks.
To make sure that the health of your adopted dog is not compromised or the health of all the dogs overall is ensured, ask the breeder about the frequency of health checks and genetic testing protocols.
Make sure the breeder you are adopting from gives you the vaccination card for your dog that has all the latest information.
Lastly, check for valid certifications and registrations. The certifications and registrations vary from place to place and breed to breed.
American Kennel Club covers most species in America, but smaller species-specific clubs are also active.
Do research the valid certifications of the dog and breeder of your choice. You should also request kennel visits to check the facility's quality.
German Shepherd Puppies in Ohio – Top 5 Breeders
In conclusion, we hope you find the German Shepherd puppy of your choice from the breeders listed above.
GSDs are the right choice whether you are a new dog owner or a veteran. Even though they require firm handling, they can be the most obedient pets with the right training and trainers.
We also hope the tips mentioned above prove helpful in choosing the right breeder and wish you the best of luck in finding your furry companion!
You will also like:
For more information about the German Shepherd Breed, check out the video below: