Are you looking to adopt French Bulldog puppies in Ohio? Keep reading to learn about the state's top 5 French Bulldog breeders.
French Bulldogs are the cutest companion dogs. With their flat noses, bat ears, and bobtails, Frenchies look like adorable plush toys. They have what some would call a weird charm because they only snore and snort due to their short snouts.
Their incredible alertness makes them excellent watchdogs. French Bulldogs are naturally friendly and jovial, which makes them wonderful companion dogs.
In addition, they adapt to changes very quickly and are generally playful, charismatic, and low maintenance.
They are sharp-witted and affectionate animals who make friends quickly. Additionally, they do not require excessive outdoor activities, making this breed perfect for someone with a busy lifestyle.
Other articles you would like: Goldendoodle Puppies In Ohio and Find Whippet Breeders Near You
French Bulldog Puppies For Sale in Ohio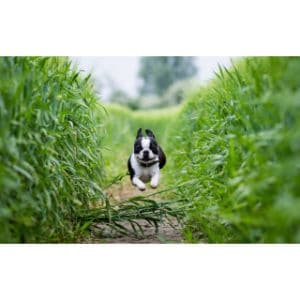 However, before we tell you about the best French Bulldog breeders in Ohio, you must know whether you are ready to take on a French bulldog puppy's responsibility.
Although they are small dogs with good temperaments, they can be a handful.
This breed would require regular grooming, such as brushing and trimming nails. Moreover, they cannot swim, so you must be careful not to let them wander around pools and tubs.
Apart from this, they would also require training sessions to help them adjust to a new environment.
Now that you have a complete picture of the French Bulldog let's learn about the top breeders offering these adorable dogs in Ohio.
1. Happy Wags French Bulldogs
The experts at Happy Wags Breeders have been breeding Bulldogs for over 20 years and aim to provide pet enthusiasts with a healthy and well-socialized puppy who will be your best friend for a very long time.
They are a husband-and-wife duo who raise their puppies with the utmost care and love along with their 4 children. They make sure to put the puppy's health first and get all necessary checkups and vaccinations from their vet.
Additionally, all their puppies are AKC or ACA registered and have the required health certificates.
Their male and female French Bulldogs cost $4000 – $4500; the prices may vary according to gender, color, and litter.
To reserve a French Bulldog puppy, you must fill out the online reservation form available on their website and deposit a non-refundable $200 reservation fee. The rest of the payment is to be made upon pickup or before shipping.
If you make a reservation, the breeder will reach out to you so you can choose your puppy from the litter when the puppies are 5 – 6 weeks old.
You may visit the breeder to meet each puppy and make your choice, or you can visit their website, see puppy pictures, and make your choice.
They have been given a 5-star rating with excellent reviews on Google.
Their customers are not only impressed by their quality and professionalism but also by how well kept and trained their puppies are. Their customers say their puppies are well worth the price and will continue to get more puppies from them.
French Bulldog Breeder Information:
2. Riegsecker's Kennel
Riegsecker Kennel is located on a farm outside Wauseon in Northwest Ohio. The farm is owned by Steve, who has been breeding dogs for over 40 years.
Steve's goal is to provide the healthiest, well-nourished, and loving puppies who will be the best companions for their adopted families.
Since the puppies are raised on the farm, they have ample space to run around, explore, and grow into strong and well-balanced adult dogs.
Moreover, to ensure health, the pups get all required vaccinations and are dewormed at least two times before departing for their forever homes.
In fact, unlike most farms, they provide a one-year guarantee against congenital diseases and 2-year health guarantee against dysplasia.
In addition, owners have up to 3 days to get their puppies checked by a licensed vet; if there is any conclusive health concern, the breeder replaces the dogs with a compatible one.
All their puppies are on pro-plan-focused puppy food to ensure optimal health and nourishment.
Their reviews claim that the owner is cooperative and very professional. Steve makes the adoption process very easy and is open to any questions that you might have.
French Bulldog Breeder Information:
3. Chambord French Bulldogs
The Brott family has been breeding French Bulldogs since 2005 and is highly devoted to their work. Unlike other breeders, Chambord breeders raise their puppies in their own homes, not kennels.
They produce happy, attractive, and playful puppies. Their puppies are well socialized and have a witty charm to them. The owners are big dog lovers; hence they treat all their puppies like family. Their puppies are well trained and are very social also.
Their pups are AKC registered and have been fully vaccinated. They hope to provide the best customer service and work closely with them to ensure that their Frenchies get adopted into the best families and receive unconditional love.
They also allow visitors to their homes so people can interact and bond with their pups before taking them home. Finally, you can check their websites for further details, pictures, and videos of these little bundles of joys.
French Bulldog Breeder Information:
4. Mon Ami French Bulldogs
The Mon Ami family produces not just well-socialized puppies but also focuses significantly on their excellent health, temperament, and nourishment. They raise all their pups in their own home, treating them like their own family members.
The breeders promise to provide intelligent and loyal Frenchies in various colors. Most importantly, the breeders match you to a pup based on your lifestyle and personality.
Some of their puppies are energetic and playful, while others are laid back and even-tempered; therefore, they match you to a puppy most suited to your preferences to give you and the puppy the best chance at a lifelong friendship.
To adopt a puppy from Mon Ami, you need to fill out a short application form and submit a deposit. The deposit is a good-faith advance payment and goes towards the final price of the puppy.
Once the puppies are 9 weeks old, the breeder asks you to collect the puppy. They can also ship the puppy to you if required.
Your puppy will not only be AKC registered but will also come with all essential health papers. The breeders guarantee you the best quality and health. They say their puppies will fill your home with love and laughter.
French Bulldog Breeder Information:
5. Spencer's American Bulldogs
The last breeder on our list of breeders offering French Bulldog puppies in Ohio is the well-known Spencer's American Bulldogs.
This family-operated breeding facility is located in northwest Ohio and proudly raises their dogs and pups indoors with their children. They have been breeding since 2003 and strive to produce healthy puppies with sound temperaments.
Their puppies are not only AKC registered but also come with health certificates and a health guarantee. Their dogs are active and athletic. They focus on socializing their puppies in the best way possible so they can easily adjust to their new families.
They require 500-dollar non-refundable advance payment before you can take your puppy home and also provide shipping services. Thus, making your experience a lot more comfortable and easier.
French Bulldog Breeder Information:
How to Choose French Bulldog Puppies in Ohio?
Now that you know the best breeders in Ohio, you might wonder which breeder would be the best for you.
For starters, you should opt for a breeder closest to you. This way, you can familiarize yourself with the puppy and the breeder's program before committing.
The next thing to look at is your budget. Check which breeder fits your budget and proceed. However, don't fall prey to puppy mills while trying to get a puppy at a lower cost.
Puppy mills sell their dogs at a discount because they raise multiple litters without attention to their health and temperament. In the long run, puppy mill dogs are more expensive, so it's best to verify the breeder before purchase.
Then, make sure to check if they are AKC registered and whether their health certificates are valid or not. You must also ask your breeder about your puppy's diet and figure out whether you will be able to provide and afford the same food.
Consult with your veterinarians to find out if they know the breeder you plan on choosing.
Also, ask your breeder about training and socialization. Mot good breeders start puppies on house and crate training early on, which saves you a lot of trouble.
Another fundamental question is how much the puppy barks. As mentioned earlier, Frenchies are sensible and only bark to alert when they see danger approaching; however, you should still confirm this with your breeder.
You should also be aware of your puppies' vaccinations and if they have had all the necessary shots. Make sure your puppy is well behaved and socialized. Ask all essential questions about this from your breeder.
Conclusion For "French Bulldog Puppies in Ohio – Top 5 Breeders"
French Bulldogs are witty and cheerful puppies that can fill any home with love and laughter. Whether you live on a farm or an apartment building, the Frenchie will adapt to any environment and will prove to be a loyal pet.
This article listed 5 of the best breeders offering French Bulldog puppies for sale in Ohio. Although we independently verified each breeder, we recommend you visit each before making a decision.
You will also like:
For more information about the French Bulldog Breed, check out the video below: