Are you looking for the best Cockapoo breeders in Oregon? Then read on. This guide is for you!
The Cockapoo breeders in Oregon listed below are highly reputed and recommended. They have received stellar reviews from their customers. They also have the Cockapoo breed's welfare in mind.
In short, you can trust these breeders to provide you with healthy and happy Cockapoo puppies in Oregon.
We have also included some Cockapoo breeders selling healthy Cockapoo puppies in nearby states.
Before you scroll further down this guide, check out these other Cockapoo-related articles: Are Cockapoos Hypoallergenic? and Best Cockapoo Haircut Ideas.
About the Cockapoo Breed
Cockapoos are adorable little dogs. They are a mix of Cocker Spaniels and Poodles. The result is a sweet, smart, mostly hypoallergenic or low-shedding dog.
The cockapoos may have originated in the United States, accidentally, around the 1960s.
However, breeders soon found out that these dogs had low-shedding coats and were also small and compact – features most dog owners look for in dogs.
Their Poodle genes also helped ensure smartness and high trainability.
Soon breeders started purposely breeding Cockers and Poodles (Miniature and Toy) to create these designer dogs.
Most Cockapoos weigh around 12-18 lb or 5-8 kg. They measure around 25-36 cm or about 14 inches at the withers.
You can get Cockapoos in various colors, including white, beige, tan, fawn, apricot, sable, brown, black, red, bi-colored, etc.
Where to Find Cockapoo Puppies for Sale in Oregon?
1. Starlo's Cockapoos
Starlo's Cockapoo is owned by a 5-star breeder Debbie Cowdrey.
She has been breeding top-rated Cockapoo puppies in Oregon for several years now. Debbie only uses AKC Cocker Spaniels and Poodles in her breeding program.
Starlo's Cockapoos is located in the beautiful Christmas Valley of the Great Basin Desert of Oregon.
Debbie and her husband of almost 50 years encourage potential Cockapoo owners to visit them and meet their beautiful happy dogs.
Check out their contact details below:
Starlo's Cockapoos Details:
2. Rosemary House Cockapoos
Darin and Anne Hansen are the owners of Rosemary House Cockapoos located in Corvallis, OR. These breeders are dedicated to breeding Cockapoos to the strictest standards and with responsible breeding practices.
They currently have litters of mini-Cockapoos in the 12-20 lb. category.
Anne and Darrin can arrange to ship your puppy to you. They also provide road transportation where possible. All their Cockapoos are well-socialized with cats, dogs, kids, and adults.
Since the puppies live in the Hansen family home, they are used to the sounds and noises, which make them confident little dogs.
The Hansens also offer a 1-year health guarantee on genetic defects. Also, their puppies are fully vaccinated and taken to the vet for a wellness check before entering their new homes.
Rosemary House Cockapoos does not have a website or a social media page. However, we have found the following phone number for Anne Hansen in Corvallis, OR.
Rosemary House Cockapoos Details:
Location: Corvallis, OR
Phone Number: 541-753-7674
3. Appleby Farm Cockapoo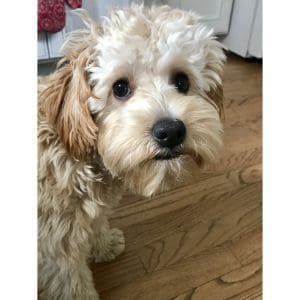 Lynaya Appleby is the founder and responsible dog breeder behind Appleby Farm Cockapoos in Oregon.
The Applebys are committed to providing top, pet-quality companion dogs to their customers. All their Cockapoos are not just beautiful but also have well-rounded personalities.
The Applebys focus on breeding intelligent, good-looking, and loving Cockapoos.
They can arrange to ship your Cockapoo using a flight nanny or provide ground transportation where possible. You are also encouraged to come and meet the dogs before buying.
All Appleby Cockapoo pups are vaccinated, wormed, and seen by a vet before being sent to their forever homes.
The best part is that Appleby Farm Cockapoo breeder recently had a litter of Cockapoos in January 2023, and they also have a litter planned for March 2023.
So, contact them today to check if they have cute Cockapoo puppies for sale in Oregon.
Appleby Farm Cockapoo Details:
4. Devin's Doodles
Devin LaPorte – the founder of Devin's Doodles – is a top-rated breeder of healthy Cockapoo puppies near Oregon.
His kennels are located in Washington, about 100 miles from some Oregon zip codes. He can arrange to ship your Cockapoo puppy, although he encourages ground transportation.
Here is a bit about Devin's Cockapoo breeding program:
Devin's Doodles is a family-run breeding facility functioning for the last 20 years.
Their dogs' health and happiness are their top priorities.
Devin performs various health checks on his breeding dogs – mainly testing for hip dysplasia, patellar luxation, and eye issues with OFA and CERF testing.
The great news is that Devin is expecting a litter of adorable Cockapoos in March 2023, so you are sure to find beautiful Cockapoo puppies for sale in Oregon from this breeder.
Contact Devin on the details below:
Devin's Doodles Details:
5. Maranatha Cockapoos/Lindy Loos Cockapoos
This Cockapoo breeder (Linda Benjamin Newby) is located near Oregon, in the beautiful state of Washington, in Lake Stevens.
They specialize in 2nd and 3rd-generation Cockapoos; the breeder focuses on health, beauty, and temperament.
She will have some gorgeous Cockapoo puppies in Oregon for you to welcome into your heart and home!
Maranatha Cockapoos is a family-run kennel which means all their Cockapoos are exposed to dogs, cats, kids, adults, etc.
They are also desensitized to the loud sounds of the vacuum and blender, so they don't startle or get fearful or anxious. You are assured of bringing home a confident, trainable Cockapoo when you purchase from this breeder.
Maranatha Cockapoos are priced at $1800 (when writing this guide). They also have merle-colored Cockapoos selling for over $2000.
They have a stringent application process, so please fill out an adoption form here:
Maranatha Cockapoos/Lindy Loos Cockapoos Details:
Location: 4820 SR 92 House 15, Lake Stevens WA 98258
Phone Number: 425-377-9952
Email:

[email protected]
6. Uptown Puppies
You can also find wonderful healthy, and cute Cockapoo puppies in Oregon using the Uptown Puppies website.
Top-rated, 5-star dog breeders with Cockapoo puppies for sale in Oregon enlist their dogs so you can browse through their photos and select a dog you like.
The next step is to contact the breeder through Uptown Puppies. The website acts as a guarantor to ensure that all money dealing is safely carried out.
They also work with the USDA to ensure all breeders adhere to the code of ethics when breeding Cockapoo puppies for sale in Oregon.
When writing this guide, we found several beautiful Cockapoo puppies for sale on Uptown Puppies. They came in gorgeous colors like white, black, beige, fawn, and brown.
All Uptown Cockapoos are vaccinated and wormed. They are shipped using the highest safety standards and with the dog's complete well-being in mind.
Uptown Puppies Details:
7. Crockett Doodles
Are you looking for sweet mini-Cockapoos or standard Cockapoo puppies for sale in Oregon? Then Crockett Doodles has F1, F1B, multi-gen Cockapoos, and Mini Cockapoos available for sale.
They also have other Doodle breeds available if you're interested.
All their Cockapoos and mini-Cockapoo puppies in Oregon are born, raised, and bred at home. Their beautiful Cockapoo puppies have found loving families all around the United States.
Crockett Doodles also has partner dog breeders in Pennsylvania, California, Iowa, and South Carolina.
Crockett Doodles arranges to ship your puppy to you via ground transportation or with a flight nanny.
They are one of the free Doodle breeders that refund your deposit amounts anytime for any reason – minus a small processing fee.
For details, contact Dr. Nathan Crockett below:
Crockett Doodles Details:
How to Find a Cockapoo Breeder in Oregon?
Once you've decided to bring home adorable Cockapoo puppies in Oregon, your search should begin with the best Doodle breeders in the state.
As listed above, we found around 7 Cockapoo breeders in and around Oregon.
The nearby states – California and Washington, also have some Cockapoo breeders who may be willing to ship your Cockapoo to you.
Here are the questions to ask your shortlisted Cockapoo breeder:
How long have you been breeding Cockapoos?
What are the generation of your Cockapoo puppies and the approximate size of your adult Cockapoos? You may also ask about the dog's coat type – if you are looking for hypoallergenic Cockapoos.
What is the philosophy behind your breeding program?
How do you carry out the early enrichment and socialization of your pups?
What tests do you conduct on the breeding stock?
The Cockapoo breeder should be forthcoming in answering these questions. If they hesitate or refuse to answer, steer clear of such breeders.
Always ask to meet the breeder in person. Their facilities should be well-kept and clean. Their dogs should appear healthy, happy, well-fed, and well-socialized. They should be friendly.
How Much Should You Expect to Pay for a Cockapoo Puppy? Why Are Cockapoos So Expensive Now?
Cockapoos are in great demand due to their high trainability, compact sizes, adorable looks, and low-shedding coats.
With great demand comes increased prices. Most breeders listed above were charging between $1000-$2000 for their dogs.
Some merle-colored Cockapoos were priced even higher. Some breeders were taking a deposit along with a refundable/non-refundable fee of $450
Frequently Asked Questions
Do Cockapoos smell a lot?
Cockapoos do not smell very often. Like all dogs, they will smell a bit when they need a bath.
How big will a Cockapoo get?
Cockapoos can grow anywhere between 25-40 pounds as adults.
What age do Cockapoos settle down?
Most Cockapoos settle down at the age two. They are high-energy dogs, so walking and exercising them frequently will help keep them calm inside the house.
So Where are the Best Cockapoo Breeders in Oregon?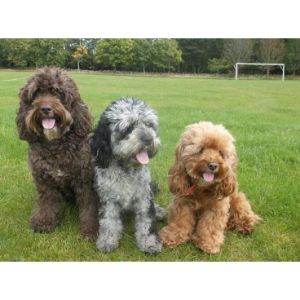 Finding good Cockapoo breeders in Oregon need not be a daunting task. While the options are limited, we have done the homework for you so you can bring home healthy and happy Cockapoo puppies in Oregon.
The breeders listed above are all reliable and trustworthy. They have the Cockapoo breed's welfare in mind and aren't breeding just for profit. So, you can contact them without any doubts in mind.
If you find this guide, "Best Cockapoo Breeders in Oregon," informative and helpful, you can check out these other dog-related articles from our team:
Before you find a Cockapoo puppy for sale in Oregon, you can learn more about this dog breed by watching "Cockapoo – Top 10 Facts" down below: