Finding the best Cockapoo breeders in Colorado need not be an uphill task. This guide will help you shortlist good Cockapoo breeders in the state so that you can bring home a healthy and happy Cockapoo.
If you're looking for the best Cockapoo puppies in Colorado, look no further than the breeder list below.
We have also included a Cockapoo breeder from the neighboring state of New Mexico to get a wider choice in your search for healthy Cockapoo puppies for sale in Colorado.
Before you scroll further down this guide, check out these other animal-related articles: Goldendoodle Puppies In Colorado and 9 Reliable Cockapoo Breeders in Indiana! (2023)
Where to Find Cockapoo Puppies for Sale in Colorado?
Please call and arrange to visit one of these reputed Cockapoo breeders in Colorado. Many have had a litter recently so they may have ready Cockapoo puppies for sale in Colorado.
1. H & H Red Canon Canines
Located in Cañon City, H & H Canon Canines have received stellar reviews for their healthy and affectionate Cockapoos.
Many buyers have praised the ease of buying a puppy from H & H Red Canon. One Cockapoo even works as a therapy dog in its owner's psychotherapy practice.
This shows that H & Red Canon Canines have produced sweet-natured and healthy Cockapoo puppies in Colorado.
Their pups are raised in a loving environment. They are also trained and socialized to all kinds of experiences. This helps create bold and confident dogs.
Unfortunately, the H & H Red Canon Canines website is not working. However, you may contact them on the details below:
H & H Red Canon Canines Details:
Location: 443 Cooper Ln, Cañon City, CO 81212
Phone Number: 719-458-5437
2. Pawsitively Cockapoo
Pawsitively Cockapoos is a breeder in the Colorado area having many healthy Cockapoo puppies in Colorado. They also keep Yorkipoos.
Their F1-or first-generation Cockapoos are bred from AKC-registered Cocker Spaniels and Poodles. They focus on beauty, health, and temperament.
All their pups are raised indoors and not in kennels. This means the puppies are socialized with other dogs, children, and humans.
They have sound, stable temperaments and are bold, curious, confident, and alert.
Pawsitively Cockapoos ensure matching the right dog to the right home by inspecting the home their puppies go to.
Pawsitively Cockapoo Details:
3. Mary's Cocker Haven
This is a top-rated Cockapoo breeder in Peyton, Colorado. Mary has beautiful Cockapoos; some even have blue eyes and speckled patterns. She recently had a litter of red and apricot-colored Cockapoos.
All of Mary's Cockers are AKC registered. The dogs are all raised in Mary's home. They also keep mini Dachshunds and Cocker Spaniels, so the Cockapoo pups get to play with various dogs.
This is one committed and dedicated breeder striving hard for the welfare of all three breeds she keeps.
Contact Mary below to check about the available Cockapoo puppies for sale in Colorado.
Mary's Cocker Haven Details:
4. TLC Kennel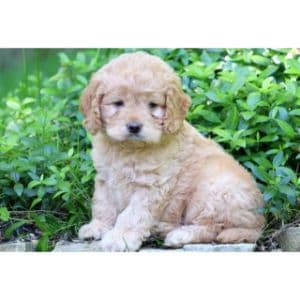 For $950 (when writing this guide), you get first-generation Cockapoos from TLC Kennels.
The breeder has several gorgeous colors in their Cockapoo puppies in Colorado – including merle, particolored, black-and-tan, etc.
Archie and Teresa Cloud own TLC Kennel. It is a family-owned kennel that has been operating in the eastern Colorado area since 1983.
Archie and Teresa strictly adhere to the standards set for each breed and have state-of-the-art facilities to care for their dogs.
TLC Kennels also keep their dogs up-to-date on their immunizations. They even provide information and guidance to their customer regarding the care of their dogs.
The best part is that their facility is inspected and licensed by the United States Department of Agriculture and the state of Colorado.
They inspect the facility occasionally, ensuring that the dogs are always raised in a healthy and clean environment. TLC Kennel also has three veterinarians on call to provide medical care and attention to the dogs 24×7.
TLC Kennel Details:
5. Kokopelli Cockapoos
Kokopelli Cockapoos is situated in New Mexico, but they can ship your puppy to Colorado.
If you're looking for the perfect Cockapoo puppies in Colorado, this is the place to visit. Kokopelli cockapoos are family owned and lovingly raised in clean and healthy environments.
Their breeding programs focus on temperament, beauty, and health, so they adhere to the standards laid down by the American Cockapoo Club.
Through early neurological stimulation, socialization, obedience training, and a loving environment, Kokopelli Cockapoo puppies on sale in Colorado are bound to make loving companions.
The breeders behind Kokopelli Cockapoos believe in providing the best early start to puppies, ensuring confident, loving dogs that make great companions and family members.
Every Kokopelli Cockapoos dam and sire undergoes DNA panel tests and is only bred after getting cleared for hips, elbows, eyes, and heart issues.
The breeders are also available to answer your queries 24×7. Their puppies are hypoallergenic and suitable for people with allergies or asthma. The dogs are registered with the American Cockapoo Club too.
Kokopelli Cockapoos Details:
6. Cockers Angels
You can also consider adopting a Cockapoo if you can't get Cockapoo puppies for sale in Colorado.
Colorado Cocker's Angels is a non-profit organization working to find homes for abandoned Cocker Spaniels and related breeds.
The volunteers take in abandoned or abused Cockapoos and care for them. They even help with their training and medical care on a case-to-case basis. They then match the puppy with a suitable home.
Adopting a Cockapoo will give the dog a second chance it deserves. You might even save a dog from going to a kill shelter or a dog pound.
Contact Cocker's Angels to see if they have a Cockapoo in Colorado to rehome.
Cockers Angels Details:
About The Cockapoo Breed
Here are a few facts about Cockapoos:
Origin: The origin of Cockapoos is not clear since these dogs are not registered by any major canine clubs. One line of thought is that the breed may have first been created in the 1960s in the USA.
Size: Cockapoos bred from Cocker Spaniels, and Miniature Poodles weigh about 15 lb or 6.8 kg and measure about 35 cm or 14 inches at the withers.
Temperament: Well-bred, desensitized Cockapoos are happy, cheerful, friendly, and affectionate dogs. They are alert, active, and energetic. They are also intelligent and easy to train.
Grooming needs: Cockapoos need daily brushing and monthly baths. They may need professional grooming now and then.
Celebrity owners: Ashley Judd is a fan of the Cockapoo breed!
How Much Should You Pay for a Cockapoo?
Most Cockapoo breeders in the list above were charging between $950-$1400 for their Cockapoo puppies for sale in Colorado (when writing this guide).
However, this price can change based on the following factors:
The Puppy's Parents
AKC-registered Cocker Spaniel and Poodles produce superior F1- or first-generation pups.
This ensures better health and stable temperament in the puppies. Naturally, breeders charge more for these Cockapoo puppies in Colorado.
The Pup's Age
If you buy a slightly older, well-trained (especially house-trained) Cockapoo, you'd pay more.
Naturally, this isn't always the case, as sometimes, younger pups are more trainable, so puppies between the ages of 8-12 weeks may cost more than an adult Cockapoo.
It all depends on where you choose to buy your Cockapoo puppies from.
The Puppy's Coat Color and Type
Some insist on certain coat colors like red, apricot, and merle. Pups with these colors cost higher.
If you or a family member suffers from pet allergies, you may want to select a Cockapoo puppy with a Poodle-type, curly coat.
The Cockapoo Breeder's Reputation
If you choose to buy from one of the top-rated and best Cockapoo breeders in Colorado, you can also expect to pay higher. Good breeders take a lot of effort into breeding beautiful and healthy puppies.
They conduct health and DNA tests on their dogs and only breed the ones cleared for various issues.
They also lovingly raise their Cockapoo puppies and home and focus on neurological stimulation, socialization, obedience training, etc to raise confident and sweet-natured pups.
Reputable Cockapoo breeders also offer to take back the puppy should it develop any genetic issue within a year after you buy the puppy.
How to Select a Cockapoo Breeder in Colorado?
To locate a good breeder for Cockapoo puppies, use the following steps:
Check with the breeders above. We have done the homework for you so you can rest assured that the dogs available are healthy and sound-mannered.
Get referrals from your vet. If you know a good vet in your neighborhood, you can get breeder referrals from them.
You can also talk to other Cockapoo owners nearby to find out where they bought their puppy from.
The American Kennel Club can also guide you in finding top-rated Cockapoo breeders in Colorado.
Once you have shortlisted some good breeders, you can meet their dogs by visiting their kennels. Good breeders encourage customers to visit. They are also forthcoming about the tests they have conducted on their dogs.
You can also ask them how long they have been in the business and how many breeds they keep. If possible, get references about their clients so you can meet or call them about the health of their pets.
Frequently Asked Questions
What is the max lifespan of a Cockapoo?
Cockapoos can live anywhere between 12-15 years, but some of them live as long as 20 years.
Are Cockapoos good family dogs?
Cockapoos are high-energy, super-friendly, and good with small children.
How much exercise does a Cockapoo need?
These dogs will need at least an hour's worth of walking each day.
What Are the Best Cockapoo Breeders in Colorado?
A good breeder of the Cockapoo-dog breed strives for the breed's welfare. S/he does not breed for profit but is genuinely concerned about the puppies.
The list of Cockapoo Breeders in Colorado is a good place to start your search for healthy and happy Cockapoo puppies for sale in Colorado.
If you find this guide, "Best Cockapoo Breeders in Colorado," informative and helpful, you can check out these other dog-related articles from our team:
Before you find a Cockapoo puppy for sale in Colorado, you can learn more about this dog breed by watching "Cockapoo Dog Breed – Should You Get A Cockapoo? | Dog World" down below: