Here's what you need to know if you're searching for Aussiedoodle puppies in California.
The Aussiedoodle is a hybrid or mixed breed dog bred by deliberately crossing two well-known breeds: the lovable Poodle and the intelligent Australian Shepherd.
The average size of this breed ranges from standard to miniature. Aussiedoodles have moderate to high energy levels but must be kept engaged to prevent them from destructive entertainment activities.
Unfortunately, owing to their cuteness, Aussiedoodle puppies are commonly sold by puppy mills. Therefore, if you decide to get one for your home, you must ensure the breeder is legitimate.
A rule of thumb is to select a breeder that can provide you with authentic health certificates and a health guarantee because breeders that offer a health guarantee of more than 6 months are less likely to be puppy mills.
However, finding genuine Aussiedoodle breeders in California is challenging as there are not many Aussiedoodle breeders to begin with. To make the process easy for you, we have enlisted 4 well-established Aussiedoodle breeders you can trust.
The Best Aussiedoodle Breeders in California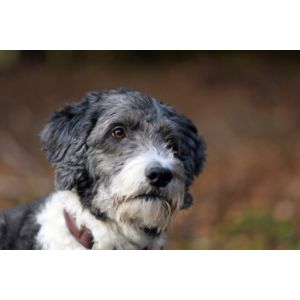 Other articles you would like: Goldendoodle Puppies In California and Cavapoo Puppies In California
1. Saddleback Aussiedoodles
Located in Northern California, Saddleback Aussiedoodles is a self-proclaimed small-scale breeder that breeds Aussiedoodle puppies as a hobby. They breed miniature and standard-sized Aussiedoodle puppies in California.
The breeder has recently discontinued physical visitation due to Parvovirus, a deadly disease transmitted via clothing, shoes, or hands.
This virus can be fatal to the whole litter in just 24 hours; therefore, Saddleback Aussiedoodles do not allow visitors to the facility anymore.
However, the owner promises to assist you in picking up your desired puppy since he observes them all the time; hence, he has the best knowledge of their temperaments.
You will be provided pictures and videos of the puppy and references from previous clients who can testify to having a great experience with the breeder.
You can reserve a spot on the waiting list for a happy, loving puppy with a non-refundable deposit of $300 in the name of Angela Lewis.
The original cost of the puppy can vary from $2300 to $3000. You will also be required to sign and submit the deposit contract and guarantee contract, available on the website.
For $400, you could get your dog shipped to you. However, the breeder prefers that you come and collect the puppy yourself.
The breeder suggests bringing members of your family and even children when you come to collect your puppy, as it will allow the puppy to become familiar with you in a safe setting.
However, if it isn't possible, you can always choose a safe shipping method. Their puppies are so well trained that they will adjust to your home in no time!
Saddleback Aussiedoodles Details:
2. Tried and True Aussies
Tried and True is one of the renowned Aussiedoodle breeders in California. Located in Sonoma Country, north of San Francisco, it is a 4-acre ranch run by Matt and Rebecca's family.
The puppies bred here are socialized with children, adults, and other animals in hopes of encouraging a friendly grooming environment.
Susan Garrett and Natalie are professional trainers at Tried and True Aussies, responsible for training dogs through positive reinforcement and the Recallers program.
They have partnered with Baxter & Bella for better online puppy training. You can avail of a 25% discount for lifetime membership at their website using TRIED AND TRUE code, with a saving of $59.50!
The breeders also run a Guardian Home Program that enables you to pick up a litter puppy that will be part of your family. However, breeding rights are reserved by Tried and True Aussies, and all puppies come with a neuter/pay clause.
If you want to become a guardian of an Aussiedoodle rather than adopt one outright, this is the perfect option. The cost of a female dog/puppy is $600 as per the Guardian Home Program.
Moreover, the same dog can later be purchased for an additional $1400. The cost of a male puppy is decided at the time of placement in the guardian's home.
You can apply for an Aussiedoodle puppy through the application form on the website by filling out the required details.
You will also be asked to sign a Health guarantee form that states that you comply with certain clauses applicable to the purchased puppies, for example, providing proper nutrition, socializing, shelter, and vet care.
In return, the breeder gives a 1-year guarantee for a hip issue, retinal eye disease, or life-threatening genetic conditions confirmed by CERF certified vet, or OFA. The dog is also guaranteed to be free of any hereditary defects at the time of purchase.
You may also enroll your dog in obedience classes before your puppy turns 1 year old. Life's Abundance Wellness Food Supplements are recommended to be given to the puppy for 36 months to ensure its wellness and overall health.
In addition, you can order quality dog food and supplements to your doorstep through the breeder's online food store.
Tried and True Aussies Details:
3. Kali's Desert Doodles
The founder of Kali's Dessert Doodle- Krystal Nunez, has the best-bred Aussiedoodle puppies for sale in California. They are known for breeding best quality F or F1B standard, medium & mini Aussiedoodles, and Bernedoodles and Poodles.
The facility is located in Southern California. The puppies are raised in the breeder's home among children and adults in a friendly environment. The breeder encourages Early Neurological Stimulation-ENS since the puppies are just 1 week old.
Moreover, breeding dogs are health-tested. Daily runs and exercises are a part of their routine. Many female breeding dogs live with guardian families to encourage happy living.
The breeder reserves breeding right over these dogs for up to 4 years. The guardians, however, must reside within a 60 -mile distance from Los Angeles.
All puppies from this breeder come with a 1-year health guarantee, up-to-date shots, and health checkups.
Every puppy is dewormed and screened for almost 200+ genetic disorders in addition to paw print genetic tests before initiating any breeding process.
You must make an initial non-refundable deposit of $100 to register for the waitlist, with an additional $400 due when pregnancy is confirmed. Once the puppy is born, a $500 deposit is required to be made by the buyer.
The cost of Aussiedoodle puppies from Kali's Desert Doodles ranges from $2500- $4000. The purchased puppies can be shipped to you safely with a flight nanny within the United States via Los Angeles International Airport.
Before making any deposit, read and sign the sales contract. This includes all the clauses for the upkeep of a healthy relationship between the buyer and the seller post-purchase.
Kali's Desert Doodles Details:
4. Shady Oak Doodles
Shady Oak Doodles is a multi-family breeder in San Diego, where you will find beautiful, loving Aussiedoodle puppies in California. They are known for producing F1 and F1-B generation puppies, ranging from mini to standard size.
Apart from Aussiedoodle puppies, Shady Oak Doodles also breed Australian Mountain Doodles and Bernedoodles.
The breeder pays full attention to every dog's health and happiness, ensuring that the ones bred and produced are genetically screened for genetic and hereditary diseases.
Moreover, all puppies at Shady Oaks are socialized and made accustomed to noise, people, and other animals to achieve a good temperament. To adopt an Aussiedoodle from Shady Oak Doodles, you must follow a few easy steps.
First, fill out an application form that encloses details of the type of dog you require. This would allow the breeder to judge the kind of dog that'll best suit you, in accordance with your affordability and living conditions.
Secondly, the pricing of each dog varies but lies in the range of $2500 to $4000. Therefore, you'd communicate your budget to the owner. You may also register to get your dog trained by the breeder at an additional cost.
For more information, you may visit their website's FAQs or contact them at the given email address or phone number.
Shady Oak Doodles Details:
Conclusion For "Aussiedoodle Puppies in California – Top 4 Breeders"
While Aussiedoodles are a mixed breed, they have gained extraordinary admiration worldwide.
You may consider the breeders mentioned above to buy credible, happy, and healthy Aussiedoodle puppies in California and avoid getting rigged by fake breeders or puppy mills.
Before adopting a puppy, every individual must work consider the temperament, shedding/non-shedding characteristics, and then decide on the type of dog they'd want to bring home.
Get them checked & vaccinated in due time and take optimal care of your companions- for they are man's best friend and deserve to be loved.
You will also like:
For more information about the Aussiedoodle Breed, check out the video below: