If you're looking to get a new cat, visiting a rescue or a shelter is the way to go. There are already so many animals out there in need of homes that would love to meet you.
The Savannah cat is one of those breeds. People are attracted to it because it's exotic, but sometimes, new owners bite off more than they can chew.
If you feel ready to take a more challenging but no less loving cat into your home, check out these Savannah cat rescues.
Other articles you would like: Italian Greyhound Adoption and Samoyed Adoption.
What Is a Savannah Cat?
The Savannah Cat is a hybrid breed, a cross between a domestic cat and a Serval, a native African wild cat. The Savannah cat can weigh between 12-25 pounds, making it the largest breed of domestic cat.
Their temperament varies depending on the filial generation, but most will have strong hunting instincts and be extremely high-energy. They're loyal and can be quite friendly with appropriate exposure as kittens; you could say they're very dog-like.
You'll find the physical features of the Savannah vary with sex and with the filial generation. Across the board, Savannah cats are taller than other domestic breeds.
They have longer-than-average legs and long, slender necks. Their lifespans average between 12-20 years.
Why Do Savannah Cats End Up in Shelters?
It's an unfortunate part of life that animals end up in shelters. There are many reasons why someone feels they have to drop their pet off: some they can control, some they can't, and this is especially true for Savannah cats.
People don't always know what they're getting into when they adopt a cat, let alone a Savannah cat. The most common reasons that Savannah cats end up in shelters are:
Biting

Scratching

High energy

Hunting instinct

Family is moving

Owner dies

The financial stress of owning the cat

Strays from the street

Restrictive laws in select states
A Savannah cat probably shouldn't be in a home with small pets, like birds and fish, and they need plenty of exercises. Many of their perceived behavioral problems come from insufficient exercise and under-stimulation.
It's not the cat's fault that it ends up in a shelter or at a rescue. A Savannah cat can be a wonderful pet when you understand and respect its needs.
Any Savannah cat that may have issues resulting from abuse or neglect will receive the care they need before being adopted. Shelters and rescues are excellent at giving proper care and training before putting an animal up for adoption.
Top 11 Savannah Cat Rescue Options in the US
If you're searching for your fur-ever friend, a shelter or a rescue is a great way to go. It may take more time than going to a breeder, but it'll definitely be worth it.
That's even more true for rescues. Animal rescues function like shelters, but they aren't government funded. That means they're volunteer-run and volunteer-funded. The adoption fee you pay for your new pet goes directly to supporting the rescue.
Here are the top Savannah cat rescues and shelters in the United States in no particular order.
You'll see all the pertinent information about them and how best to contact them. You can also check at your local shelter and see if they have a Savannah cat for adoption.
1. Savannah Cat Rescue
The Savannah Cat Rescue is a great rescue to start our list of Savannah cat rescues. Kristine Alessio and Brigitte Cowell are the owners and Savannah breeders themselves; they believe the breeder is responsible for the cat it breeds for life.
They, and their team of volunteers, rescue many Savannahs, the majority of which are return kittens from other Savannah breeders. The rescue prefers to keep the pet in its original home if possible, so they start by working with the family.
They'll take possession of the cat if they cannot reach a resolution or the owner can't take care of the caany morere. There's also an option to rehome your cat through an online service.
Savannah Cat Rescue Details:
2. Specialty Purebred Cat Rescue
The Specialty Purebred Cat Rescue has been rescuing many breeds of cats, including the Savannah, since 1999.
They prefer to take in cats that have trouble getting their needs met at a shelter. This rescue uses its feline know-how to find the best home possible for all of its cats.
They can foster over 100 cats at once, thanks to volunteer homes across Wisconsin, Illinois, Indiana, Iowa, and Michigan. Their website has a ton of resources about various cat breeds, too. The Specialty Purebred rescue only cares about the cats, and it shows.
Specialty Purebred Cat Rescue Details:
3. Big Cat Rescue
The Big Cat Rescue serves as an important service in rescuing big cats, including tigers, bobcats, and servals. There aren't many places like this in the United States because big cats can be dangerous.
There are currently a few Savannah cats at the Big Cat Rescue, though they normally deal with large cats. Unfortunately, they aren't adopting out any cats currently, so the best way to help them is by donating or volunteering your time.
Big Cat Rescue Details:
4. Afrikhan Savannah Cats
If you're within driving distance of Tennessee, you can adopt a Savannah cat from Afrikhan Savannah Cats.
Lorre Smith-Lemire has been breeding and homing Savannah cats since 1995. She takes the best care of these cats at her small farm in the hills of Tennessee.
They're fed an all-natural diet, get plenty of fresh air, and are well-socialized. Smith-Lemire has the highest standards for cats and those who adopt them, so you won't be disappointed.
Afrikhan Savannah Cats Details:
5. A Savannah Named Cattery
If you're anywhere around Oklahoma, you can adopt a Savannah cat from A Savannah Named Cattery. They have various generations of Savannahs available for you to take home.
They aim to match these adorable cats and kittens with responsible cat lovers. You'll have to apply to adopt one and pay an adoption fee. That fee goes towards helping take care of other cats.
A Savannah Named Cattery Details:
6. ASPCA
The American Society for the Prevention of Cruelty to Animals (ASPCA) is one of the largest humane societies in the world. The ASPCA believes that humans should treat animals kindly and respectfully.
Their home office is in New York, but you can find local organizations nationwide. They rescue and rehome many animals, including the Savannah cat. Like other rescues, they prefer to keep the pet in its original home if possible.
The ASPCA provides care and resources to their communities to achieve that goal. They will take the pet if a resolution can't be reached, though. The ASPCA does other important work like protecting farm animals and improving laws for animals.
ASPCA Details:
7. Great Lakes Bengal Rescue
The Great Lakes Bengal Rescue is a nonprofit organization that rescues Bengal and Bengal mix cats. Savannah cats are a part of this family.
After rescuing, they'll find a foster home for temporary placement or adopt out to a permanent home. Their office is in Kentucky, but they serve a large portion of the midwest.
Everyone that works for the Great Lakes is a volunteer and full-fledged cat lover. They all genuinely care about the health and happiness of the cats. That's why you have to go through a review process before adopting one of their cats.
You'll have to fill out an application and have a phone interview with someone from the rescue.
When you're approved, you can talk with the person fostering the cat you're interested in. If it seems like a fit, you can decide on a time to pick up your new Savannah cat.
Great Lakes Bengal Rescue Details:
8. Bengal Rescue
The Bengal Rescue is an organization that rescues Bengal cats and other hybrids, including the Savannah. They're part of a larger community that aims to find a loving, well-educated home for all the hybrid cats out there.
Their office is in Salt Lake City, but they have volunteers nationwide that come together to help achieve this goal.
People everywhere help find the cats in need and do something to better their lives. They foster, adopt, and even transport the cats to new homes.
The Bengal Rescue website is also highly informative, so you can use it as a resource for caring for your cat.
They have that information for anyone to use because they always prefer for a cat to stay in its original home rather than being surrendered to the rescue.
Bengal Rescue Details:
9. Texas Bengal and Exotic Cat Rescue and Behavioral Assistance
The Texas Bengal and Exotic Cat Rescue is a small, publicly funded organization. All the cats they rescue are fostered in private homes until they can be adopted. They can't take on many cats at once because of that, but the ones they have are well-cared for.
They specialize in hybrid cat breeds that need different care than other domestic cats. The volunteers here work hard to assist with behavior, as well.
The rescue would prefer the cat with behavioral problems to stay with its owner if possible. There's nothing inherently wrong with hybrid cats; they need a little extra attention sometimes.
Texas Bengal and Exotic Cat Rescue Details:
10. Bengal Rescue Network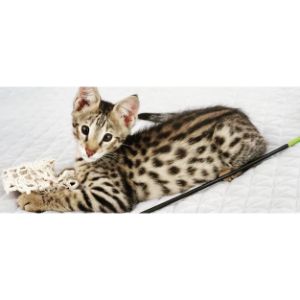 The Bengal Rescue Network is another volunteer-led non-profit organization led by people that love cats. They've got volunteers across the United States and Canada who want to rescue, transport, foster, or adopt Bengal cats and other hybrid breeds.
The Bengal Rescue Network provides a space for volunteers to help each other with the rehoming of cats and solving problems. They make sure all cats, and all people interested in adoption, are vetted.
Bengal Rescue Network:
11. Rescue Me! Bengal Rescue
Jeff Gold founded Rescue Me! in 2003. It's a network that helps dogs, cats, birds, horses, and other animals find homes anywhere in the world. You can search by the animal's breed and find pets to adopt or homes that will take your pet.
There's a map of the United States on their website that shows how many Bengal cats are looking for a home in each state. You can click on the state, see what the cats look like, and get in touch with their owners. It's super easy to use.
Rescue Me! Bengal Rescue Details:
Conclusion For "Best Savannah Cat Rescues in The US"
No matter which rescue or shelter you choose, you'll be helping a Savannah cat in need. You may be helping many cats in need. You can adopt more than one cat, but also, your adoption fee often goes toward rescuing other cats.
If you've never owned a pet before, be sure to do lots of research before adopting, regardless of animal or breed. Do your research even if you have owned a pet or never owned a Savannah cat. You and your cat will be much happier about it.
You will also like:
For more information about Savannah Cat Breed, check out the video down below: