If you're searching for Poodle breeders in Oklahoma, then here's what you need to know. Whether Toy, Miniature, or Standard, Poodles are one of the most amazing dog breeds.
These dogs come in different colors: white, black, or apricot. They have a low-allergen, curly coat that makes them very attractive.
However, a great companion and elegant athlete are beneath their lovely and gorgeous coat.
As you may already know, this dog breed comes in three different sizes: Toy (10 inches and below), Miniatures (15 inches or under), and Standards (more than 15 inches).
Other articles you would like: Best Cane Corso Breeders In The USA and Labrador Retriever Puppies In California.
Poodle Puppies For Sale in Oklahoma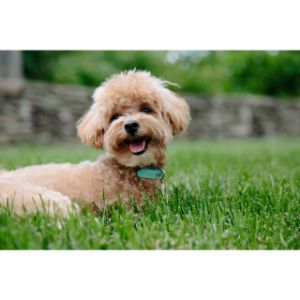 Hence, knowing the Poodle size, you want when looking for the best Poodle breeders in Oklahoma. However, all three sizes have the same proportions and build.
Not all breeders produce all three varieties; some breeders focus on a particular size. This guide will review and provide the contact details of the best places to buy Poodle in Oklahoma, regardless of the variety you want.
1. PuppySpot's Poodles For Oklahoma
Since you're searching for Poodle breeders in Oklahoma, we recommend checking out PuppySpot's helpful online platform. PuppySpot is a reputable and trusted dog marketplace where you can search for a suitable Poodle puppy anywhere in Oklahoma.
It would be best to keep note that all Poodle breeders must meet PuppySpot's guidelines before listing any puppies on the website.
Your Poodle companion should arrive in Oklahoma safe and sound by doing this. Before you continue your journey for a Poodle puppy for sale in Oklahoma, you should utilize PuppySpot's marketplace with the following link below.
PuppySpot Details:
2. Poodles of Willow Glade
Poodles of Willow Glade made it to the top of our list because of its state-of-the-art breeding standard. PWG is an AKC Standard Poodle breeder; they do not breed Miniature or Toy Poodles.
This breeder is committed to providing families with the best quality Poodle puppies. They take care of their sires and dams and their puppies to ensure you get the healthiest puppy possible.
This breeder started in Oklahoma but has expanded to Texas and other states in the US because of its success. Poodles of Willow Glade is a family-owned and operated breeding program.
This breeder believes in the integrity of their canine's wellbeing. They breed and raise the puppies in their seven-acre home with creeks and a small pond.
The environment is serene, clean, and peaceful for the dogs. They are also allowed to run and play freely in the yard. This breeder's dogs and puppies are like family pets to them. They care for the canines a lot, giving them all the love and attention.
Poodles of Willow Glade believe the secret to producing healthy, happy puppies is healthy, happy parents.
They have stringent rules for selecting sires and dams. When choosing their breeding dogs, the breeder conducts health examinations and tests for several health conditions. PWG also ensures that its puppies are placed in loving and good family homes.
They do not give out their puppies to families they feel will not be able to care for the puppies. Furthermore, the puppies are up-to-date on vaccinations and worming.
They will provide you with the medical record of the puppy you want to buy so you can continue the immunization. The breeder also has kids that interact and play with the puppies. Your puppy will come home semi-trained and well-socialized.
Poodles of Willow Glade Details:
3. Red Dirt K9
Red Dirt K9 is another Poodle breeder you can trust. This breeder produces and raises different designer dogs, including Giant Schnoodles, Golden Doodles, Irish Doodles, Irish Setters, and Standard Poodles.
They are one of the best standard Poodle breeders in the state. This breeder produces standard Poodles of different colors.
Hence, if you have a color preference, you can contact them when making a reservation for your puppy. You have to make an initial deposit to join the waiting list.
Once a litter is ready, the breeder will email all those on the waiting list (according to how the deposits are made). You will clear the remaining balance upon delivery or when you come to pick up your puppy.
This breeder releases its puppies at eight weeks old. They will contact you to arrange your new canine friend's pick up when the time is due. They will also allow them to stay for an extra weekend at no additional cost.
However, you will start paying a $15 per day boarding fee after the weekend. Furthermore, all their puppies are current on vaccinations and wormings.
A licensed vet also examines them for a clean health bill. One unique thing about this breeder is that they keep their buyers updated about the growth of their puppies.
They provide photos and videos weekly to enable you to keep track of your puppy's growth. This breeder does not breed unhealthy dogs, and all its adult dogs are genetically health tested. The puppies are also friendly, as they interact with kids and other pets on the farm.
Red Dirt K9 Details:
4. Timber Hills Poodles
Are you looking for good-looking purebred Poodles? Look no further, as Timber Hills Poodles offers exactly what you want.
This breeder produces and raises beautiful purebred Standard Poodles. They also produce other dog breeds like Bernedoodles, Goldendoodles, and Aussiedoodles.
Timber Hills is a family breeder located in Oologah, Oklahoma. They are dedicated to raising well-mannered and good-tempered Poodles and Doodles as family pets. The family raises the dogs in their home as a part of their family.
To reserve a puppy from this breeder, you need to fill out an online application. You can proceed to make a $300 non-refundable deposit if approved.
You will pay the remaining balance when you pick up your puppy or before shipping. If you want your puppy shipped, contact them to make the arrangements.
Timber Hills Poodles Details:
5. Down Home Doodles
The last breeder on our list is Down Home Doodles. Down Home Doodles has been producing and raising Poodles since 2012.
This breeder is specialized in breeding Goldendoodles but recently added Poodles to its list. They breed and raise their puppies in their home.
The breeder started holding and cuddling the puppies from the day they were born. They give them all the love and attention they need to feel a part of the family.
DHD introduces its puppies to several things, including sounds, sights, etc. They prepare the puppies emotionally and physically for their new homes.
Your puppy will not come home scared of home appliances, as they were raised in a home. They have experience in vacuum cleaners, stairs, tile floors, TVs, etc.
The goal of this breed is to provide families with healthy and happy puppies. Their puppies are health-tested and updated on vaccines and wormings.
Down Home Doodles Details:
6. City Poodle
Note: It appears this Poodle breeder is no longer breeding puppies.
Are you looking for therapy, service, work, or companion Poodles? City Poodle is one of the best places to check.
This breeder produces and trains its Poodles for different purposes. If you are looking for a new best friend, you can rely on this breeder. They produce perfectly healthy and well-rounded puppies.
Their puppies are very social and can make a great addition to any home. This breeder knows how to cultivate and bring out the natural traits of this dog breed.
Their dogs are very intelligent, so they are good as service and therapy dogs. Tom and Dilfuza own and manage this breeding program.
They are dedicated and committed to providing and raising the best quality Standard Poodles.
This breeder also produces and raises Bernedoodles. Having multiple dog breeds in the same space helps make the puppies sociable. The puppies also undergo different training and exercise activities.
They train the puppies to climb stairs and introduce them to different parts of the house. The puppies are also thought to know various surfaces such as tile, cement, grass, water, wood flooring, etc.
Your puppy will come home lease, potty, and crate-trained, impressive, right? They must have learned all the fundamentals they need to thrive in life before coming to your home.
This breeder invests a lot in the training of these puppies. They also expose them to different sounds, so your dog is already noise-desensitized. The puppies go fishing, play in the water, and swim.
The breeder also teaches them some simple commands such as "come," "home," "go potty," etc. They take utmost care of the dogs and puppies, brushing them daily and grooming them weekly.
City Poodle Details:
Conclusion For "Best Poodle Breeders in Oklahoma"
Those are some of the best Poodle breeders in Oklahoma. Before you patronize anyone, ask for the dog's health certificate and medical record. You can also visit the breeding ground (if allowed) to know where your potential canine friend was bred and raised.
Poodles are an adorable dog breed. They make great companions and are an excellent addition to many families. With the breeders listed above, rest assured you will go home with a healthy, happy, and well-trained Poodle puppy.
You will also like:
Before you bring home a Poodle puppy from a breeder in Oklahoma, you can learn more about this dog breed by watching "12 Things Only Poodle Dog Owners Understand" down below: