There's no such thing as the perfect shock training collar, nor the perfect product. Everything has a niche they fit in where they work best. 
Even when you find the best electronic collar that fits your style, budget, and your furry friend's temperament, devices can fail, or you accidentally break them. 
That's reality, and it's best to find products with the highest quality you can find, that also has replaceable parts.
It's like buying a car or a new laptop. It's nice to have something that is rare and has high performance, but if you can't get replacement parts easily, or the service center's too far, you're one accident away from losing a ton of value on your product. 
Not for the five shock collars in this list though! If you're looking for electronic collars that have good customer service, replaceable parts, and extra accessories to improve your training experience, then let's start with the list. 
Product
Best Overall
Pet Resolve Remote Training Collar
Runner Up
Bousnic Rechargeable Shock Collar
Editor's Choice
Educator E-Collar Dog Trainer Shock Collar Kit
Image
First on our list is Pet Resolve's high-quality dog training collar. This is all they need because it's nearly a "one-size-fits-all" device. 
It has all the standard features training shock collars should have and has certain features and ruggedness to be used in small to medium-game hunting. Yet still simple enough to be used by beginners for basic remote collar training. 
Features:
10 Levels of Static Shock and Levels of Vibration
Non-Ultrasonic Beep
3/4 Mile Range
Doubles as a Bark Collar
Expandable for up to 3 Receivers
LED Tracking Lights w/ Diff. Colors
50-Hour Battery Life
Splashproof Remote Control
Waterproof Receiver
2cm Prongs for Dogs w/ Long Fur
Plastic Prongs to Disable Shock
Plastic Training Clicker
It's a standard training collar at a glance, but when you start taking all the collar functions into account, you may see how much value this electronic collar unit gives for its price. 
It has a moderately strong static shock, especially at higher levels.
This ensures you can grab your dog's attention when they perform any dangerous negative behavior like chasing small animals, other dogs, people, or cars, or running towards dangerous places like busy roads.
On lower levels, it's enough for reinforcement training and if you have a sensitive dog, the vibration at high levels is strong enough to be annoying.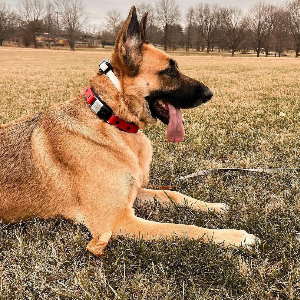 If you want to stick to using vibration instead of shock, you can replace the metal prongs with plastic prongs which completely disables the shock. 
The beep is soft and barely audible, but it's enough for your dog to hear without damaging their hearing in the long run. With a range of 3/4 Miles, you can recall your dog from way past earshot. 
If you need to find them in the dark, you can activate the LED strobe lights on the receiver to see them as far as your eyes will allow you. 
If you pair 1-2 more additional collars on the remote, each receiver will have a different LED color, showing you who's who in the dark. 
You don't have to get a separate bark collar because this kit's anti-bark feature works the same as most standard bark-limiter devices.
It will send a 2-second warning beep when your dog starts barking and if they don't stop barking after the beep, the receiver will trigger a static shock based on the shock level it was on when you turned the anti-bark feature on. 
In about 2 months or less of consistent use, it will train your dog to lessen their barks, but not keep them from barking completely. 
All of those features are housed in a lightweight, rainproof remote control device and a waterproof receiver placed on a durable strap. There is a blue-colored version of that strap, and you can purchase a bundle with three receivers if you want to manage more dogs. 
On a two-hour full charge, the receiver and the remote will last around 50 hours. Because it's also tooled to be used for outdoor sport and advanced training, it doesn't go into standby mode, or "sleep" mode to avoid interruption during time-sensitive moments. 
It includes a plastic training clicker. This small tool is almost invaluable in training and teaching behavior because it gives you a way to consistently send signals to your dog, like clicking once to get their attention, or clicking twice when they perform the correct behavior. 
You can get additional parts by going to their Amazon Shop Page or contacting their customer service to let them guide you on how to get parts like the blue shock collar bands. 
Since this is their only product, there won't be any confusion on what model you have to get or compatibility issues. 
Our second product is leaning on the budget dog training collar side but with good enough features for the average trainer, even professional ones.
It comes with a nylon strap, different from the usual plastic ones, which, thanks to the plastic sliders, make it significantly easier to get the right collar fit.
What you don't get though, is the ruggedness, range, and responsiveness of hunting collars like the first on our list, but if that's not what you're aiming for, then this is for you.
Features:
16 Static Stimulation Levels
Fixed Levels of Vibration
Soft Beep
330 Yard Range
Expandable for up to 2 Dogs
10-11 Day Battery Life w/ Standby Mode
Splashproof Remote Control
Waterproof Receiver
While it has significantly fewer features, it still has everything you need for remote collar training. The remote gives you 16 levels of shock, giving you more flexibility with the strength.
Sometimes, some dogs find one level more than endurable, but the next level completely unbearable because of the larger jump in strength. The only drawback of a higher number is it takes you a bit longer to switch to higher or lower levels when needed.
The vibration strength is moderate, probably not enough for negative reinforcement training unless you're using it on a small, sensitive dog. The beep is soft, just enough for your dog to hear.
The range might be great on paper, but the signal is not as piercing as high-performance remote shock collars, so expect you only get around 100-150 yards range unless you're in a wide open space.
You won't notice this if you're only using the device to train your dog in your yard. You can pair up to two collars per remote and in an average dog park or beach, the range should be sufficient to manage both dogs even if they are in opposite directions.
This training collar system enters standby mode when you're not using both the receiver and the remote controller after a certain amount of time, saving you the effort of having to turn the devices off when not in use.
This makes it slightly unusable in outdoor conditions where you need the remote shock collar to always be responsive no matter how long it has been.
The receiver is waterproof for about 1 meter of water for 30 minutes, enough to prevent any water damage. The remote, however, has limited water resistance so don't use it under heavy rain or let drop even in shallow water.
When it comes to straps, if you use the nylon collar long enough, the sliders will wear out, causing the collar to loosen incrementally when your dog runs and jumps around, or shakes themselves dry.
If you can't get a shock collar replacement strap from their stores for any reason, you can purchase any type of collar that can fit the slots on the receiver.
As for replacement and additional parts, you can purchase them on their Amazon Store Page or contact their customer service for assistance.
Next on our list is another high-performance device with a mildly heftier price tag. You do get certain great features with it, notably the wide range of the static stimulation mode. With 100 levels, you practically have a way to adjust it from 1% of the power to 100% 
Features:
100 Levels of Static Shock and Fixed Vibration Levels
Up to +20 Level Shock Boost
Audible Receiver Beep
1/2 Mile Range
Expandable for up to 2 Dogs (Depends on Model)
LED Receiver Lights 
50-Hour Battery Life
Splashproof Remote Control
Waterproof Receiver
Plastic Training Clicker
The 100 levels are possible due to the rheostat dial on the remote, which is practically like a volume knob for shock strength. It offers great precision but at the cost of having to use two hands to change the level unless you're good with your thumb. 
This is solved by the shock boost button which when pressed, triggers an electrical stimulation that's up 20 levels higher than the level you set. 
So when you need to interrupt any dangerous bad behavior like your dog running after other dogs or small animals, you can just press the boost button instead of having to fiddle with the level. 
The remote has a strong signal of 1/2 Miles, enough for outdoor activities and advanced training even in places with lots of obstacles like trees, rocks, and bushes. 
If you need to manage 2 dogs, pick the ET-302 Model instead. It's identical to this model, but with a slight difference in which button does what. 
This kit's receiver also has remote-activated LED lights, but pay attention to the angle as your dog's fur may block the light. Even then, it should be visible during the night especially if you make it strobe. 
One neat thing about this remote collar's remote controller is it floats on water. It's only water resistant, but since it won't sink in water, it's practically waterproof. 
The collar unit, on the other hand, has high waterproofing, reportedly up to 500 ft of water. We can't confirm that, but if ever it falls into a deep lake or sea, you can be sure that it's worth the effort recovering it. 
As far as accessories go, it has the usual short and long prongs and a plastic clicker. 
Educator has a strong brand and caters to advanced trainers like K9 and service dogs, so it always has the shock collar replacement parts needed, including extra accessories like shock collar prongs and nylon shock collar replacement collar straps instead of plastic, along with a "Hybrid" straps that have the metal quick-snap connectors. 
Most shock collars for dogs are made for medium and large dogs because it's usually more problematic when a larger animal has behavioral issues. 
After all, it's less of a problem to be jumped on by an 8-pound mini-pincher than being jumped on by a 70-pound golden retriever. 
However, this doesn't mean you can't train toy breeds. Toy breeds can be either very docile or mercurial and while positive reinforcement will work, it might not have as much retention, leading to longer training times.
Features:
9 Static Stimulation Levels
Fixed Levels of Vibration
Soft Beep
330 Yard Range
30% Smaller Receiver
Expandable for up to 2 Dogs
Up to 2 Weeks Battery Life w/ Standby Mode
Since it's made with smaller dogs in mind, the shock is significantly weaker, even at high levels. (Despite that, standard shock strength is not designed to cause pain.) 
If you're using this on a medium-sized dog with high prey/chase drive, you may need to always crank it to the highest levels. If the shock is still too much for your tiny canine companion during remote collar training, you can use the vibration. 
It has a decent range of over 300 yards, which is more than enough during yard training, even if you're in a wide property. 
The total range is affected completely by obstacles and even the act of holding the remote behind you already impacts the range. Expect it to be around 100 yards, but that's still a wide range if you're using this for yard or indoor training. 
Since this training shock collar is meant to be used on tiny dogs, the receiver size is smaller than the standard receiver collars, especially the others in this list. By no means that you should use it on other animals like cats, even if they fit. 
Since the receiver uses a standard-width collar strap, you can replace it with any other strap if you need to. You can also contact customer service for a replacement product if you're within the warranty period. 
Last on our list comes one of PATPET's more outdoor geared collar units. It takes some lessons from other remote training collars and places them all in one kit. 
It also comes with a myriad of accessories that increase it's flexibility. It makes for a great kit for both beginners and professional trainers alike. The only drawback is the standby mode that may interrupt outdoor activities. 
Features:
16 Levels of Static Shock and Fixed Vibration Levels
Quick-Change Level Dial
Audible Receiver Beep
3/4 Mile Range
Expandable for up to 2 Dogs 
Up to 11 Days of Battery Life in Standby Mode
Splashproof Remote Control
Waterproof Receiver
Silicon Prong Caps
Includes a Springsteel Prong
Plastic Training Clicker
Training Whistle
The remote design is noteworthy because when you hold it, your thumb will rest on the level-change dial and your index finger will slot into the shock button which has a bevel making it hard to miss.
The two other buttons on the front can also be reached with your thumb and are textured so you know which button is which. 
The dial has 16 levels and has mild click feedback so you can somewhat tell how many levels you're adding or reducing. 
This makes it easy to raise the level to interrupt dangerous bad behaviors like chasing small animals, cars, or even people, then lower it back when you go back to training. 
The only drawback is the lack of a lock. If you place the remote in your pocket, it's likely to roll and change the level. 
Thanks to the bevel though, it's unlikely that you accidentally press the shock button while it's in your pocket. You can see your shock level on the small display on the remote. 
It also has a good range of 3/4 miles, but as usual, is affected by obstacles. Unless you're in an open space, you may only get around 70% to 80% of the given range, but that's still a wide range you can work with. 
You can buy another collar unit and pair it with the same remote and the button to switch them is around the dial so it's also easy to reach. With a little bit of practice, you can operate the remote controller without looking at the remote itself. 
This kit has the standard splashproof remote controller and a waterproof receiver, enough to resist around 1 meter of water for 30 minutes. This means your dog can swim and play in the water without causing any water damage. 
The battery is the drawback. It will last around 10-11 days when left on standby mode, and both devices will enter standby mode when you're not using any of the features in 15-30 minutes. 
It's a long time before then, but that may interrupt your outdoor activities like hunting if you have to keep pressing the power button on both the remote and the receiver to wake them up. 
The included accessories are meant to improve your training experience with them. First is the silicon prong caps. The point of the caps is to mitigate any potential metal allergy your dogs may get from the prongs. 
Speaking of which, it also has a C-Shaped spring-steel prong, made for dogs with long fur. The long flexible prongs dig into the fur and make better contact with their skin. Skin contact is important as it keeps the stimulation strength consistent. 
If you need accessories or a replacement collar for shock collars from PATPET, they sell replacement products on Amazon, including the prongs. As always, if you need help, contact their customer service so they can guide you accordingly. 
Conclusion For "Best Shock Collar Replacement Collars"
Finding the best electronic training collar in the market depends on what your training needs are. 
Some have collar functions that can cover a wide range of training and outdoor needs to a moderate extent, while others excel at one thing but result in more complex use. 
What really matters is how you use them. 
Training shock collars are a bit on the technical side when it comes to usage, but as long as you're willing to read and practice, and have the determination to stick to a consistent training regime, you'll quickly see why these devices and the correct training methods are known to be the most effective way to train your dog.
You can learn more about dog shock collar training by watching "Dog Shock Collars: How They Work & Why You May NOT Want One" down below:
Last update on 2023-09-25 at 11:42 / Affiliate links / Images from Amazon Product Advertising API