Bernedoodles are one of the most versatile designer breeds. These dogs are great for family pets, companionship, service, or therapy dogs. Their gentle, playful, and loyal personality makes them an excellent option for various purposes.
In addition, these dogs get along with kids, adults, and seniors, basically people of all ages.
However, proper nurturing and training are needed for them to fit into those roles. Fortunately, there are good breeders who are focused on breeding healthy puppies and ensuring the pups are well-socialized and trained.
A well-socialized puppy also gets along easily with other dogs and cats.
Virginia is an animal-loving state, and finding a breeder is easy. To ensure you buy the right puppy from the right breeders, we conducted independent research to create a list of Virginia's most reliable Bernedoodle breeders.
Here's a list of breeders you can trust:
The Top Bernedoodle Breeders in Virginia
Other articles you would like: Best Bernedoodle Breeders In The USA and Bernedoodle Breeders In The US
1. Tri State Bernedoodle
TriState Bernedoodles is a large, happy family consisting of nine wonderful children ranging from 9 to 28 years. The family resides in the beautiful mountains in Southwestern Virginia on a 96-acre property.
With such a large family, the puppies never experience a day of boredom. They always have company as the kids play, socialize, and feed them daily.
Socialization is one of the easiest aspects of their breeding program. They also have sheep and other dogs to help socialize the puppies. Every litter of puppies is a blessing to this family, as they enjoy having them.
However, socialization is not the only thing they offer, as health, temperament, and training are of utmost importance in the breeding program.
They love their breeding dogs and ensure they are always healthy and happy. Before joining the breeding program, every adult dog is health and DNA tested to ensure they are safe and fit for the process.
You can also read about their breeding dogs on their webpage and see their health reports. TriState Bernedoodle prides itself on producing low-shedding F1 and F1B Bernedoodles, which are great for asthma and allergy sufferers.
The family knows bringing a new puppy home can be challenging, especially for first-time puppy owners. Hence, they have a dedicated blog to prepare you for the challenges ahead.
Training is the foundation for a stress-free life and a happy, well-mannered dog. So, they teach dog parents the basics of dog training and how to bond with their puppies.
You will learn the secrets to building a good relationship with your dogs, establishing and promoting mutual respect and communication to understand each other's needs.
In addition to the obedience training the puppies undergo before going home, the breeder offers training materials to help you train your pup to listen.
The family will also do the housebreaking job for you, so your new puppy will come home potty and crate-trained. A part of their health routine is grooming. All pups and dogs are groomed when due to ensure they are neat, clean, and healthy.
Bernedoodle Breeder Information:
2. Hidden Mysteries Farm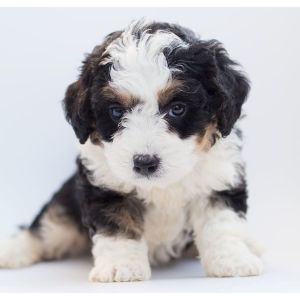 Experience is essential in every breeding program. Many new breeders do not know how to identify certain health issues, deformities, or ill-temperament because they lack experience.
Those who have been in the business for a long time know how to spot and correct these issues in time, and Hidden Mysteries Farm is one such breeder.
With more than 40 years of experience, this family breeder has learned and is still learning, the secrets to breeding and raising happy, healthy, and sound doodles.
This breeder is located in White Post, Virginia, and serves West Virginia, Northern Virginia, Washington DC, and Maryland.
Their goal is to provide you with the healthiest and happiest puppies ever, and they achieve that through careful planning and a stringent selection process.
They carefully plan every litter to produce healthy, beautiful, smart puppies. Besides Bernedoodles, Hidden Mysteries Farm specializes in breeding:
Goldendoodles

Golden Labs

Golden Mountain Dogs

Golden Retrievers
All their breeding dogs are assessed for health, temperament, and appearance. Sires and dams diagnosed with any health or genetic defects are not allowed in the breeding program.
Hidden Mysteries Farm is AKC and county-inspected. They are randomly inspected and always pass the inspection test because they have an elegant, clean environment.
Their staff and family members provide the proper socialization to raise the best family pets and service dogs. All their pups can excel in agility and obedience.
The pups undergo proper vet exams before going home. In addition, they also have deworming and vaccines before leaving for their forever homes.
Bernedoodle Breeder Information:
3. Deb's Doodles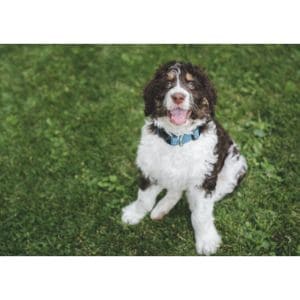 With a simple mission of providing healthy, happy doodles, Deb's Doodles has captured the hearts of many doodle lovers nationwide.
In Northern Virginia, outside Washington DC, Deb's Doodles breeds and raises Bernedoodles, Goldendoodles, and Sheepadoodles.
Debbie Gillespie is the mastermind of this renowned breeding program and has a lot of experience in the business. She runs the program with her family, who are all proud of their solid reputation.
All their breeding sires and dams are AKC-registered and vet-checked. They are also OFA elbow, hip, eyes, and heart tested and certified.
The family ensures the dogs are always happy, as happy dogs give birth to healthy babies. With 30 acres of farm, the dogs and puppies have enough space to play, explore, exercise, and socialize.
Debbie raises the puppies in her home until four weeks of age. At that point, she moves them to a well-equipped and comfortable kennel.
The kennel has a dog run, and the pups are cared for every four hours during the day.
The family is extremely careful regarding how the puppies are handled. They play and socialize with the puppies daily, ensuring they get all the care and love they deserve.
Their cautious handling process helps the puppies develop a good temperament that they will keep for life. Friends also come around for puppy time, helping to socialize and expose the puppies to everyday family life.
In addition, the family has put together some vital things you might like to know when buying a puppy from them. You will learn a lot about this dog breed from feeding and training tips on their website.
Bernedoodle Breeder Information:
4. McKenzie's Doodles
McKenzie's Doodles is a family business led by Sue and Jim Brown. This couple has been married for many years and is blessed with beautiful kids and grandkids. Since 2004, this family has been breeding Bernedoodles, Irish doodles, and Goldendoodles.
The family breeds in small numbers to have more time to focus on their puppies/dogs and their socialization.
All hands are on deck in this breeding program, as the kids, grandkids, and family friends are actively involved in the training and socialization of the puppies.
They invest time socializing the puppies to ensure they are people and pet-friendly, making them the perfect companion and family dog.
We consider McKenzie's Doodles one of the best Bernedoodle breeders in Virginia because of their years of experience and commitment to providing families with happy, healthy, and well-socialized puppies.
Sue and Jim are full-time breeders, dedicating all their time and attention to their puppies and dogs.
They only breed dogs with great dispositions, health, and temperament and whose puppies will be good with even the youngest child.
Proper training and discipline set the foundation for a fantastic experience for both dog and family. Hence, Sue and Jim ensure your puppy has a good training foundation before joining you.
To Sue and Jim, breeding and raising puppies is a labor of love, and they are committed to the cause for life. They are located in Winchester, Virginia, but ship puppies to several states in the US.
Bernedoodle Breeder Information:
Bernedoodle Puppies in Virginia – Top 4 Breeders
It is necessary to evaluate carefully when looking for a Bernedoodle breeder in Virginia.
We selected these breeders for you because of their unique breeding programs, puppy-raising approaches, recognition by AKC and other organizations, willingness to answer questions and provide necessary documents, etc.
You can contact anyone closer to you and request a visit to their farm or home to see their puppies, dogs, and breeding environment.
You will also like:
For more information about the Bernedoodle Breed, check out the video below: