If you are a Californian looking for Italian Greyhound puppies in California, you may have a tough time finding reliable breeders. Since Italian Greyhounds are a less popular dog breed, a simple Google search will yield hardly any breeders.
But with this guide, you are well on your way to finding reliable Italian Greyhound breeders in California and the surrounding states. We have only included AKC-registered breeders in this list to reduce the possibility of puppy mills.
Typically, the Italian Greyhound is an intelligent, agile, affectionate, and mischievous dog. Although many consider it a smaller version of the classic Greyhound, the Italian Greyhound is an entirely different breed with its own characteristics.
It is a sleek, graceful, and beautiful dog that is much smaller and lighter than the standard Greyhound.
Below is a list of 6 top breeders raising well-loved and well-bred Italian Greyhound puppies for sale in California.
The Best Italian Greyhound Breeders in California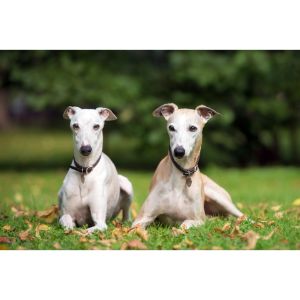 Other articles you would like: Cavapoo Puppies In California and Goldendoodle Puppies In California
1. Mystic Jade
Mystic Jade is a reliable breeder owned by Trecia Hamm, who takes great pride in raising the highest pedigree of Italian Greyhounds.
They are located in Atascadero, California, near Los Angeles and San Francisco, making it very convenient for residents of both areas.
They do not ship their puppies, but because they are located in California, you should have no problem picking them up from them. All puppies here are raised according to the highest quality and show standards.
The breeder will scrutinize all potential owners before she sells her puppies to them to ensure they are suitable pet parents.
Most dogs end up in shelters because people adopt puppies without realizing the responsibility that comes with them. Therefore, Trecia evaluates each applicant thoroughly to ensure they can take care of the puppies in the long term.
Her puppies are priced between $2000 and $3000; however, prices may vary. Although the breeder does not have an active online presence, they are an AKC breeder of merit; therefore, you can be sure of their authenticity.
Moreover, the breeder welcomes visitation, and you can visit the breeder after setting an appointment with them via phone.
The puppies come with a 1-year health guarantee, AKC registration, a food starter bag, and a toy or blanket with their littermate's scent. You can pick up your puppy from the breeder when it is 9 weeks old.
Mystic Jade Details:
Address

: Atascadero, California

Phone Number: 479-647-9176
Website: Mystic Jade
2. Marta Puppy Lover
Natalia Melnychuk owns Marta Puppy Lover, and she has been breeding Italian Greyhound puppies in California since 2011.
She has been awarded the 'Bred with Heart' badge by AKC due to her dedication to the breed. If you are looking for a compassionate, reliable breeder, then Marta Puppy Lover is a good choice.
All of the puppies she breeds come with:
AKC registration
A health certificate clearing them of any genetic and sicknesses
A veterinary report and vaccination history report that details which vaccinations have been given to date
A certificate by the Department of Agriculture that shows the age, sex, breed, color, and health record of the puppy.
All puppies are kept with the breeder until they are eight weeks old.
If you are interested in purchasing from this breeder, contact them using the information below.
Marta Puppy Lover Details:
3. Puppy Spot
If you are looking for Italian Greyhound breeders in California, you may have difficulty as this breed is not easily found.
To make your search easier, you can look for one at Puppy Spot, a reliable marketplace that offers puppies of many breeds, including Italian Greyhounds.
Even if they do not have that specific breed available now, they can source it for you after some time. Buying a puppy from a marketplace breeder like Puppy Spot has its advantages.
Firstly, all breeders are vetted and screened, so you can rest assured that you are buying from the best. Secondly, they offer a 10-year health warranty, which no other breeder can match.
They also have a private transportation network that will safely transport the puppies to you without hassle.
If you are looking to purchase an Italian Greyhound, then you should know the following:
They offer a coupon for $300 off on all travel costs, so now is a good time to look for a puppy.
They have a breed match quiz you can take to see which breed best suits you and your family. If you cannot find an Italian Greyhound, you may want to look for another breed.
They have puppy concierges available that you can contact to learn how to get your puppy home after you have chosen it.
Puppy Spot Details:
4. Vedabobeda Kennels
If you are unable to find Italian Greyhound puppies for sale in California, you may look for breeders in the neighboring states.
Vedabobeda Kennels is a registered AKC member located in Georgia. Even though they are not located in California, you can contact the breeder, and they can ship the puppies to you at your convenience.
Vedabobeda Kennels is run by Anne Oxley and is an exclusive breeder for Italian Greyhounds. The great thing about Vedabobeda Kennels is that they have a money-back guarantee.
So, if you are unhappy with the puppy you have, or if it has a health issue, you can always return it and receive your money back.
The breeder is very particular about breeding strong, healthy puppies so that every customer is happy for a lifetime.
The Vedabobeda Kennels breeder profile includes:
AKC registration application is provided with each puppy
AKC National Breed Club Member
All dogs compete in the AKC events, including conformation events
Vedabobeda Kennels Details:
5. Caliente Italian Greyhounds
Caliente Italian Greyhounds has been breeding Italian Greyhounds since 1986. Although they are not located in California, they are a reliable breeder to consider if you cannot find a breeder for Italian Greyhound puppies in California.
Caliente Italian Greyhounds is both an AKC breeder of merit and an AKC judge, making it a responsible breeder. Moreover, its dogs compete in AKC-registered events, including conformation competitions.
Since it is so familiar with the AKCs standards, they breed puppies that conform to the requirements. In addition to health and DNA testing before breeding, it conducts a health check on all puppies before they are sold to new owners.
The breeder will provide a written document that serves as the sale agreement, which will include responsibilities for both the buyer and the seller.
If, for some reason, you cannot keep the puppy, the breeder is ready to take the puppy back, no questions asked.
All puppies are vaccinated before they go to their new owners. Puppies will come with an AKC application form.
Caliente Italian Greyhounds Details:
6. Marchwind Italian Greyhounds
Marchwind Italian Greyhounds has been in business for many years and exclusively breeds Italian Greyhounds. You can find pictures of the puppies on their website and pictures of Champion dogs from 2012-2015.
If you are interested in purchasing from Marchwind Italian Greyhounds, then you should know the following:
They no longer accept payment through PayPal. Instead, you will need to send your money via cheque through the mail.
They take a $100 deposit that will hold the puppy for you.
They will not guarantee against hereditary disorders, so you should look at the parents before purchasing the puppies.
The balance for the puppy is due before the puppy can be taken home.
They will hold puppies for 12 weeks but not beyond this time.
Marchwind Italian Greyhounds can provide Italian Greyhound puppies in California, although they are located in Georgia. You can find out more by contacting the breeder using the information below.
Marchwind Greyhounds Details:
How to Choose Italian Greyhound Breeders in California?
Buying an Italian Greyhound puppy can seem confusing at first. It is not a very common breed, so you may not find that many breeders.
But with some research and patience, you will find the perfect puppy soon. Italian Greyhounds are great family pets and loving addition to any family.
You will want to ensure your breeder can safely ship your puppy to California, as many of the breeders we found are not in-state.
This does not seem to be a problem, though, as more and more breeders are open to transporting puppies out of state.
Conclusion For "Italian Greyhound Puppies in California – Top 6 Breeders"
There you have it – some of the best breeders in California and neighboring areas offering healthy and well-bred Italian Greyhounds. You can contact them today to find your perfect puppy.
Remember to ask all of the questions you have and feel free to visit the premises if possible. Here's hoping you find your perfect puppy today!
You will also like:
For more information about the Italian Greyhound Breed, check out the video below: