Dogs wander. It's in their nature to walk around and explore their surroundings. Some dogs are hit with wanderlust harder than others. Fences make it easy to block your dog from going to places they shouldn't but not all neighborhoods have tall fences, dogs can jump relatively high, and some pet owners live around the woods, where dogs can wander off, which could put them in danger.
This is where radius shock collars are useful. Also known as perimeter shock collars or wireless fences, these devices will limit where your dog can go. Not only do they serve as an invisible fence, but they also passively train your dog to stay inside the territory with enough time.
Here, we'll show you handpicked wireless dog fence collars with different features and strengths that may help you decide what you need, and give you a good idea of how these devices work.
Are Shock Collars Dangerous for Dogs?
Back in the 1950's they were. They didn't have any way to control the shock and some deliver a continuous stream of electricity which often causes burns. Now it's different. They use "Static Shock" often because the devices cause a shock that's almost similar to a static shock you get from a door knob on a cold dry day, or from scrubbing socks on your carpet.
The prongs will deliver a shock that's milliseconds short, delivering somewhat high voltage, some reaching 4500 volts, but since there's not much amount of electricity flowing per tiny spark so it doesn't really cause any burn or damage and only manages to stimulate the nerves under the skin. In comparison, an average carpet and socks static shock can easily reach 35,000 volts, almost ten times what a powerful shock collar already delivers.
The true harm actually comes from improper use of these collars, even if some of them are automatic, so always read up on how to train dogs using shock collars and always read the manual fully before using them.
Product
Best Overall
Pet Resolve Dog Training Collar
Runner Up
Pawious GPS Halo-Fence Wireless Dog Collar
Editor's Choice
PetSafe Wireless Dog Fence System w/ Hub
Image
Before we begin the list, let's show you a remote training collar that may have the best bang for buck in the $100+ price range. Instead of doing passive boundary training using a radius dog shock collar, you can get yourself a training collar and train them yourself. There's a certain reward in being able to train your dog because it builds a kind of rapport between you and your furry friend and may help you understand why they do what they do, and that's not yet considering how useful reinforced obedience skills are to any dog owner.
This kit has everything you need for shock collar training. The shock and vibration are on the strong side, but adjusting the level can weaken it if needed. To make sure that the prongs always make contact, you can switch to the longer prongs, especially if your dog has long fur or a double coat. If you don't want to use the electric shock at all, you can switch to the plastic nubs and use the vibration as your signal or negative reinforcement tool.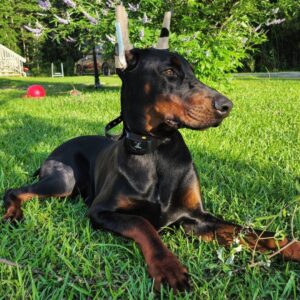 The beep is very soft, just enough to be heard in a quiet place a few meters away. It's not meant for you to hear, but enough for your dog to hear. You can use this to quietly signal your dog to do a certain task you trained them to do, such as to go back to you when they hear it, which is useful in places like dog parks or beaches, or even when you're out hunting. If you want to keep tabs on them in the dark, you can press and hold the number button on the remote to activate the LEDs on the receiver and make them flash every 2-3 seconds. Depending on which number you pair the receiver, it will light up with a different color.
When you switch the receiver to Bark Limiter Mode, the remote won't work while the collar waits for the vibrations from your dog's bark. When it hears it, it waits a second before giving a warning beep. If your dog keeps barking around 2 seconds after the warning beep, it will trigger a shock based on the level it had before you turned the bark limiter on. It does give your dog some leeway to bark, which is better than outright stopping them. Eventually, your dog will learn to stop barking when it hears the beep, and after a month or so, may adjust its behavior to minimize their barking even without the collar on.
The receiver lasts for about 50-60 hours on a single charge and the remote controller lasts a bit longer. You may see other shock collars with 10+ days of battery life but that's because they have a standby mode that turns the receiver and remote off when not in use. This one does not have standby mode but the bonus is the device always works instead of having to press a button now and then to wake it up.
The remote and the receiver can withstand rain. Your dog can play in the water with the collar on without it suffering water damage, but make sure you don't let the remote submerge in water.
The problem with long-furred dogs is that the prongs sometimes don't reach the skin because the fur bunches up and gets in the way. This is one of the reasons why some owners think the shock is too low. The free extra-long prongs can dig through the fur and touch the skin, ensuring consistent contact. When it comes to training, consistency is key, and the free clicker gives you a consistent way to mark behavior or call your dog's attention.
Product Features:
Adjustable Static Shock and Vibration
10 Adjustable Levels
Soft Signal Beep
1300 Yards / 3/4 Mile Range
Remote Activated LED Tracking Lights
Pair up to 3 Receivers to a Remote
Bark Limiter Mode
50 Battery Life
Splashproof Remote Transmitter
Waterproof Receiver
Includes 3 Pairs of Metal Prongs w/ diff Lengths
Free Plastic Training Clicker
The first on our list of dog radius shock collars is a device that connects to a GPS satellite to determine the diameter of the boundary and fixes the device as the center of that circle, hence being a "halo" collar. It doesn't work that well indoors though so it's best used in small homes and open fields, or in places where there's a wide space for your dog to run around in. You just have to be mindful of where you turn the device on as that decides where the center of the halo is.
The only setup required is to set the center of the halo, then define the size of the halo. You can make it as short as 33 yards or 1000 yards max range, which is a huge range for its price. You need to do some estimation if you need them to stay away from certain areas, but it does the job of keeping them inside a certain circle.
The static correction levels are moderately strong, which is crucial to get the attention of distracted dogs. You can set the levels to 0 so it can be a Vibration collar or set all stimulation off so it will just set a warning beep.
Unlike some GPS training and tracking kits that require either a sim card to connect to the GPS, this one is built in and all you have to do is turn it on. It may take some time to connect to the GPS satellite and the signal isn't as accurate when you're surrounded by trees, and worse if you're indoors.
Since this invisible dog fence needs to work constantly, it has no standby mode and because it's constantly communicating with a satellite, the battery life is half that of most training collars at 36 Hours per charge. It takes about 2 hours to charge the device to full, so you need to charge it every day. Since you should only keep the smart collar for 8 hours maximum, you can turn it off and use it for about 3 days before charging it up again.
It's waterproof for 1 meter of water, making it weatherproof and letting your dog swim in shallow water comfortably.
Product Features:
33 to 1000 Yard Halo Diameter
1-2 Yards Accuracy (5 yards in wooded areas)
0-6 Vibration and Static Stimulation Levels
Automatically Remembers the Last Activation Location
No Sim or Subscription Required
36-Hour Battery Life
IPX7 Waterproofing
Our second on this list is a hub-based radius shock collar from PATPET. This one requires you to plug a hub into a socket and have it project a wireless signal. If your dog goes near the end of that signal radius, it will deliver a warning beep first, then a shock if they cross it. This is how all shock-based radius collars work. If you need one for custom spaces, consider getting the in-ground invisible fence from their store.
This one is the standard wireless fence collar in terms of parts. You have the hub that you plug into an outlet that broadcasts radio signals and a receiver collar that triggers a beep and stimulation when it reaches the end of the signal. PATPET is known for its weaker shock which means it works really well with smaller dogs. Some owners even place it on cats. We don't recommend that though, but it's a testament to how gentle it can be. However, it may not be as effective on larger or more stubborn dogs.
You can purchase additional collars if you need them. The hub will support as many collars as you can place inside its influence. The receiver on this package uses a small rechargeable battery and because it has straightforward functions, it can last up to 3 weeks depending on how often the receiver triggers.
One handy feature is the No-Shock Re-entry which is perfect for beginner dogs who are still trying to figure out how the boundaries work, and when you need to take your dog out of the zone and back for any reason. A wired fence e-collar will trigger the stimulation any time it's crossed, which can confuse dogs if they aren't supervised properly.
The IPX7 waterproofing means your dog can swim in shallow water without damaging the receiver. That also means it will still work in rain or snow, and you can wash the receiver with running water. The nylon strap makes it very easy for you to place the collar on and tighten it. The only problem is it may loosen over time.
Product Features:
Max Range of 3/4 Acres (22 ft Range Minimum)
No-Shock Re-Entry
5 Levels of Vibration and Shock
Unlimited Number of Extra
.Collars Supported
3 Week Long Lasting Battery Life
IPX7 Waterproofing
Uses Easy-to-Adjust Nylon Collar
We already tackled Halo Collars and Wireless Fence Collars. This one also functions as a wireless dog fence but has limited but useful manual training features that are enough for obedience training. Though it requires a high commitment level, teaching obedience and reinforcing them will help you and your dog in the long run.
With the remote acting as the hub, you can set this down somewhere and act as the center of the "halo". You can adjust the range, from a minimum of 30 feet to 1000 feet maximum (or max 330 Yards.) It works the same as other perimeter collars, when your dog reaches close to the edge of the signal, the receiver will beep and when they cross the edge, it will deliver stimulation.
You can grab the remote and switch it to training mode. In this mode, you can use shock, vibration, and beep manually and you have 3 levels to adjust. It's not a lot of levels, but if any levels cause your dog to react in a tiny way, you can use it for reinforcement training. You can pair up to 3 receivers on the remote (additional collars sold separately) and all three can act as perimeter receivers at the same time, but during manual training, it will only affect the selected receiver.
The battery life is quite long but this is because of the standby mode. The remote and the receiver will go to this power-save mode after 5 minutes of no use. You have to wake the collar up manually in case it happens during manual training, but it will work continuously when in wireless fence mode.
The IP65 waterproofing means the training collar receiver cannot be submerged in water. It can be exposed to rain, sprinklers, wet grass, and running water. It cannot be submerged, so watch out if you have a lake or pool within the perimeter. You can train them to avoid the water if that's the case.
The included silicon caps make it more comfortable for your dog to wear the receiver, but this doesn't mean that you can keep it on your dog for longer. Always remove the receiver after 8-10 hours. The included plastic strap is durable and water-repellant with the advantage of having metal buckles. This means the collar will not loosen over time compared to nylon collars, but it does make it slightly harder to get the right tightness, especially if you have a fussy dog.
Product Features
30 Feet to 1000 Feet Range
Uses Shock, Vibration, and Beep
3 Static Stimulation Levels
Supports 3 Receivers
3 Week Long Lasting Battery Life
IP65 Splashproofing
Includes Safety Silicon Caps
Uses a Plastic Strap and Metal Buckles
Next on the list is another halo-type radius shock collar that has a much bigger range, giving an almost 3/4 mile diameter circle. The only thing you need is to turn the device on and set the distance. It has a high accuracy in open spaces, and is perfect if you want to keep your dog in a very wide open space, but can't find a good spot to plug in a hub.
It has the same range as the other halo collar on this list alongside the accuracy. It's not very effective at tracking dogs indoors, but if the edge of the halo is still well beyond the indoor parts, then the GPS will just recalibrate as soon as your dog gets out of the house. It has a good accuracy of 1-2 yards but if your dog is in wooded areas or places with high vegetation, it could interfere with the signal and slightly skew the accuracy down to as much as 5 yards.
As soon as you turn the collar on, it will set the current location as the center of the Halo. You can then adjust how wide the radius is with a maximum of 1000 yards. You can't, however, set a custom shape for the boundary. Consider getting a traditional fence collar with an in-ground wire if you need to block them from certain areas.
The device has 9 shock levels, giving you a wider range of stimulation. It takes a bit of effort to figure out what the functional level is, but having a wider range means lesser chances of your doh flinching at one level, but can easily withstand the next lower level.
Since this device needs to constantly communicate with a GPS satellite, it will consume battery charge as long as it's turned on. It has a battery life of just over 15 hours, so you may need to charge the device every 1-2 days. It doesn't need any sim cards or subscriptions to work, but depending on where you are, you may experience long connection times. As soon as it's connected though, it should not disconnect until your turn the device off.
This device has IPX7 waterproofing so it can be submerged in 1 meter of water. As long as your dog doesn't dive deeper than 5 feet, the device will be safe from water damage. The nylon collar and plastic buckles make it quite easy to put it on and tighten, but make sure to check it every couple of hours as the nylon can loosen if you have a very active dog.
Product Features:
33 to 1000 Yard Maximum Range
1-2 Yards Accuracy
9 Shock Levels
No Sim or Subscription Needed
15-Hour Battery Life
IPX7 Waterproofing
There are pros and cons to automatic collars. If you simply don't have time to train your dog, let these automatic devices do the work for you. The only con is that they follow the wireless collars and not you. That's where regular training shines, in exchange for a high commitment level, you get to bond with your dog. 
Your interactions together will then make them more loyal to you. If you already have that loyalty in the bag and your dog loves you, but still can't find it in themselves to stop wandering, by all means, grab one of our selected wireless dog fence collars and make sure you do your homework before using them.
Last update on 2023-09-25 at 13:22 / Affiliate links / Images from Amazon Product Advertising API