Dogs bark. It's almost a law of nature at this point and you can't expect to get a dog that doesn't bark. They bark in many ways, and eventually, you can pick up why they are barking. It could be because they are alerting you of danger, warning potential intruders, or even trying to communicate with a dog 2 houses away, at night, when you're sleeping. 
If you're losing sleep or your life is interrupted by their barking, or worse, it's interrupting the neighbors, then it might be time to do something about it. 
Your first action should be to address their reasons. Some dogs bark because they have certain issues like pain or anxiety. Training might be ineffective for those, but if that's not the case, then you can consider training them to manage their barking. 
However, training takes time. Time you may not have, that's why people created bark collars. These automatic collars will work on their own to train your dog to minimize barking. In particular, these collars do not use static shock like normal ones, perfect if you aren't comfortable with using electrical stimulation. There are many kinds, and it's just a matter of picking what's best for your situation. 
Product
Best Overall
Pet Resolve Humane Dog Shock Collar with Anti-Bark Mode
Runner Up
DogRook Non Shock Bark Collar ​
Editor's Choice
WWVVPET Citronella Spray Dog Bark Collar
Image
Before we start with the list, we'd like to show you a proper shock training collar that doubles as a bark collar. This is both as a comparison, and to explain a few things about the pros and cons of shock collars. Pet Resolve's training kit can be argued as the best bang-for-buck kit in the mid-range category. 
With a modest price, you get a lot of features all in one package. It has Shock, Vibration, and Audible Beep with 10 adjustable levels of stimulation. It has a remote range of 3/4 Miles, and the remote can support 3 additional collars. It's a hunting-grade collar that has a remote LED on the waterproof reciever, but still enough for training positive behaviors and reducing unwanted behaviors. 
When switched to Anti-Bark mode, it will listen for your dog's barks and if they detect it, the reciever will beep as a warning. If they keep barking after 2-3 seconds, the receiver will deliver a shock based on the correction level you chose. After that, the reciever will rest for 1 minute before listening again. Note that the remote won't work during this time, so switch it back before starting your training sessions.
The pros of using remote training collars are you get to be there. You get to oversee the training and know when to pull back or keep pushing. Since training them also uses treats, they could find training entertaining, almost like playing. Using electrical stimulation should not be painful at all. At best the stimulation is annoying. Hard to ignore and annoying. 
The cons are also that, a lot of people find the use of electric stimulation just cruel. Some dogs yelp at the sensation, but we cannot tell if it's from pain, or from just the foreign sensation. It's all subjective. Another is that you need time. Maybe just 15 mins of your time every day, but it requires consistency. 
The adjustable collar fits dogs 15 lbs and above and is made of absolutely durable materials, and has a 50-70 hour battery life thanks to the built-in USB rechargeable battery.
This non-shock vibration collar uses two vibration rotors, both out of sync, creating bigger vibrations. It's meant to surprise your dog. This is especially effective on smaller dogs and it's good because most smaller dogs tend to be more inclined to bark. 
The first on the list of our best no shock bark collars is a simple device that uses two plastic nubs that vibrate your dog's vocal cords when the collar hears its bark. What's unique about it is you can switch the device's mic sensitivity level from 1 to 5. 1 is the lowest sensitivity which is perfect when you're outside, generally in a noisy place, or are with multiple dogs, each wearing their own collar. Level 5 is perfect for nighttime or when you absolutely need your dog to be quiet.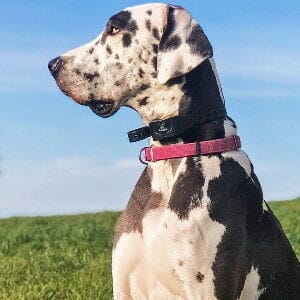 The programming is called "progressive correction" which means it will always start at level 1. When it hears the barks, it will first deliver a warning beep, before triggering the vibration after a few seconds. If it still hears the barking. It will start the process again with a higher vibration level until it reaches level 7, which is quite a jarring vibration strength. If it doesn't hear any barking for a while, it will lower the levels until it's back to 1. 
With the small device size, the nylon collar can fit dogs as small as 8 lbs, which already includes adult mini-pinchers, which says a lot about how small it can go. The plastic sliders used to tighten the nylon collar may loosen on an active dog, so check the tightness. The tightness matters because if it's not tight enough, it won't work as effectively. It will work for most dogs, but as soon as they get used to the sensation, some larger dogs tend to ignore it completely. 
The next training tool on the list is a spray bark collar which uses citronella cartridges to deliver a short spray of diluted citronella oil solution. If you don't know what citronella is, it's a common insect repellant, and the scent can overload a dog's olfactory system. If you've seen what lemons do to a dog, citronella does the same, but milder in this case.
These device can do about 25-30 sprays before it needs refilling. On average, it will activate about 3 times a day, (unless your dog is really stubborn at barking, in which, consider getting help.) so a full cartridge will be good for about a week. The programming is simple too. The device will watch out for the vibrations in your dog's throat, then let out a warning beep. If they keep on barking, the device will release a small burst of the citronella solution.
Even big dogs will find the citronella solution annoying to their nose. The point is to let the dog associate the beep with the incoming spray, making them stop as soon as they hear the beep.   
The nylon collar uses a plastic buckle and sliders, so it's easier to put on compared to the usual metal buckle. Most bark collars have a pretty significant battery life, so you really on need to charge them once a week, for 2-3 hours. 
The third candidate to be one of the best non shock bark collar on this list is another vibration collar. Since vibration collars don't need to adjust the vibration levels, instead it has a way to adjust the mic sensitivity levels instead, so you can tune when the device will trigger. 
The microphone sensitivity levels come in handy when you want to use it in a naturally noisy environment like walking next to a busy road, or in a particularly noisy park. Other than that, you can place it on the lowest sensitivity to allow your dog to mildly bark or make other sounds and only activate it when they do, particularly loud barks. If you really need to sleep and your dog is a night barker, set it to a higher level so your dog will learn to bark way less. 
Since it uses vibration, it may not work as well on bigger dogs over time, unless they are big softies. It's important to place the device tightly around their necks at all times, at least tight enough to fit two fingers between the neck and the strap. The nylon collar will make it easier to adjust the tightness but check it every so often because it could loosen if you have an active dog. 
The vibration's stimulation levels are consistent, so there's no way to adjust it. The device's battery life is quite long because of this, only needing a full 2-3 hour charge every 10 or so days. 
Nearly all the devices on this list need your dog to be around 10-11 lbs, but what about even smaller dogs? Dogs like the mini-pincher need to be an adult before they hit around 11-12 lbs, but what if you needed one for a 6-month-old Mini Pin? That is what this anti-bark collar is for. 
4th on the list is a device that has a unique "prong" shape and small device size that helps it fit small dogs like Poodles, Pomeranians, and Chihuahuas. It's so small you can strap it on your thumb. It still works for bigger dogs, but the bigger the dog, the less effective it might be unless you have a gentler canine companion. 
Since it doesn't have the usual prongs some types of bark collars have, there's less risk of the dog developing pressure sores or ulcers from wearing the anti-bark collar for too long. Still, keep in mind to remove it after 8-10 hours of use.  
It has a rechargeable battery and due to its small size, you may need to charge it every 5 days, but it depends on how much you use it. 
Most electronic bark collars that only use vibration have more or less the same price range and the same functions. This one has two vibration rotors, making the stimulation levels more powerful. If you have a stubborn dog, but don't want to use other types of stimulation, then this might be for you. 
Having two rotors makes all the difference, even more so when the device automatically adjusts the levels of vibration for you. This device focuses on being a "fire and forget" way to deal with unwanted barking, by using progressive programming. It will keep warning your dog and raising the vibration levels until your dog stops. It will then stay on that level for a while and reset back to the lowest level when the it hasn't heard your dog bark for a few minutes. 
It's with noting that on average these devices need to work for 1-2 weeks before you get good results. This is assuming the dogs are left to their own devices while wearing the device. If your dog has a bit of an aggressive personality or is known to be very stubborn, you may find this product ineffective. 
Otherwise, if it does work, you only need to charge it once every week or so, as one full 2-3 hour charge will keep the collar working for almost 10 days. The good part about not having any shock functions is it saves a lot on power consumption. 
If you're on the fence about using static shocks but would still like it as an option, consider using a device that can switch between static correction and vibration modes,. It has all the same functions as the vibration-only collars on this list but has a static correction and is right around the same price, which makes it an excellent option.
With the shock function on, this can more than handle even stubborn dogs. It's a decent pick if you have a stubborn dog, but still want to use vibration as much as possible. You can try it out and see if vibration works for about two weeks, then if your dog still barks (outside of being aggressive,) You can switch to shock mode and see if it works after a week.
The device has an auto-rise function that always starts at level 1, and if the device doesn't stop your dog from barking, will gradually raise the intensity levels of the shock after every warning beep. In vibrate-only mode, however, the vibrate level does not increase, making it a normal vibration collar. 
It still has a good battery life, lasting about 2 weeks before needing a full charge. It takes about 1-2 hours to charge the battery. If your dog finds the shock too powerful, you can place the plastic caps to both make it more comfortable for your dog and slightly reduce the overall shock strength. 
The last on the list is another citronella collar. There aren't a lot of good automatic citronella bark collars in Amazon, but it doesn't mean they aren't any good. Citronella collars are effective on dogs of every size and the effect is always uniform regardless if the dog is stubborn or aggressive. Still, don't use this on aggressive dogs. 
The programming is still the same. It will listen for the vibrations on your dog's vocal cords and send a warning beep. If they don't stop after a few seconds, the device will deliver a tiny burst of citronella solution. It's generally effective and can help reduce excessive barking in 1 week, so you can stop using it after.
Some owners don't want their dogs to be collar-wise with bark collars, but it's fine if you really just want them to be quiet when they are wearing them. It only has two intensity levels, normal burst amount and high. 
The nylon collar is tough, but also gentle on the skin. The plastic buckle and sliders make it easy to attach and adjust, and since it doesn't require any nubs or prongs to make contact, you don't have to put the adjustable strap on tightly. 
Frequently Asked Questions
Most of these devices are fully automatic, but it doesn't mean you should just buy them and strap them on your dog. It always pays to know a little bit more about it so you can fully understand the caveats of using 
1. How do these Bark Collars work to reduce excessive barking?
99% of all these devices work by first letting out a warning beep when your dog starts barking. They still allow a bit of barking before and after the beep, and if the dog continues to bark excessively, the collar will then deliver different types of stimulation depending on the type of bark collar. 
The idea is for your dog to associate the aversive stimuli with the beep, so it stops barking when it hears the beep. Eventually, your dog will just learn to minimize the barking without beeps. 
2. How long can a dog wear these bark collars?
The rule of thumb is to only make them wear it for 8-10 hours and only for 5 days a week. One common type of problem with training collars is pressure sores. When the dog's skin is pressed by the prong for too long, the small layer of skin will die off due to poor circulation. This goes on until the entire first layer dies and creates a hole or ulcer, which can then be infected, causing different problems. 
You can avoid this by removing the device after 8-10 hours. If pressure sores appear before then, you may have the strap on too tight. 
3. Why can't I use a bark collar on an aggressive dog?
Aggressiveness is a special case. More often than not, your dog is suffering from anxiety issues that are causing them to be aggressive, and that behavior can translate into excessive barking, among others. If you use a bark collar or even a shock training device on them without addressing the cause of aggression, or if you don't fully know what you're doing, the bark collar can cause more anxiety, which worsens the problem. 
4. Can I use a bark collar on a puppy?
Only dogs 6 months and above should use a bark collar for two main reasons. One is most dogs 6 months old are big enough to meet most automatic-bark training collars or other remote training collars. Second, all dogs experience their "2nd Fear Phase" around 6 months in. In this phase, they become more attuned to negative sensations and potential dangers so they can learn more about their environment. 
They will learn to avoid aversive stimulation from spray collars, static shock collars, and even ultrasonic bark collars (if you manage to find one.)
5. What are the benefits of using a bark collar?
The chief benefit is you don't need to be there for the training. You can leave the anti-bark collar on your dog, go to work and come back to remove it. If all goes well, it will minimize the barking and you'll get fewer complaints from your neighbors if any. You can also do the same before you sleep, in case you wake up to your dog barking. 
6. Why use no-shock collar?
The use of electric shock for managing and training dogs had a pretty bad rep in the 1950s when they used actual high-voltage shocks that would sometimes cause the fur to burn. That idea stuck and most people who experience electrical shocks from broken wirings and similar incidents feel nothing but pain, so it painted a horrible picture. Some companies then created vibration collars so people can still train their dogs using negative reinforcement via unpleasant vibrating sensations close to their throats. 
It's fine if you still don't want to use shock, there are other options there, but the truth now is that shock collars output extremely low energy pulses instead of a continuous stream. A static shock from a doorknob or a deliberate carpet static build-up is actually way more powerful than the nick of a shock collar. 
Despite that fact, some dogs just find the sensation so surprising and so foreign that they can't help but yelp. Their experience with shock collars is subjective, so it's really up to you. 
We domesticated dogs and through the years, they evolved to become adapted to our ways. Even though they are a far cry from wolves, they still have their instincts, so they will still do what dogs do. They will bark, they will dig, and they will protect their territory from intruders like the friendly package delivery guy.
It's up to us to help them adapt to our personal lifestyles, not only because it's our duty as pet parents, but also because they deserve to live harmoniously with us, and that can be achieved through consistent training, and all the respect and love you can give them.
Last update on 2023-09-22 at 03:56 / Affiliate links / Images from Amazon Product Advertising API