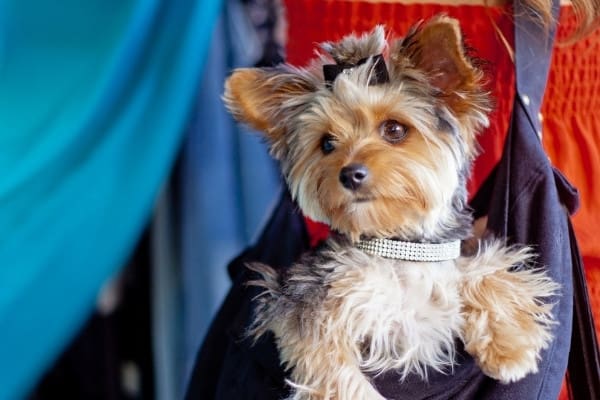 Hobby Lobby stores have a wide selection of a great many things you need for anything arts and crafts.
While they pride themselves on their higher-quality but less-expensive supplies, how do they feel about dogs entering their stores?
Are dogs allowed in Hobby Lobby? There are plenty of dog-friendly retail stores you can go to, meaning pets are also allowed in addition to service dogs, and thankfully, yes, Hobby Lobby is one of them. Although there is no official dog policy on their website, Hobby Lobby is proudly a pet-friendly location.
If you're planning on bringing your pooch on your next Hobby Lobby run, check out their policies for bringing pets below.
Hobby Lobby Dog Policy
Hobby Lobby stores are very appeasing to many customers, including pet parents. Here's more about Hobby Lobby pet policy to know before visiting with your pooch.
Unofficial Dog Policy
It's unclear what Hobby Lobby's dog policy is as it's not something they disclosed on their website or social media.
While there is no official pet policy, it's been public knowledge that most stores, if not all, welcome dogs inside.
Hobby Lobby stores are legally required to allow service animals inside the premises as per the Americans with Disabilities Act (ADA), but emotional support animals and pets are allowed inside most stores too.
Does Hobby Lobby's Dog Friendliness Vary From Store to Store?
Because there is no official pet policy in Hobby Lobby, it's up to the management at each location as to whether or not your pooch is welcome.
This means although Hobby Lobby is a pet-friendly company, how dog friendly they are varies from store to store.
Some Hobby Lobby stores may limit the dogs they welcome to just service animals while others allow both service animals and pet dogs inside the store.
Call Ahead To Be Sure
As their dog policy may vary per location, each individual store manager usually has the final say.
When unsure if you can bring your dog to a particular branch, it's a great idea to call the branch you're planning to visit in advance.
You can also send an inquiry about their pet policy via social media if the branch has any presence on the platform.
When You Might Be Asked To Leave
Although Hobby Lobby is pet friendly, pet policies may vary, and sometimes, you may be asked by the store manager to take your dog outside. This may occur in any of the following cases:
If customers are scared of your pet, especially if you have a large dog.

Unruly or uncontrolled behavior or dog running loose inside the store.

Certain dog breeds considered more aggressive than others.
Are Dogs Allowed in Shopping Carts?
The shopping carts in Hobby Lobby can be a bit narrow, but if you can get your dog in there and they're comfortable, then there shouldn't be a problem.
Here again, the management can enact stricter rules depending on the branch, so it doesn't hurt to ask them about your dog riding in a shopping cart.
Guidelines for Taking Your Dog Into a Hobby Lobby
As a universal rule, when bringing your dog inside any pet-friendly location, they must be well behaved and always on a leash to avoid disturbing other shoppers.
You can also keep smaller dogs in carts if that's easier.
Making sure that your dog has gone to the bathroom before entering the store is the best practice, but you will also need your doggy bags (I love these bags with a discreet dispenser)and wipes ready, just in case accidents happen inside the store.
If accidents do happen, it's every dog owner's responsibility to clean up after their pet.
Sale
Earth Rated Dog Poop Bag Holder with Dog Poop...
SUPER ESSENTIAL: Our sleek dog poop bag holder and 900 bags in one convenient set. Elevate your...
MORE BAGS: Stock up with 900 extra long, extra strong bags. 100% leak-proof guaranteed to keep hands...
Related Questions:
Are Dogs Allowed in Michaels?
Yes, Michaels is a pet-friendly store, and you can bring your dogs inside their stores with you. However, they ask your dog to be well behaved and always on a leash to respect other customers.
Does Joanns Allow Dogs?
Yes, dogs are allowed inside most Joann stores as long as you follow the guidelines: the dog should be well behaved, vaccinated, and kept on a leash or in a carrier.
Although the policy can vary from store to store, they have an interactive store locator for you to check which branches are pet friendly.
If there's a pet icon next to its listing, then your dog is welcome inside that specific store.
Conclusion
It could vary from store to store, but Hobby Lobby is generally pet friendly. Just make sure your dog is on his best behavior and leashed or safely in a carrier.
Last update on 2023-12-05 at 23:43 / Affiliate links / Images from Amazon Product Advertising API