Healthy food and supplements are a huge part of the care for your dog.  What she eats will directly impact her health, coat, energy levels and temperament.  So we spent a lot of time researching the foods that really checked all the boxes.  
For Labradoodle Puppies we recommend:
For growing Labradoodles we recommend
For adult Labradoodles we recommend
"Complete And Balanced" Dog Foods
One of the first things you should look for on a label is the statement "complete and balanced." This is more than just advertising – the Association of American Feed Control Officials (AAFCO) has strict requirements to make sure that a product is in fact complete and balanced. Complete and balanced diets must contain the minimum amount of all of the nutrients necessary for dogs, which is also indicated in the "guaranteed analysis." This analysis gives the minimum amount of crude protein and fat, along with the maximum amounts of water and crude fiber. The analysis does not, however, give the exact amount of these components, which means there is room for considerable variation. The manufacturer's average nutrient profile is often a better tool for evaluating a product.
You can always contact the dog food company directly to get more information about its product. A reputable company that has your pet's interest at heart should be happy to answer your questions and in many cases will give you more information than what is available on the website or product label. The World Small Animal Veterinary Association has a helpful sheet with questions you can ask a company representative.
The Best Dog Food For Puppies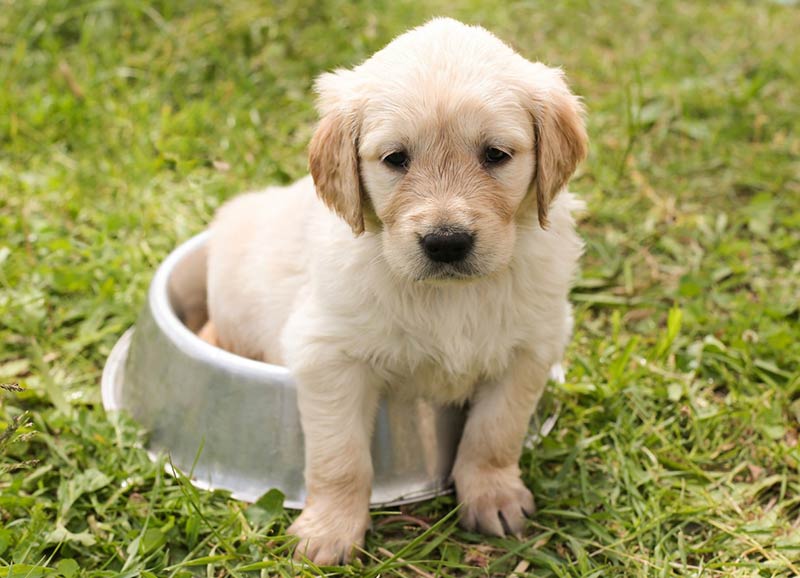 The nutritional needs of dogs vary throughout their life. Puppies have different nutritional needs than active adult dogs, and senior dogs have their own nutritional considerations. Most dog food companies carry specially formulated foods for each stage of life, making it easier to narrow down your choices. If you are concerned about which is the best dog food for your dog's life stage, consult your veterinarian to see what stage is appropriate for your dog.
Your puppy requires a different nutrient balance than an adult dog. This is especially true for large breed puppies, as their growth needs to be monitored carefully to prevent bone and joint disease. Other puppies do well on both "puppy food" and food labeled "for all life stages." The best food for your puppy depends on your puppy's size and breed.
How Much Should I Feed My Dog?
Obesity is a growing concern in the veterinary community and has been linked to many health problems in dogs. Luckily for our pets, we are usually better about controlling their diets than we are about controlling our own. Knowing how much to feed your dog and what a healthy weight looks like can be tricky. Many owners accidentally overfeed their pets, which is why it is important to take your dog in for regular checkups and to talk with your vet about appropriate portions. The guidelines on the back of the bag are just that – guidelines. Some dogs may require more than the recommended amount, whereas others require much less.