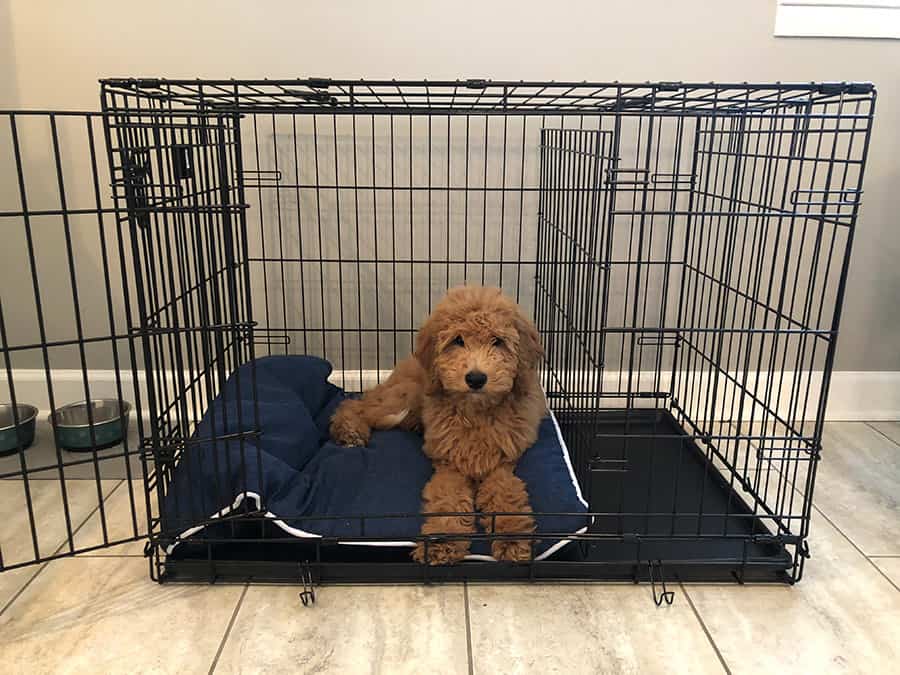 Choosing the right crate for your pup can be extremely daunting since there are hundreds of options out there. I spent hours comparing different brands and models, reading product reviews, and researching sizing options before deciding on the crate we currently use. Aside from picking our breeder, this was by-far the most involved pre-puppy purchase.
If you plan on crate training your pup, you'll want to make sure you have your crate ready for them when they come home. 
We had a few important features we were looking for and the MidWest Life Stages 1600 crate checked off all the boxes. We got ours on Amazon.
Divider
Unless you want to buy a new crate each time your pup outgrows the previous one, you'll want to make sure you have a divider. They are essential, especially if you're getting a puppy.
The divider allows you to get a crate that will fit your dog when it's fully grown and adjust the livable size as they grow. Before finding this crate which includes a divider panel, I was considering getting a small crate to start and buying a larger one as he grew. 
Early on, when your puppy isn't potty-trained, you only want to give them enough space in the crate to stand and turn around. Giving them too much space allows them to use part of their crate as a toilet and the other as their bed. Typically, a dog does not want to sleep where they toilet. So keeping their livable space small to start and expanding it as they grow helps in getting them potty-trained.
Foldable
I initially didn't plan on using this feature all that much but thought it was something good to have. Man am I thankful to have a crate that folds because I'm finding myself taking it with me more and more as Oliver (my Australian Labradoodle) gets older and bigger.
It folds down quickly, flat, and is easily carried on its side. This would also make it easy to store down the road if we stopped using the crate once he was fully trained.
Double Door
I didn't even know crates with multiple doors was a thing. But once I saw it, I felt it was a must. On Midwest's crate, there's one door on the short side and one on the long side. Having two doors really gives you a lot more versatility when deciding where to put your crate inside your home. 
One thing to keep in mind though (which I didn't realize until after I setup the crate) is if you're using the divider, you won't be able to use the door on the long side of the crate. The divider spans the short side of the crate, which keeps the door on the long side attached to the opposite side of the crate.
Removable Tray
This seems like a no-brainer and it's probably something that's a feature in most (if not all) crates. Accidents are inevitable, so having a bottom tray that is removable makes the cleanup process much easier. 
This crate's tray slides right out really easily by simply undoing the metal clasp that secures it in place.
Double Latches
You may have heard stories of people having a 'Houdini' dog who can escape any crate you put them in. I doubt any of those dogs had this crate.
Each door has two latches on that you have to pull up on and slide over to open.