Nearly any pet owner has experienced their dog go through a stubborn phase, fueled either by sheer willpower, or craftiness normally unseen in the average canine. In some cases, we reinforced this stubbornness without noticing it and it's quite hard to break.
Sometimes, this is solved by hiring a professional trainer, but others would rather take this problem by the horns and do the proper training themselves. If you're the latter, then one of the best and most effective tools you can get is a shock collar.
Aren't Shock Collars Dangerous?
The word "shock" has its own stigma. Nobody wants to feel an electric shock, but not all shock is painful as it depends on how much energy is delivered how potent that energy is, and the actual pain threshold of the individual. When you read product details in shops as "Static Stimulation", it's not them trying to soften the term, it's very close to what happens.
It's still considered an electric current, just a brief one. When you hear a collar having a "Continuous Shock" it doesn't mean a steady current like from an outlet, rather, a series of millisecond-short nicks, much like muscle stimulators used in therapy. All good quality collars also have a limit how long the continuous shock will last, often no more than 10 seconds no matter how long you hold it.
When you rub your socked feet on a carpet, you build up that electrical energy and when you touch an unsuspecting person, you transfer that energy in a snappy millisecond-short shock. An electric collar mimics that, only sending a tiny charge that lasts only milliseconds and is ten times weaker than a meager carpet shock. These shock collars, especially the ones we will show you, are safe on their own and it's up to the user how to use them, so without further ado, allow us to show you the five best shock collars for large stubborn dogs from Amazon.
Product
Best Overall
Pet Resolve Dog Training Collar
Runner Up
Dogtra ARC Handsfree Remote Dog Training Collar
Editor's Choice
SportDOG Brand SportHunter 825X Training Collar For Dogs
Image
The first on the list is a training collar with relatively strong static stimulation and all the basic features you need, both for training and outdoor activities like hunting. The potent shock is perfect when trying your stop your canine when they try and chase the wrong animals, or stopping them when they run into a dangerous area like a busy street, or towards a dangerous animal like a bear. It also has a built-in feature to help reduce excessive barking automatically. 
Training Features:
10 Adjustable Levels of Static Shock and Vibration
Soft but Audible Beep Mode
3/4 Mile Remote Range
Automatic Bark Collar Mode
Remote Supports Up to 3 Trainer Collars
Remote Memorizes Level of Each Collar
Remote Activated LED Receiver Tracking Lights
By changing the levels, you also change the strength of both the shock and the levels of vibration which is actually rare among training collars. The beep is very soft because it's not meant to be heard by your dog without damaging its ears. If you train your dog to return to you when it hears the beep, you can recall them from a significantly long distance. You'll only get that full range in open spaces, but even behind a concrete wall, you should be able to reach your dog 300-500 yards away. This translates to being able to signal your dog in very dense forests or even behind a hill. 
You can pair up to three collars into one remote (check their shop for additional collars). Depending on which number the receiver is assigned to, it will flash a different color, so if you press and hold the numbered button, it will turn on strobing lights and you'll be able to track all three dogs in total darkness. 
When you switch the receiver to anti-bark mode, it will stop responding to the remote and start "feeling" for the vibrations associated with your dog's barking. (This means it won't be triggered by another dog barking beside them.) When it feels the vibration, it will send a warning beep first. If they don't stop barking after the beeping 1-2 seconds later, the receiver will trigger a shock based on the level it was on when you switch it. This will automatically reduce excessive barking, and after 1-2 weeks, they should eventually learn to bark minimally. It still lets them bark a few good times, but never to the point where you'd lose sleep or disrupt neighbors. 
The remote controller should not be submerged in water, but it can resist rain and running water, making it completely weatherproof. The receiver can withstand being under 1 meter of water for 30 minutes, so your dog can play and swim in shallow lakes or pools without worrying about the receiver being damaged. The plastic strap is very tough and dirt resistant and the metal buckle will keep the receiver nice and positioned no matter how much your dog moves, provided the tightness is proper. 
The included 3rd pair of prongs is perfect for dogs with super long or thick fur. Usually, owners will trim the fur and place the collar one notch tighter, but with the longer prongs, it can dig into the fur to reach the skin, providing consistent stimulation without the need to trim or tighten the collar.
Finally, the clicker is an incredibly useful tool during the teaching phase, or when you want to signal your dog that it did the behavior correctly. Combine with positive reinforcement and you'll quickly be able to teach your dog all the positive behaviors so you can use the shock collar later using negative reinforcement. 
Other Features
Waterproof Collar
Splashproof Remote Control Device
Rechargeable Lithium Batteries
50-Hour Battery Life
Uses a Plastic Collar w/ Metal Buckles
Includes Extra Long 2cm Prongs
Comes with a Plastic Training Clicker
The next on the list of shock collars for large stubborn dogs is from Dogtra which also has GPS collars in their extensive line of remote training collars which can track your dogs well over a 12-mile Range. Their electronic collars, except for one or two, have moderately powerful static shock because they are made to be used not just for training but outdoor activities like camping and hunting. We chose this product because it's optimally priced for its features, and has a button layout made to control 2 dogs without needing to flip a switch. 
Training Features:
127 Levels of Shock Stimulation via Rheostat
Audible Beep Mode
3/4 Mile Remote Range
Remote Supports Up to 2 Trainer Collars
Control 2 Receivers w/o Switching
Includes Small Palm-Strappable Remote Button
This remote is highly optimized to train and manage two dogs but is still efficient for single-dog training. It has 127 levels of shock and a fixed strong vibration. The 127 Levels are changed using a dial on the top of the collar and the simple display on the bottom of the remote will show the current level.
The only con of having a wide range of levels is when you're trying to find the lowest level for your dog because, unlike remotes with 10 levels, you're going to end up dialing either bit by bit, or doing it in 10s then fine-tune it from there. It's also hard to quickly raise the level when you need it. 
The special part is the "hands-free" buttons which are small devices you can strap on your palm or fingers. It has one button to which you can assign a particular function like "static shock" and trigger that shock as long as you're within 33 feet of the remote controller. You can pair up to 14 of these buttons per remote. With this, you can discreetly trigger buttons which are useful when you need to quickly signal your dog for any reason. 
Though IPX9K seems to be better than IPX7 and IPX8, both the remote and receiver are not waterproof and should not be submerged in water. It may be able to resist being submerged for a few minutes like if your dog is playing in the water, but it may withstand being underwater for too long unlike receivers with IPX7 and 8. As long as you don't lose the receiver underwater, you'll be fine. 
The plastic strap is tough and the metal buckles make sure that they stay on. Though you can fit the collar on smaller dogs, we only recommend using the training kit on dogs 15 lbs and above. Since this is geared toward outdoor activities and advanced training, It doesn't have a standby mode and the battery will keep both the remote and receiver up for 50 hours before it needs charging. 
Other Features
IPX9K Splashproof Receiver and Remote
Uses Rechargeable Lithium Batteries
50-Hour Battery Life
Uses a Plastic Collar w/ Metal Buckles
If you're not a stranger to shock collar use and are looking for something that allows you to quickly change between shock levels without even touching the level dial, then this kit might be the best shock collar for stubborn dogs on this list for you. With a little practice, you'll be able to use the shock collar without looking, which is very useful for advanced training and outdoor activities like hunting. 
Training Features:
21 Total Stimulation Levels
Fixed Vibration Strength
Three Shock Buttons w/ Different Intensities
Soft Beep Trainer
1/2 Mile Remote Range
Remote Supports Up to 3 Trainer Collars 
Off the bat, you have three different shock buttons that can trigger continuous shock when held or a single "nick" when you press them once. Each button has a strategic place and has different intensity levels, from low, medium, and strong. Each of them technically having 7 levels from the dial gives you 21 Levels in total. The only drawback is that using vibration mode and beep requires you to quickly flick the remote dial to V/T mode and then press the appropriate button. With practice, you can do this quickly enough. 
The beep, most shock collars, are non-ultrasonic and are soft enough for your dog's ears so they don't get damaged during long-term use. Combined with the excellent range of 1/2 miles, you can let your dog wander in thick forests and still reliably reach them within 300-400 yards. This is very useful if you're managing more dogs, as you can pair 3 receivers per remote. 
It's not mentioned what exact rating this product has, but their "Drytek" design gives both the remote and the receiver waterproofing that goes as deep as 5 meters in water for 30 minutes, which is similar to an IPX8 rating. If your activities involve you getting submerged in water, then consider this training kit or any of the other models above it.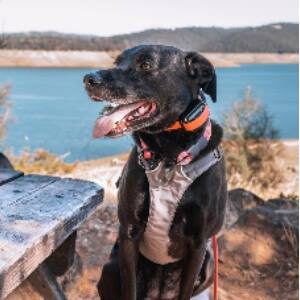 This also has a rechargeable battery which lasts around 50-70 hours depending on how often you use the device. It does not have a standby mode, which is a con for some, but to others, it's worth charging it every 2 days if it means you can use the device without any interruption. 
The included collar is durable and the metal buckles make sure the receiver doesn't loosen over time. This ensures that the shock strength won't change or weaken when the prongs don't make contact with the skin.
Take a look at some 
Other Features
Waterproof Remote Controller and Receiver
Uses Rechargeable Lithium Batteries
50-70 Hour Battery Life
Uses a Plastic Collar w/ Metal Buckles
PatPet is known for its decent budget collars for basic reinforcement training and close-range remote dog management. This one is made with a more rugged environment in mind with a few features meant for advanced training or limited outdoor activities. There's only one feature that limits it to an extent, and we'll explain that in a bit.  
Training Features:
16 Levels of Stimulation via Dial
Fixed Vibration Strength
No-Look Remote Design 
Beep Mode that's Audible over a Short Distance
3/4 Mile Remote Range
Remote Supports Up to 2 Trainer Collars 
If held with your left hand, you can quickly adjust the level using your thumb, and the shock button's design lets your index finger slot into it easily so you can quickly grab the remote and trigger a stimulation. 
The dial has 16 Levels and a moderately powerful shock and the overall design is meant to let you change the levels of correction on the fly. It may not be as easy from the start but after enough practice, you'll get a feel of the levels and change them on the fly. The only problem is that the shock dial does not have a lock so you may accidentally change the level while it's in your pocket. 
It has a wide range of 3/4 miles. To some owners, letting their dogs wander more than 100 yards from them is already too far, while some allow their dogs to wander farther. With a range of over 1000 yards, you're guaranteed to at least reach your dog as far as 500 yards behind a brick wall, or thick bushes and several trees. 
You can pair up to 2 receivers on one remote and the switch to controls is fast and easy to reach. The high range compliments the multi-receiver support and allows you to signal two dogs even if they are out of sight. 
The remote controller is built like a tank, durable and rain-proof, but don't let it get submerged in water. The receiver is waterproof for 1 meter for 30 minutes. This means it can withstand any water damage when your dog plays in the pool or the water. They have to dive deep or the receiver has to fall into deeper water and be left behind for it to be damaged. 
The battery is the technical con of this device. The remote and the receiver will go to standby mode after an hour without use and have to be switched back on by pressing the power button. So in case you're outside and you're setting up camp or anything else where your dog is allowed to wander, you have to keep the device out of standby mode by activating something before it goes to standby mode. 
The training clicker and whistle are simple signaling tools you can use to mark behaviors or signal them. These tools are very useful when teaching new behaviors, like using the clicker to signal your dog that they did well and they will get a reward. 
Other Features
Waterproof Receiver
Splashproof Remote Transmitter
Uses Rechargeable Lithium Batteries
Up to 11 Days Battery in Standby Mode
Uses a Plastic Collar w/ Metal Buckles
Includes Training Clicker and Whistle
This stubborn dog shock collar gives fine control over the levels of stimulation, you can think of the dial as a way to adjust it from 1-100% so if you happen to train multiple dogs with different temperaments, you can easily find the lowest level your dog will respond with. It takes some time to figure it out, but once you have a feel of what level your dog can be trained with, it will be easier to use it.
Training Features:
100 Levels of Stimulation via Dial
Fixed Vibration Strength
No-Look Remote Design
Soft Beep
1 Mile Range
Remote Supports Up to 2 Trainer Collars 
 The static stimulation range combined with the moderately strong shock is a great combo for training. There are some cases where a certain level is not strong enough for your dog but the next level is too much, and this kind of remote solves that for you. (If you do find yourself in that situation, just use the lower level.) You can't change the vibration level, but it's strong enough to serve as a mild aversive stimulation for reinforcement training, or sending a silent signal to your dog like when you're training them to stick inside a certain boundery.
The range is the highest on this list, a full 1 mile. The point of the extended range is of course, to be able to recall your dog from an extremely far distance, but to also guarantee that you'll reach them even behind a small hill or a wall of bushes and trees. The high range also has high responsiveness. All the training kits on this list have milisecond-fast response rates and this very useful for advanced training where milliseconds count. 
If you need to manage more than one dog, opt for the ET-802 model that has a different button layout to accommodate controls for dog switching. 
The simple looking remote is splashproof but it's not waterproof so don't let be submerged in water. If it does accidentally fall on water, the remote will float on water, so you don't have to worry about accidentally losing the remote if it falls on the lake or beach. Just be careful not to submerged yourself with the remote in your pocket. 
The reciever has the standard IPX7 waterproofing that lets your dog play and swim in the water without worry. While some dogs dive, they don't do it long enough for the reciever to suffer any damage. 
Despite the small remote frame, it has a good battery life of 50-60 hours depending on how often you use the features. It doesn't have a standby mode, so it will stay on and respond on demand until you turn it off or it runs out of batteries. 
The plastic collar is tough and can accommodate dogs 15 lbs and higher. You can cut the rest of the slack as needed, but if your dog still has some growing to do, then make sure to leave some extra slack before cutting. 
If you are a bigger fan of Petsafe Shock collars, we've got a list for you right here!
Other Features
Waterproof Receiver
Splashproof Remote Transmitter that Floats
Uses Rechargeable Lithium Batteries
50-60 Hour Battery Life
Uses a Plastic Collar w/ Metal Buckles
All dogs are different. There's no real way to determine a dog's temperament and personality from just their breed and how they look. A large Golden Retriever could be assumed as a gentle giant, but can be so mercurial that they will do whatever they want as they see fit, making them completely stubborn.
As long as you know your dog and know what you need for your dog, picking the right tools is easy. All that's left is the training, and as long as you treat your dog with all the love and respect they deserve, you'll overcome all the mistakes and obstacles you may encounter.
Last update on 2023-09-22 at 03:50 / Affiliate links / Images from Amazon Product Advertising API